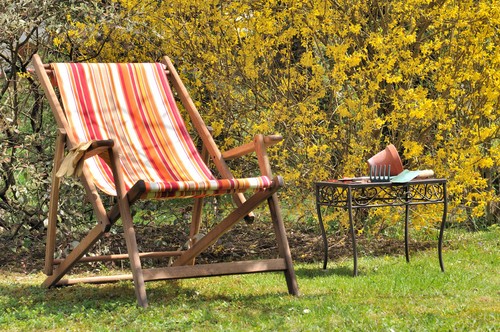 Deck chairs, once the exclusive domain of enthusiastic ocean-faring sun worshippers, can now be found on front porches and in back gardens all around the world. The wide ranging appeal of the deck chair is not just based on comfort and attractiveness. Their portable, collapsible design is a great solution for families who need to store their chairs when they are not being used.
There are many places from which to buy deck chairs. Department stores and larger grocery store chains often have a seasonal section stocked with different styles. Sporting goods retailers are another place to look. Both types of store generally also have websites, which they use to compete with other online retailers, like the eBay auction site. When purchasing a used deck chair, one should consider what style they would like as well as where to find and buy a deck chair chair with confidence.
An Introduction to Deck Chairs
This introduction to the deck chair will detail the history of the innovative furniture staple, as well as its main characteristics. At first glance, the deck chair may appear a humble piece of garden furniture; however, when the design is examined in more detail, its innovative nature emerges.
An overview of deck chair options will detail the many design variations now available; armrests, lumbar support, and an accompanying footstool are just a few of the potential extras offered on some models. Depending on where the buyer is planning to place the chair, one or more of these options can be advantageous.
A Brief History of the Deck Chair
The deck chair got its name from its historical placement on the decks of popular cruise ships in the late 1800s and early 1900s. The original design was patented by the English inventor and businessman John Moore in 1886, and soon became wildly popular because of its easy setup and respectable comfort level.
The foldable, stackable qualities of the deck chair led to its rapid integration into the passenger comfort repertoire on board the numerous transatlantic cruise ships at the turn of the 19th century. The deck chair subsequently found itself increasingly popular on land, as furniture companies became inspired by the seafaring design.
The Golden Age of Liner Travel
Before the era of the passenger airplane, which began in the 1930s, the only way to get from one end of the planet to the other was to travel by ship. Depending on the origin and the destination, the journey could take weeks to complete. For this reason, cruise ships in the "Golden Age" of liner travel were fitted with all of the comforts of home. This rang particularly true for the upper class, which regularly paid many thousands of dollars for a premier cabin.
Deck chairs could be loaded and unloaded relatively easily and did not take up much space in the hold. Passengers who wanted to move the chairs could do so with ease. Because of their simple design, the chairs could also be repaired easily, which was especially useful during longer voyages.
The Deck Chair on Land
Soon after its nautical debut, the deck chair made its way onto land, appearing poolside at various hotels, where it became a simultaneous source of relaxation and controversy. The often limited number of chairs to guests led to the beginning of the now notorious deck chair territory debate. Even in the early days, hotel guests would occasionally disagree over the deck chairs, reserving them in advance to ensure a spot in the sun.
A short while later, the deck chair became available to the general population and changed from a seafaring item into an essential piece of household furniture. Because multiple chairs took up only a small amount of room when they were folded away, it became possible for a family with relatively little storage space to own comfortable, convenient garden furniture.
Characteristics of a Deck Chair
The ideal chair for a buyer is the one most suited to its intended purpose in the home, whether it is relaxing with a book or taking a much needed nap in the afternoon sun. Some individuals will consider a footstool an essential part of the chair, whereas others will be more concerned with the adjustability of the backrest.
The fundamental characteristics of a deck chair remain constant, no matter what type is chosen. First, one should look for a convenient folding frame, which allows the chair to be put away in a small space when it is not in use. Next, a fabric seat and backrest, which is simple, supportive, easy to clean, and easy to repair. In all but the most basic models, adjustable seating positions are a standard feature
Deck chairs also tend to be less expensive than other types of seating. These qualities have made the deck chair extremely popular choice for indoor and outdoor use, in both residential and commercial settings.
Reasons to Choose a Deck Chair
Deck chairs are not only inexpensive, but also provide a host of other benefits to the individuals who choose them as a seating option. While the first styles could only be locked into a single position, newer types can be set at a number of different angles, or even completely reclined.
Other reasons to choose a deck chair include the fact that they can be stacked horizontally or vertically in large numbers when folded, making them a great choice for mass seating arrangements. Also, because of their low space requirements, deck chairs are easily transported to picnics, camping trips, and in greater quantities to events. Deck chairs are surprisingly comfortable, because the material of the seat and backrest conforms to the shape of the sitter, putting an end to uncomfortable pressure points. The supportive, enveloping nature of the hammock-like seat creates a very relaxing, calming space.
Because of the simple design, deck chair fabric can also be very easily replaced, making it a sensible choice for long term use. When the chair eventually reaches the end of its lifespan, it is not usually very expensive to replace.
Used Deck Chair Options
While the original deck chair design saw a canvas fabric seat and backrest strung over a wooden frame, modern versions have made use of an expanded range of materials, as detailed in the following table.
| Element | Options | Description |
| --- | --- | --- |
| Frame Material | Available materials include wood, plastic, resin, composite, and metal | Pine is inexpensive but not as hard wearing as a hardwood like oak; resin and plastic are easy to clean and weatherproof; metal is heavier than other materials, but is the most hardwearing |
| Fabric Type | Canvas; polyester; cotton; nylon; linen | Natural fabrics are more breathable than manmade fabrics; traditional deck chairs are often striped in white and another colour; weatherproof materials are also available |
| Footrest | Adjustable, attached footrests; non-adjustable attached footrests; adjustable and fixed removable footrests | Footrests can create a better seating angle; adjustable footrests can be raised or lowered to suit body shape and height |
| Extra Cushioning | Headrests; lumbar supports; full chair cushioning | Headrests relieve pressure put on the neck and the back of the skull; lumbar supports benefit individuals with lower back pain; cushioning creates more comfortable seating overall |
| Armrests | Cushioned armrests; non-cushioned armrests; detachable armrests | Armrests allow the forearms to be positioned comfortably, relieving strain on the shoulders and the upper back |
While most adjustable deck chair options need to be changed by hand, there are certain models that can be operated electronically. Though adaptable chair options can be convenient, many people find the comforts of a traditional deck chair more than adequate.
How to Buy Used Deck Chairs on eBay
Finding and purchasing deck chairs on eBay is a very simple way to save both money and time. To find your ideal deck chair, simply start at the eBay home page and begin with a keyword search. You have the option to use a board search term such as "used deck chairs", which will populate a number of different styles and varieties of deck chairs to choose from. You can be more detailed in your keyword search as well. For example, by typing in a specific brand or colour, eBay will populate these specific items in your search results. This makes the overall search process quick, easy, and efficient.
Before buying a used deck chair, it is important to ensure that any questions about shipping, chair dimensions, warranty, and more, have been addressed. The easiest way to do this is by contacting the seller via the eBay message system. Because of the eBay feedback system, you can view information about your chosen seller before making a final purchase decision. After the sale is complete, you leave also your own comment and rating for future potential customers.
Conclusion
Deck chairs are arguably one of the earliest forms of collapsible chair. Patented in 1886 by Englishman John Moore, they were first used aboard steamships, and became an essential passenger comfort item during the "Golden Age" of ocean liner travel. Because there were no alternatives to sea travel at the time, shipping companies ensured that their passengers were well taken care of on voyages that often took weeks to complete.
A short while later, deck chairs found their way into land bound society as well, first as poolside furniture pieces and then as additions to garden furniture collections found in regular homes. The portability of the chairs combined with their low storage space requirements has given the seats a reputation for convenience. Deck chairs are ideal for sunrooms, porches, decks, and themed living room or bedroom settings. Their simple design should not be taken as an indication of less-than-ideal comfort; in fact, the one-piece hammock-style seat and backrest can be tremendously supportive. This quality, combined with its handiness, ease of use, and small storage space requirements makes the chair a popular seating choice in any household.