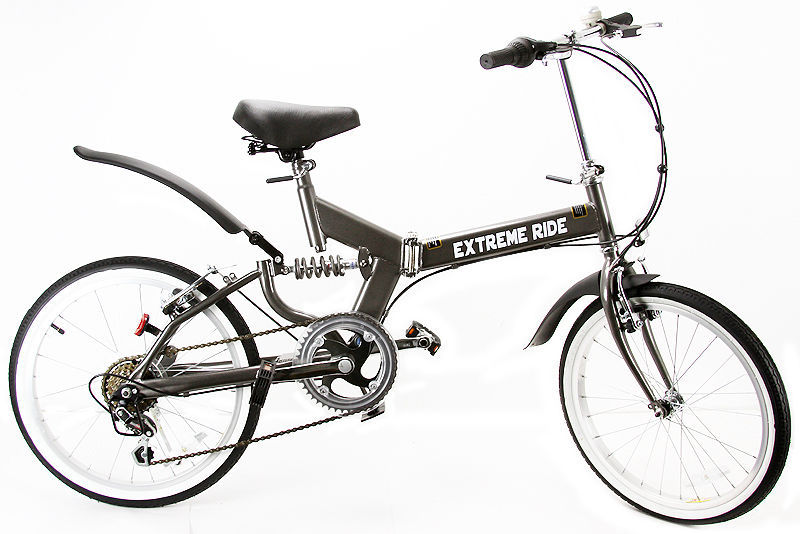 Since their invention at the turn of the 20th century folding bikes have been an increasingly popular option for those seeking a bike to buy. Their compact nature makes them ideal for those without the storage space required for non-folding bike and those seeking to take them on public transport. As a prime benefit for commuters is the convenient size of the bike, and that the rules on restricting bikes on public transport often don't apply to folding bikes. They also have the added bonus of being easily stored in houses or garages or carried around whilst out and about, meaning that they are off the streets and less likely to be the targets of theft.
This has resulted in a large selection of used folding bikes becoming available on eBay, and buying pre-owned is an affordable option for a first-time buyer, as well as those seeking to upgrade or change their ride.
Size and Weight
As the main reasons for buying folding bikes are that they are easy to store and carry around the first thing you should check is the weight of the bike and the size that it folds down to. If the seller doesn't provide the proportions and weight then you can simply ask them to avoid having a bike that doesn't fit in your cupboard or is too heavy for you to carry easily. A good way to test the feasibility of a folding bike in terms of weight is to fill a bag with the equivalent weight in flour or sugar bags and see how that feels. Some sellers offer a returns policy, so it is worth checking this out to see if you can test the bike for weight and size and return it if it's not up to scratch.
Different Types of Folding Mechanisms
The most obvious difference between the varieties of folding bikes available on the market are is in the method by which the bike folds or reduces itself in size. Though there are a wide range of potentials ways of doing this, most break down into three distinct mechanisms.
The Half Fold
Also known as the mid-fold, this is where the bike hinges in the middle of the frame to fold in half. It is secured using clamps, and can be used on bikes using the traditional diamond frame. This option can sometimes be used with standard sized wheels, which will give a more normal riding experience if you're unused to folding bikes, but at the expense of not being able to compact the bike as much.
Triangle Hinge
This is more common among the higher end folding bikes, and it is where the rear wheel folds underneath the frame making a compact package. The seat post and handlebars can be retracted and there is often the chance that the seller is offering to include a carry bag for this kind of bike.
When deciding between these options it is important to note what you intend the bike for. If storage is less of a consideration then the half fold would be a good choice. If you're after quick transition between the folded and unfolded state then the triangle hinge would work well, and the break-away would work for where space is the ultimate consideration.
Break-away Folding Bike
This variation folds down using both hinges and part disassembly, this usually means that it can fold down to a more compact size but does longer to compact. It can often require a tool or set of tools to fold, and when buying used it is important to check that the seller still has the full set in working condition. Though if they don't then the tools can be picked up on eBay easily.
Of the three options the half fold variant is considered to be the most robust as it has the least amount of working parts. However, it is key to buy the option that is right for you and with a small amount of filtering you'll be able to find a wide range of options in your preferred choices.
Frame Material
As cycling in general rises in popularity there are a wider range of frame materials available. These all have different benefits as well as cost implications, and these have been outlined below:
Aluminium
This is a good lightweight option for a folding bike and has the added bonus of not rusting. However, as aluminium is a softer metal, it is more prone to bending and warping out of shape. So when looking through the options available it is important to check the pictures to see if there are any irregularities in the frame shape. Minor bumps and indentations on the surface are less of a concern than changes in shape that prevent the bike from folding.
Steel
This is used mainly in older folding bikes, and can be prone to rust. The added weight of steel makes it impractical for folding bikes, especially if they're going to be carried long distances. However, the aesthetic of the older bikes can be appealing and may make them more desirable.
Chromoloy
This is essentially a steel frame with a higher carbon count than usual. This makes it both stronger and lighter, making it an ideal choice for a folding bike. It is relatively recent addition to bike frame materials, and thus will only be seen on those made over the past couple of decades. Due to their chemical composition they are less likely to rust or degrade, and so are a good option to buy used.
Carbon Fibre
This is one of the most lightweight options available on the market to make bike frames out of, but this does mean that they are a more expensive option. They are also more vulnerable to cracking as carbon fibre can be brittle, however, when stored and looked after well it is a great material for folding bikes.
Different Brands Available
A quick survey by brand on eBay will give you an insight into the different prices and options available, but to get you started here is a brief overview of some of the most popular brands.
Tern

Tern was set up by the son of the founder of Dahon. There is a substantial level of crossover between the two brands but Tern are looking to occupy a competitively priced section in the market and can be considered a good option for those looking for a more affordable Dahon.

Dahon

While Dahon produce several different options for those looking to buy a folded bike they tend to be on the more expensive side, meaning that picking one up used is a good way to save money. They fold neatly, and are solidly made.

Airnimal

These folding bikes are designed in the UK, but manufactured abroad making them a cost effective option. As a standard the Airnimal folding bikes are larger than competing brands and have larger wheels. This provides more comfort but means that the folded down size is less convenient.

Bike Friday

Originally designed for air-travel Bike Fridays are now making an entrance into the commuter distance product range. There are less options out there for this brand as they have a smaller product range than most, but these are compact and sturdy. So if they meet your criteria they're well worth hunting out, and the filter options on eBay will make this easy.

Moulton

Created by Pashley, this brand is a comfortable ride but can tend to be on the heavy side. They're solidly built, so if the extra weight isn't a consideration then they're a good option to buy used.

Brompton

Brompton is one of the most widely available brands on the market, as it combines an elegant folding system and high build quality. Brompton have been producing folding bikes for over fifteen years, and have a devoted following, making it easy to pick up a good quality used bike.

They have a range of options available including those with luggage racks above the front wheel for convenience when transporting heavy loads.

Mezzo

While more affordable than some options this brand has proven to be less durable, and while the design has been revised since then it is important to check that the version you're looking at matches up to your expected standards.
Conclusion
With it's increase in popularity there are a wide range of folding bikes available on eBay. Though the number of varieties and options can seem daunting at first, with a little background knowledge you'll be able to differentiate and decide on the best option for you. The key factor is the use which you'll be putting the bike to, and your preferences as to weight, size, and folding mechanism. With a range that stretches to full size bikes that fold slightly for storage, to complex lightweight options you'll be picking out your new bike in no time. As well offering a large variety of used folding bikes, eBay also offers a good selection of accessories such as carry bags and spare parts, enabling you to make the most of your new purchase.