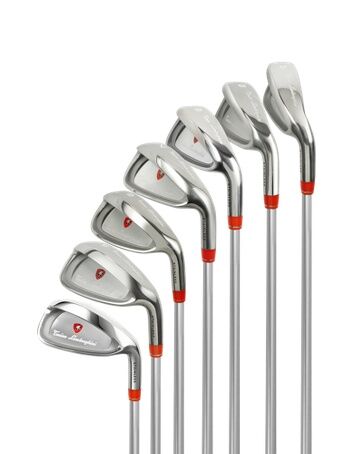 eBay sells literally thousands of used golf irons every year, including second hand ones that are unused or in practically new condition. This represents great value for the novice looking for an inexpensive route into the game and also for the experienced golfer looking to improve his or her equipment.
For the absolute beginner, it is worth buying as cheaply as possible a complete set of irons or even 2-3 irons to practice with. Both complete sets and single irons are available on eBay. Until you have achieved a basic level of competency, and have learned the Rules and etiquette of the game, you will not be allowed on a proper golf course and will have to hone your skills on a Pitch and Putt Course and your local Driving Range.
What is a set of irons?
To most golfers a set of irons consists of a 3 iron to 9 iron – 7 clubs – plus a wedge and a sand wedge. Most used sets of irons will be offered for sale on eBay like this though many are offered as a complete set of used golf clubs including woods and a putter
The categorisation and numbering system refers to the degree of loft on the club. So a 3 iron is relatively straight faced and used for hitting the golf ball relatively long distances - say 180m - 190m - with a relatively low trajectory and more run on the ball when it hits the ground.
The degree of loft increases with each number so that a typical pitching wedge has a loft of 48 degrees and is used for hitting high trajectory shots over a distance up to 100 – 110m and with less forward run and even backspin on landing.
The length of the shaft increases as the loft decreases, thus a 3 iron is longer than a wedge. This extra length puts extra pressure on the golfer's hand/eye co-ordination and swing, making a 3 iron considerably harder to hit correctly than a more lofted club. Some golfers, mostly professionals or very low handicappers, add a 1 iron or 2 iron to their set.
Golfers tend to choose a matched set of irons – all the same type from the same manufacturer - rather than purchasing odd individual clubs. This is in order to have a consistency of feel and performance from one club to another. Different shafts, grips and even lofts would make it harder for the typical player to select the right club and get consistent results on the golf course. eBay has a vast range of complete sets available from a wide range of manufacturers.
These manufacturers continue to make and sell traditional sets of irons but the market has changed over the last 20 years with the introduction of Wedges and Hybrids or rescue clubs
What Type of Used Iron to Buy
The simple answer to this is one that you can hit with the right trajectory and relatively straight. The cost of golf equipment, lessons and green fees is very high. But it is worth spending some time and money getting the right clubs at the right price. The only way to be sure is to try a variety of clubs until one feels right.
Buy a single used club off eBay and practice with it or see if you can borrow some second hand ones, perhaps from your golfing partners, to take out onto the course or a driving range to try. Remember that you can pick up some fabulous bargains on eBay, and those irons that were £600 new can easily be within your reach.

The following features of different irons will have an impact on the choice of clubs to buy.
Features to Look For
Carbon Graphite v Stainless Steel shafts
Irons used to be made with wooden hickory shafts, then stainless steel shafts and now woven strands of carbon fibre graphite. The proponents of graphite shafts point to the reduced weight in the shaft which allows for an increase in swing speed of the club-head and a corresponding increase in the distance the ball is hit. Fans of steel shafts argue that the flex in carbon can lead to the club head twisting and sending the ball off line and prefer the stiffness of steel. When buying used graphite irons check that the shafts are not worn from rubbing in the golf bag and that none of them are split or cracked
Shaft stiffness
Most shafts are produced as Regular but low handicap golfers with a very fast swing speed will often specify stiffer shafts. High handicap and elderly golfers will sometimes have a greater flex than regular to counter a slow swing and help maintain some distance

Iron head – Cavity Backed, Perimeter Weighted and Blades
Blades are so-called because they offer a uniform thickness of metal at the back of the iron. Used by low handicappers and many touring professionals they offer greater 'feel' off the club face though at the cost of a slightly smaller 'sweet spot'. Generally less forgiving than other styles of iron which offer more help to the high handicap player
Cavity Backed irons have a thin face that is bolstered by weight at the heel and toe at the back of the iron on the basis that this extra weighting will increase the sweet spot and prevent off line shots
Perimeter Weighted irons are a style of cavity backed iron with weight all around the outside rear of the club. Also designed to improve trajectory and increase the size of the sweet spot.
The key thing to look for here is that the size of grip is appropriate to hand size. Check different sizes until a comfortable size is found and if buying used clubs ensure the grips aren't worn, or get them replaced.
Features That Might Suit Diferent Types of Golfer
| Handicap Level | Shaft Type | Shaft Stiffness | Head Type |
| --- | --- | --- | --- |
| Novice/High Handicap | Graphite/Steel | Regular | Perimeter/Cavity |
| Experienced/Mid Handicap | Graphite/Steel | Regular | Cavity |
| Experienced/Low Handicap | Steel | Stiff | Blades/Cavity |
Wedges
The pitching wedge and sand wedge found in the traditional iron set have been supplemented by a range of lob wedges and extreme lob wedges to help the golfer extract the ball from a variety of hazards from thick mud to thick grass. Designed to transfer swing energy into height rather than distance, they are also used to fly the ball over hazards between the golfer and the hole. Proponents of these clubs, like the American Phil Mickelson, have generated huge demand from club golfers keen to emulate their heroes. Many golfers now carry at least one extra wedge with a loft of anywhere from 56 – 64 degrees for these troubleshooting situations. Don't worry if the used set of irons you find on eBay hasn't got a lob wedge as you will be able to find plenty of single wedges to choose from.
Hybrid or Rescue Clubs
Hybrids are so called because they combine features and benefits of both woods and irons, without really being one or the other. Simply put, the hybrid has a shorter shaft than a wood, like an iron making it easier to hit, but with a larger head than a long iron, more like a small fairway wood. The club face and sole of the hybrid is also more like an iron in that it can cut through grass when a ball is in the rough. Hence, the name rescue club because it is often of use after a wayward drive finds the rough.
Many amateur golfers and many touring professionals too have abandoned the longer irons– from 1 to 4 – in favour of this style of club.
A Modern Set of Irons
So, a modern golf bag will now typically have 2 hybrids of different lofts, 5 iron to sand wedge plus another lob wedge. Rather than buy a traditional set of clubs and then throw the 3 iron and 4 iron away it makes sense to take a look online with eBay. The ability to source individual clubs on eBay makes it viable to build your own matched set of 5- 9/SW and then supplement it by buying separately the hybrids and wedges.
Unwanted gifts often crop up as second hand items that are not used and even used items make it a lot more cost effective to buy a complete traditional set of irons before retiring the 3 and 4 irons – or offering them for resale separately on eBay.
As for the future, the life of a golfer is one long masochistic search for improvement. The time will come when the manufacturers develop yet another piece of equipment that capitalises on an advance in technology and it will become a 'must have'. With eBay it's not such a gloomy and expensive scenario. Those current much loved clubs can be offered for sale on eBay and go to a new owner while part funding the trade up to the new ones. Or you could take a chance and hang onto those old irons. Who knows, in the future they could be really collectable as the modern day equivalent of the hickory shafted clubs that sell so well in the Sporting Memorabilia and Antique sections on eBay.
Buying Golf irons on eBay
If you are buying used irons choose the type you want and search on eBay. When the results come back and you find some irons you would like to buy, just make sure by checking the photographs - or by asking the seller - to confirm that the club faces are undamaged and the shafts are sound. The condition of the grips is much less important as you can either fit new grips yourself or get them fitted at a golf club or driving range, they are relatively inexpensive.
eBay also offers a great facility to check out the other items the seller has on offer, perhaps a new Golf Bag or that extra club you wanted or maybe some other piece of equipment you need and the chance to save on postage costs if you are buying more than one item. The best thing of all is if you try a particular club or even set of clubs, and for whatever reason you don't like them, just put them back onto eBay as a for sale item. With thousands of individual golfers and businesses selling and buying on eBay there's lots of choice.
Conclusion on Buying Used Golf irons on eBay
When choosing to buy a used set of golf irons on eBay the buyer must consider their individual needs for the type of club, their ability and any game improvement features they might prefer. If the buyer has not had a chance to practice with the desired iron it may well be worth searching for a single club first before moving on to buying a complete set. Image and brand are important but will have an impact on cost. The most important thing is to get the ball in the hole with less strokes. While eBay can't do that for you, it can set you on the way by helping you to buy the right equipment to improve your game.