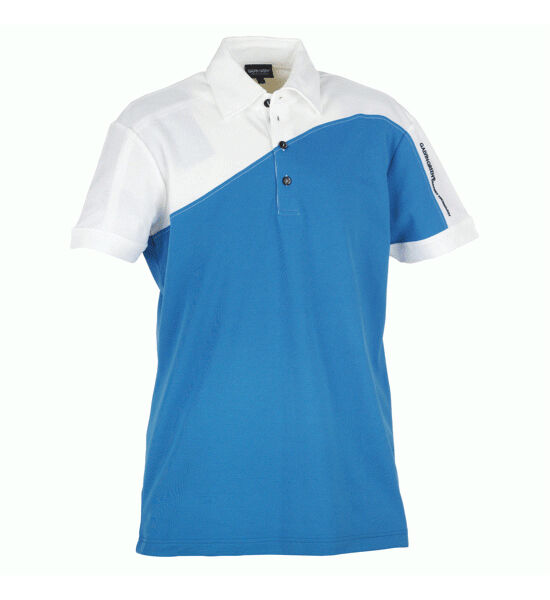 Used golf shirts
The term 'golf shirt' has come to describe a range of shirt styles that, while suitable for golf, also have a part to play in everyday fashion. Since the 1960s, when shirts were available in many colours but usually one plain colour per shirt, designers have run wild so that the modern designer golf shirt can come in any format from plain to any combination of colours, patterns, horizontal and vertical stripes – designs are limited only by the imagination of the designers.
While there are many styles of golf shirt, the classic style is a shirt that opens at the neck with 2-4 buttons, a collar and short sleeves – also described as a Polo shirt or Tennis Shirt.
Modern buyers of used golf shirts range from fashion conscious individuals looking for vintage, collectable clothing to golfers looking for bargain high tech golf shirts made out of stretchy Elastane combined into a breathable dry fabric for their comfort. Fortunately, eBay caters for all of their needs offering literally thousands of used golf shirts.
Why Buy a Vintage Golf Shirt?
The simple answer to this question lies in the unique style of genuine vintage clothing. Even expensive designer golf shirts produced today still come in relatively large volumes. Buying a rare vintage golf shirt on eBay combines a unique fashion statement with a piece of sporting memorabilia and the satisfaction of knowing that there is little chance that anyone else will be wearing a similar shirt at the golf club or out socially. The buyer of a vintage golf shirt can achieve a 'preppy' look all of their own.
What is a Vintage Golf Shirt?
In clothing items are deemed to be antique if they pre-date the 1920s. 'Vintage' clothing covers the period from the 1920s to 1960s.
It's slightly different with golf as during the early years of golf, and right up to the post war period, golfers wore ordinary day clothes of the era to the golf course. It wasn't until the post war explosion of golf fuelled by the advent of golf as a sport on television in the 1960s and '70s - featuring Nicklaus, Palmer, Player, Jacklin and Trevino- that the flamboyant colours and designs of the golf shirt became established. Even so, most vintage golf shirts of the '60s were largely plain in design but with the addition of the manufacturers logo. The real explosion in design came in the period from the late 60s through to the 1980s and to qualify as a vintage golf shirt it would need to be from that period.
What to look for in a Vintage Golf Shirt
When shopping for a genuine vintage golf shirt the buyer needs to enter vintage golf shirt in an 'All Categories' search on eBay, then peruse the results for specific manufacturers of the day. Some of the famous names from this era include Adidas, Lyle & Scott, Pringle, Puma, Slazenger, Dunlop, Wilson and Wolsey. Look at the item to establish whether or not it has the appropriate logo of the brand from that era (some of them have changed).
Many of these vintage shirts would be associated with successful golfers of the period thus Sir Nick Faldo's tie in with Pringle, Greg Norman's Great White Brand and Jack Nicklaus' Golden Bear Brand.
Collectable Used Golf Shirts
The styles of a designer like, for example, Ralph Lauren may be described as collectable right now ie the suggestion is that his shirts may be highly desirable as they get older and rarer. However, Ralph Lauren was only making men's ties 40 years ago. Nonetheless, designers like Ralph Lauren, Hugo Boss and more recent golf designers like Ashworth are collectable now because they will be valuable as vintage shirts later.
Retro v Vintage
Retro or Reproduction items seek to capture the style of genuine vintage items. This may be sufficient for your purposes, but be aware that these items may have been made relatively recently. It is also entirely possible that the seller has used the word Retro incorrectly to describe something that is genuinely vintage, so it is worth searching all three categories used golf shirts, vintage golf shirt and retro golf shirt keeping an eye open for the classic brands of the vintage period. If you can't find exactly what you are looking for first time, keep looking on eBay – it's bound to show up sooner rather than later.
Golf Club Dress Code
If you are planning to take up golf, it is worth noting that certain styles of shirt – new or used – are forbidden at most golf courses.
Some golf clubs are more conservative than others and it can be worth matching your choice of shirt to the type of club where you are playing. Some types of shirt are not acceptable at most golf clubs:
| Styles Acceptable at Most Golf Clubs | Not Acceptable at Most Golf Clubs |
| --- | --- |
| Short Sleeve Polo | Vest style Shirts |
| Long Sleeved Polo | Sleeveless Shirts |
| Roll Neck Shirts | T- Shirts |
| Turtle Neck Shirts | Collarless Shirts |
| Wind Shirts | V –Neck Shirts with no collar or buttons |
Acceptable Styles of Used Golf Shirt
Most golf shirts are made in cotton, polyester, polyester/cotton or mercerised cotton. However, fabric technology and performance sportswear have developed new high tech shirts available to the ordinary golfer.
Short Sleeved golf shirts/ Long Sleeved golf shirts
Ideal for the warmer weather between Spring and early Autumn, this style of shirt offers the maximum freedom of movement and comfort. Manufacturers are now offering these styles with fabric technology that wicks away sweat so that the golfer feels dry on even the hottest day. Mizuno now offer a combination of DryLite technology to keep the golfer dry, but also their Warmalite insulated fibre shirt to keep the player warm
Long Sleeved Roll Neck Shirts and Turtle Neck Shirts
Usually worn under a golf jumper or jacket, these types of shirt are for those wintry days when the wind and rain are cold. They keep the neck, torso and arms warm while giving the golfer the flexibility to play the game – and further flexibility to remove a layer of clothing if the weather changes and it starts to get too warm
Compression Shirts
Like a second skin, this type of under shirt provides heat and muscle support to aid muscle recovery. Warm, comfortable and flexible in the coldest of weather, it conserves heat and removes sweat.
Wind Shirts Long sleeved or short sleeved wind shirts are generally made in wind and rain proof breathable polyester and designed to be worn over another shirt. This type of foul weather option is for the golfer whose game is badly affected by wearing a full waterproof jacket.
Men and Women
There is little or no difference generally between the styles of used golf shirt available to men and women. The essential Polo style is offered in a more flattering cut for women and in a range of colours that embraces more pastels than are available in men's golf shirts.. Having said that, Ian Poulter and many of the younger professionals on tour, are wearing shades of pink and powder blue that might normally only be seen around the clubhouse on Ladies Day. It would appear that future fashions are trending together.
The golf shirt has become a standard style of casual dress outside the workplace, and even an acceptable form of dress at work eg Pubs, Restaurants and shops. The popularity of golf, the growth of corporate golf days and client gifts mean that there cannot be a serious golfer in the country without one or more free golf shirts with some or other company logo on it.
Buying a Used golf shirt on eBay
If you are serious about style and how you look and feel, on the High Street or on the golf course, it pays to pick the best in golf specific brands and eBay is the place to find them. Feeling good about how you look can even lead to more relaxed, confident and ultimately successful play. To buy these brands at the best prices is simple. Select your chosen brand or brands – there are some examples in the table below - and search for them on eBay adding in a key word from the Acceptable Styles Table eg Callaway Short Sleeved Windshirt or Nike Short Sleeved Polo. It's also worth including a size in the search to save scrolling through sellers offering sizes that won't fit you. Most offer a full range from Small to XXXL. While many sellers will have a variety of colours available across the different manufacturers and styles, it is worth leaving colour to review unless you have a very specific requirement.
Manyfacturers Producing Specific Branded Golf Shirts
Adidas

Ashworth

Callaway

Calvin Klein

Cutter & Buck

Glenmuir

Galvin Green

Green Lamb

Lija

Lyle & Scott

Nike

Oakley

Oscar Jacobsen

Ping

Puma

Ralph Lauren

Stromberg

Taylor Made
The search is likely to produce a wide range of items; some in the original packaging, items that are in 'as new' condition being second hand but unused (often without the original packaging) and items that are second-hand and used but in excellent condition.
The sellers may be anything from private individuals to businesses selling surplus stock. Some sellers are even able to supply golf shirts in bulk that have been used maybe once at an exhibition or an event, although these often have a company logo on them.
If you are looking for something very specific it makes sense to regularly check eBay for the best range of quality brands at the best prices anywhere today.
eBay Payment and Search Options When Buying a Used golf shirt
eBay offers a wide variety of brands, styles, prices and choices of used golf shirts. The advantage of buying on eBay is the range of prices, flexible payment and delivery options that are available to help with your purchase.
To search for used golf shirts, either do an 'All Categories' search or visit the Sporting Goods portal. Alternatively you can use the search box provided to type in specific information to your used golf shirt requirements as described. Look at the seller's photographs and descriptions to make sure there are no flaws in the shirt. Ask questions if unsure about anything and make sure to specify the correct size and colour if the options are presented. Visit the Buying Basics page for more information.
When you are comfortable with the product information you can consider how to pay for your selection and proceed to purchase. In an Auction the buyer has to place a bid in order to buy the used golf shirt at auction by the date in the listing – it may take more than one bid to ensure you are the highest bidder. Use 'Buy It Now' if it is offered as an option and you would like to buy it immediately or to put down your 'Best Offer'. Buying through PayPal will ensure the transaction proceeds directly between the seller and buyer. eBay users are protected by the Buyer Protection Programme..
The eBay Shopping Experience
Delivery and shipping of the used golf shirt to you is provided by the seller.
It is recommended that you only purchase from sellers which are authorised through eBay.
Bundles are sometimes offered where the listing on eBay may include the specific main core product such as the used golf shirt with incentives to maybe buy more than one or perhaps another product. It is always worth having a look at a seller's other products for the chance to pick up another bargain and also save on postage costs.
Conclusion on Buying a Used golf shirt on eBay
Whether you are simply a golfer looking for a bargain, or a follower of fashion investing in vintage gear, eBay is the place to buy a used golf shirt.
When choosing how to buy a used golf shirt on eBay the buyer must consider their individual needs in terms of the style of shirt and any colour preferences, whether to buy a simple cotton shirt or a high tech fabric and, of course, the image and brand that they prefer. Buying the shirt on eBay will deliver a huge range of choices for you to select from in the comfort of your own home – or wherever else you may be – with the protection of PayPal and eBay..