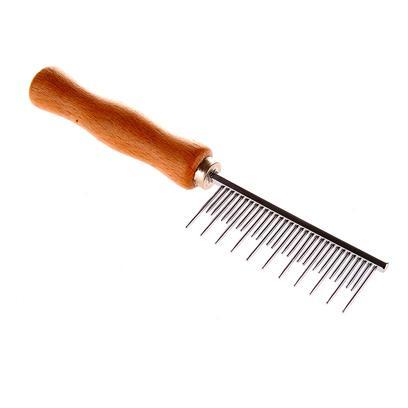 When you first adopt or purchase or dog, or decide to set up a dog grooming business, you will need to invest in a range of tools and products. Shopping for used dog grooming supplies on eBay is a good way to acquire quality grooming items at very affordable prices.
Dog grooming supplies are listed on eBay by dog owners and professionals in the eBay the Grooming/ Health care subcategory. Some goods may be listed because the user has upgraded their own tools, and this results in many bargains for the beginner. Once you are ready to advance your grooming and expand your tools, you can purchase more advanced supplies and, if you wish, sell your own used items on eBay to help recoup the cost of more advanced equipment.
In this guide, we will look at some of the most important and popular grooming supplies that you may wish to purchase used. To find these items, you will need to navigate through the Home & Garden category, to Dogs and finally to the Grooming/ Health care subcategory.
To look for Used items, check the Used checkbox under Condition on the left-hand side of the listings or search results page.
Examples of Used Dog Grooming Supplies
All of the items you need can be found in the Grooming/ Health care subcategory. Find used items by checking the 'used' checkbox in the Condition selection list on the left hand side of the listings or search results page.
Dog Grooming Supplies

Description

Clippers

Whether grooming your own dogs or setting up a dog grooming business, the clippers chosen will need to last for a long time. Often, clippers are the biggest investment a pet owner will make when they start grooming their dog. Buying used clippers in eBay makes sense; the blades are easy to replace and clippers can be serviced to keep them in good condition.

When buying used clippers on eBay, ask the seller if any grading combs are included. Also, check to see if the clippers you want to buy are rechargeable and ask about the condition of the battery.

Dog grooming dryer

Professional pet hairdryers are very powerful, but they are specially designed to operate quietly so as not to scare the dog. These dryers have a long hose to make it easier to reach all areas of the dog's coat, a dial to control air flow and a choice of temperature settings. Because they are specialised, they can be more expensive than ordinary hair dryers. These dryers are sometimes listed on eBay as 'blaster dryers' and come in a variety of colours.

When buying used, ask the seller whether the original nozzles are included; most should come with at least three.

Scissors

Used scissors can be purchased on eBay very easily. If necessary, one can have them sharpened to bring them back to their original condition, but often this is not needed.

Choose rounded scissors for trimming delicate areas, thinning scissors for reducing volume and straight scissors for general trimming of the coat.

Grooming table

Various types of grooming tables can be purchased in good, used condition on eBay. Many grooming tables are portable, and most will be available for personal collection, so one can save on postage costs and storage space.

Ask the seller about the condition of the rubber mat on the table and check whether the lasso (lead) and storage tray is included.

Grooming bathtub

On eBay, there are various types of grooming bathtubs suitable for home and professional use. Basic bathtubs can be moved around and set up in a garden or garage, allowing one to keep any mess away from your bathroom. Professional tubs are usually made from stainless steel and may have been custom made.

Ask the seller for measurements and clarify whether the item will need to be collected.

Nail clippers

Used nail clippers are often listed on eBay. These specialised tools allow you to trim down your dog's claws safely, avoiding discomfort and injury. Check the condition of the cutting surface.

Brushes

Branded brushes, such as the Furminator brush and de-shedding tool, can be purchased in good, used condition on eBay.

It is unlikely that fleas would be transferred on a metal or plastic brush, but if concerned, simply wash in warm soapy water before using on the dog. The soap will trap any fleas or flea dirt on the comb.

Complete kits

For the most affordable start to dog grooming, look for a complete set of products, including scissors, clippers and nail trimming tools.
When buying used items on eBay, buyers are always protected by the Buyer Protection policy. In addition, exercise sensible precautions when inspecting items on eBay.
Different dog breeds require different types of care, particularly in terms to their coat and grooming. Ensure the used items bought are suitable for the dogs that will be groomed.
The owner may need multiple grooming supplies if they will be grooming dogs of different sizes. For example, when grooming small dogs, a more compact clipper is easier to manoeuvre than a large clipper.
Accessories for Dog Grooming Products
In addition to grooming products, you will need various grooming accessories. Some of these are supplementary to the hardware you will buy; some will help you to bring a used item up to standard more suitable for professional use. You may also wish to invest in products that will calm the dogs you are grooming. On eBay, sellers list products that will help you to improve your dog grooming skills.
All of these can be readily purchased on eBay as used goods, many from the Grooming/ Health care section.
Dog Grooming Products

Description

Clipper blades

Replacing the blades in your grooming clippers is a great way to restore them to their original standard and ensure the best possible experience. Replacements for most brands are available on eBay. For example, Mastercut blades fit Oster, Andis AGC and PowerMax clippers.

Choose the correct clipper height and size from the auction listing, and ask your seller for advice if you are not sure which clipper blades will fit your grooming clippers.

Replacement dryer nozzles

When purchasing a dog hairdryer or blaster, you may need to purchase replacement nozzles. Sellers on eBay offer new nozzles, but you may also find affordable nozzles that have been used with another dryer. Ask your seller to confirm the condition and compatibility with your dryer.

Grading combs

Grading combs clip onto the blades of a clipper to determine the length of the cut. If your clipper grading combs are missing or broken, you can buy new or used replacements on eBay.

Pheremone diffusers

Adaptil is a pheromone product that can be used to calm nervous dogs. Used Adaptil diffusers are very affordable on eBay and may help a dog get used to a grooming regimen, or calm the dog while the grooming is taking place. Purchase a used diffuser and use with a new cartridge.

Books and DVDs

To develop your grooming skills, search eBay for dog grooming books and instructional DVDs. Many experienced groomers sell on used items when they have established their grooming businesses.
Professional Dog Grooming Brands
When looking for dog grooming products on eBay, you may notice some popular brand names, particularly in the Grooming Clippers subcategory. The table below summarises some of the most common brands.
Dog Grooming Brands

Description

Wahl

Wahl makes affordable dog clippers that are ideal for novices or home use. These clippers are perfectly adequate for trimming a single dog, but may not be suitable for heavy use in a dog grooming parlour.

When buying a Wahl dog grooming clipper set used, ask the seller whether the blade brush or comb attachments are included. These parts make clipping easier for novices.

Andis

Andis is a manufacturer of dog clippers for professionals and trainee dog groomers. Its products are designed to be quiet so as not to alarm nervous animals.

Andis clippers are also used by veterinary surgeries and are available in corded and rechargeable models.

Oster

Oster manufactures dog clippers favoured by professionals that run grooming parlours. One popular type is the Golden A5.

Models are available with one or two speed settings and spare parts are relatively easy to come by on eBay.

Pedi Paws

Pedi Paws manufactures a dog claw filing tool that is battery operated and gently grinds away the sharp ends of a dog's nails. Pedi Paws offers an alternative to traditional dog nail cutting tools.
How to Buy Used Grooming Supplies on eBay
Buying used items on eBay is a safe and affordable way to make your budget go further. Sellers on eBay are required to list items accurately and encouraged to photograph items so that buyers can make an informed buying decision.
In addition, work to the guidelines below for a safe, trouble-free transaction.
Ask your seller to post your item using insured, tracked postage methods. This will protect you both against loss or damage en route.
Inspect used items carefully on receipt. Do not plug in any items that appear to be damaged or worn; pay particular attention to cords and plugs. Check blades carefully to avoid injury to your dog.
Check for a warranty. Some dog grooming supplies will still be covered under the original manufacturer's warranty, which is worthwhile if the item is valuable. Ask the seller if they have the original receipt so you can verify the guarantee.
Used items range in condition, from items that have barely been used through to working items that show considerable wear and tear. Examine pictures carefully and ask the seller if there are any faults you should know about.
Remember eBay's comprehensive buyer protection policy. Should your item fail to live up to its description, eBay has procedures in place that will help you to reach an amicable resolution with your seller.