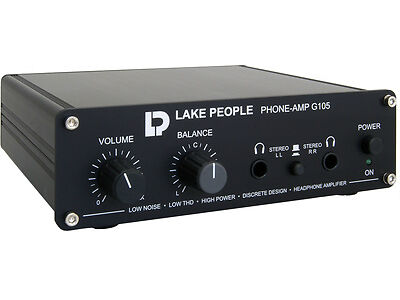 Headphone amplifiers, or amps, are amplifiers designed to work with headphones, unlike other amplifiers which are generally designed to work with loudspeakers.
About Headphone Amps
Headphone amps can allow more than one set of headphones to be connected to various audio sources. They are also used by musicians for silent practicing and experimentation as well as for professional recording. Headphone amps enable private listeners to enjoy music as it should be heard, in a realistic three dimensional way. While devices such as PCs and laptops do contain amps, they are generally of low quality and not designed for use with high-quality headphones. Specialist headphone amps allow for clear and accurate sound quality, picking up on details while cutting back on distortion and interference and also minimising the effects of fatigue.
Because headphone amps are such a basic and essential piece of equipment, that can make a significant difference to sound quality, it is worth buying a good-quality product that will provide years of excellent service.
Choosing Headphone Amps
With such a broad choice of amps available, it is important to research the types available to find the most appropriate product, as well as researching brands to be sure of quality and checking seller feedback and information to have trust in a purchase.
Factors in Choosing a Headphone Amp
Which headphone amp is purchased will depend upon a number of factors. These include what the amp is to be used for and with what equipment, as well as basic factors such as budget, frequency of use and portability. The type of headphones it is used with is also a consideration, as top-quality amps will only deliver top-quality sound if used in combination with high end headphones. Style and aesthetics may also be a consideration.
Headphones and Headphone Amps
As a general rule of thumb, larger headphones require more amplification to deliver optimal sound. More expensive headphones will also call for amplifiers in order to get the best out of them, as they are generally designed to be used in combination. Headphones with a greater nominal impedance will generally require a more powerful amplifier. Nominal impedance is measured in ohms and can be found in the headphone specifications.
Function
Headphone amps can be used for a variety of functions, from simply listening to music to practicing and recording music and mixing and distributing sound. There is a broad choice available on the market, with models ranging from the basic and inexpensive to the more advanced. Headphone amps with sub mixing capabilities have various controls to experiment with factors such as volume and bass. Headphone amps with distribution capabilities allow signals to be cascaded to multiple headsets.
Check product reviews to be sure that amp functionality doesn't detract from performance quality. If the amp is to be used with devices such as iPods or MP3 players, check that it has the appropriate inputs.
Budget
New headphone amps range in cost from very inexpensive models to those costing hundreds or even, at the top end, thousands of pounds. Buying used headphone amps is an excellent way to obtain high-quality amps at far lower prices than buying the same model new. It is worth shopping around for sellers offering special deals and comparing prices across the board, as prices and quality can vary.
Portability
Headphone amps range from small and lightweight portable units to larger desktop models. The larger and more advanced full-size models are generally designed for use in recording studios and by professional musicians, as well as by music enthusiasts in their homes. Portable units can be used by anyone from those who simply want to enjoy listening to music at its best to professionals, and are battery or USB powered. Between these two are desktop amps which are designed to be used with PCs, laptops and similar devices.
Specifications
The various specifications of headphone amps can be compared before making a purchase. These include total harmonic distortion (THD), signal to noise ratio (SNR), output impedance and power output. Total harmonic distortion is a measurement of distortion and a value of less than 1 per cent is generally recommended. Signal to noise ratio measures the amount of music signal present in comparison to the amount of noise the amp produces itself, with a larger ratio signifying better quality sound. Output impedance refers to the headphones the amp is compatible with, with a higher value indicating a more powerful amp able to drive high-quality headphones. The power output required for headphones varies, but generally most headphones need only 200 mW and even the most demanding headphones will only need around 500 mW.
Brands
Popular and reputable brands of headphone amps include Vox, Behringer, Samson and ART, though there are numerous other brands offering good-quality products at affordable prices. Purchasing from a well-known brand always gives an element of security, particularly when it comes to buying used items online where there is no opportunity to test the product personally.
Considerations when Buying Used Headphone Amps
Buying headphone amps used instead of new has the obvious advantage of cost. It is often possible to find good quality pre owned headphone amps at a far cheaper price than the same amp brand new. The item may be fairly new and in perfect or all but perfect condition, as many musicians and music enthusiasts upgrade their equipment frequently.
Sellers should only offer fully functioning items for sale and any damage should be clearly stated. Cosmetic damage should not affect the functioning of the amp. The age and use of the item may also be stated.
It can also pay off to do some basic research into the particular model, looking out for any recurring problems with the amp with age. Product reviews can be invaluable here. These will also give information on compatibility with different headphones and other equipment, and on any special features.
Find Used Headphone Amps on eBay
Used headphone amps can be found on eBay in two basic ways. The first involves navigating through the category menus on the left of the screen to refine the search. The second involves a direct search using the search field at the top of the screen. To navigate through the category menus, go to the eBay home page and scroll over the All Categories tab, selecting Musical Instruments from the menu that appears. From this page go down to Pro Audio Equipment and select Amplifiers. From the categories to the left of the screen select Headphone Amplifier under Type. Scroll down to Condition and select Used. Underneath Type are further categories. The brand can be selected, with the most popular brands appearing first. Not all listings specify a brand so be aware that not all brands will appear on the menu. The number of channels and a price range can also be specified. Alternatively, to conduct a direct search for used headphone amps, simply type in terms such as "used headphone amp" or "used Vox headphone amp" into the search field and press Search.
Conclusion
Headphone amps are designed to deliver high quality, three-dimensional sound to headphones, with minimal distortion and interference. The various types of headphone amp include those with sub mixing capabilities and those with distribution capabilities. Which type is purchased will depend upon factors such as function, budget and portability. Because a decent headphone amp can make such a difference to sound quality, it is worth buying a good quality product from a reputable brand. This is an especially important consideration when buying used headphone amps online. When buying used headphone amps also look out for information such as the product age, frequency of use, any problems or damage with the product, and check product reviews to note any possible recurring problems with the particular model. Buying a good quality headphone amp will make a huge difference to sound quality and enable listeners to enjoy music as it was made to be listened to, as well as aiding professional musicians to practice, experiment and record.