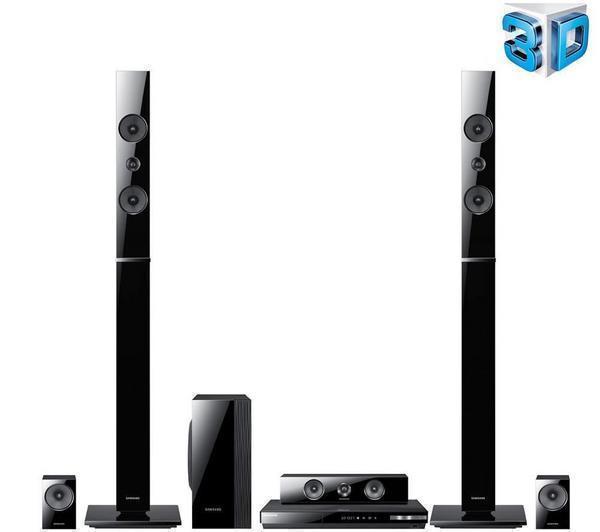 As high-definition television becomes increasingly commonplace, many people are realising that a home cinema system is necessary to match the level of audio quality to the fantastic video quality they already have. HDTVs in general, have very small speakers in order to keep with their slim profile. This means surround sound is completely lost unless the TV is connected to other components that can distribute the sound properly. When a home cinema system is necessary, but a new one would break the bank, a used home cinema is the perfect solution.
Many secondhand systems are sold in excellent condition, and quality components can last many years. They can be sold by private parties or A/V equipment dealers, both in brick-and-mortar shops, as well as online. The main issue when buying a used system, is that the buyer needs to know about the various features and configurations that exist prior to purchase. Knowing about the latest components and formats, can prevent one from buying a system that are soon outdated. The basics on home cinemas includes the components, system configuration, and other features including the outputs and cables necessary.
Components of a Home Cinema System
There are dozens of components that can be bought separately for a home cinema, but complete systems usually come with a receiver, a set of speakers, and one more item like a Blu-ray or DVD player. However, other components are also possible, and should be chosen depending on what gets the most use. Of course, it goes without saying that a television set is the main component. The most future-proofed set is a good quality HDTV. Any other kind of TV just wastes the high-definition picture quality of a Blu-ray player.
Home Cinema Receiver
The common element in all home cinema systems, is that the receiver decodes the surround sound and handles all the other components. It sends the correct input to the television, and the correct output to the speakers. Obviously, the key is finding out what kinds of inputs the receiver has so that all the devices in the system can be connected with the highest quality cables possible. For example, the TV and the receiver should be connected with HDMI cables for best audio quality, and not composite, component, or SCART cables. For this reason, it is best to either buy a complete system or plan out the components carefully before buying the home cinema receiver. Many receivers include an AM/FM radio tuner, and newer receivers include digital radio, satellite radio, and internet radio options.
Speaker System
The second necessary element of a home cinema system is the speaker system. There are commonly three, four, six, or eight speakers in cinema systems. The set generally includes one subwoofer and several smaller satellite speakers.
Blu-Ray Player
A Blu-ray player is the next most common component of home cinema systems. These are rapidly replacing DVD players, since all Blu-ray players can read DVDs and generally CDs as well. In fact, Blu-ray players can upscale the video quality of DVDs to make them look high-definition even when they are not. Blu-ray recorders are also available for those buying components separately, but these are still not common enough to be found in readymade home cinema sets.
Game Console or HTPC
Game consoles, like the Xbox or Playstation 3, are also popular sources of high definition video. Another option is the 'Home Theatre PC'. The key to fitting these into a home cinema system is to check that the receiver has enough HDMI inputs.
Other Components
Many other components are possible, such as a CD changer or set top box. In fact, a home cinema system usually combines the video components and the audio hifi components, into one system that is managed by the A/V receiver. The level of the receiver ultimately determines how many components can be added to the system. However, the basic home cinema system includes a receiver, speakers, and a DVD or Blu-ray player as described above. When adding more components, be sure to check the power requirements of each one and ensure that the system can handle it without problems.
Home Cinema Configuration
There are speaker configurations with anywhere from three to eight speakers. However, more is not necessarily better. The most popular systems are referred to as 2.1-channel, 5.1-channel, and 7.1-channel.
2.1 Systems
A 2.1-channel system has two satellite speakers that are usually placed to the left and the right of the screen and one subwoofer. This is not a true surround sound setup since all the sound comes from basically one direction. There are also 3.1-channel systems that have three satellite speakers and one subwoofer. This is usually still not enough to achieve a true surround sound effect. True surround sound starts with a 5.1 configuration.
5.1 Systems
The most popular of all home cinema configurations, the 5.1-channel system,, has five satellite speakers and one subwoofer. The subwoofer and two speakers are placed in the front, and the other two speakers are placed behind the viewer.
7.1 Systems
The 7.1 configuration adds two more satellite speakers to the mix. However, unless the room is extremely large, the improvement in surround sound quality is minor. Moreover, every additional speaker means more wiring that has to be concealed. The only exception is systems that have wireless rear speakers. However, even these speakers need a connection to the mains socket.
Other System Configurations
Some systems have no subwoofer. The most popular of these configurations are the 2.0 system, the 4.0 system, and the 5.0 system. However, a subwoofer is highly recommended in order to fully appreciate the low-frequency sounds in movies.
Features and Accessories Necessary for Home Cinema
A number of other features and accessories can be a part of a home cinema system. The features given below add convenience and functionality to a home cinema setup, while the accessories are a necessary part of any home cinema.
iPod/iPhone Docking Station
This feature is often found in home cinema receivers. A docking station allows the system to play music and videos that are stored on the iPod or iPad. If there is no docking station, there still may be connections to connect such devices with USB cables. Be sure to check if there are USB inputs on the receiver.
3D Compatibility
A 3D Blu-ray player can work with a 3D-capable HDTV to provide an even higher level of video. Special glasses are necessary, but as more 3D content becomes available, 3D video becomes the icing on the cake. 3D devices also play normal 2D content, so there is nothing to lose by choosing a 3D-capable device if it is available in a home cinema system. Be aware that a 3D-capable HDTV is necessary, however.
Digital TV Tuner
A home cinema receiver can include a digital TV tuner, eliminating the need for a separate set top box. If this is a part of the HDTV, it is not necessary.
DNLA Certification
Blu-ray players, or home cinema receivers that are DNLA-certified, can act as a hub for all the entertainment devices in a household, allowing them to share content wirelessly. Millions of devices are DNLA-certified, guaranteeing their ability to operate in a network with other such devices.
Cables
Any home cinema system should come with all the necessary cables. Make sure they are included in the package. These include the cables that connect the speakers to the receiver, and power cables for all speakers. There should also be cables to connect each component, like a Blu-ray player, to the receiver, and power cables for each of them. Also find out if the necessary cables to connect the system to the TV are also included. If not, an HDMI cable is most likely necessary. Remember that digital signals and analogue signals cannot be mixed. Generic HDMI cables work just as well as name-brand cables, since digital signals do not get stronger or weaker the way analogue signals do.
Power Protection
When investing a significant amount of money into a home cinema system, it only makes sense to protect all components with power protection. This should include surge protection in case of a power outage. Some devices also provide line conditioning, which means the power that enters the system is cleaner, translating to better video and audio.
Universal Remote
A universal remote is often included in a home cinema system. If it is not included, it is necessary to buy one that is compatible with all the devices in system. Many universal remotes can be programmed to complete several actions with a single button, making it easier to switch between different inputs.
How to Buy a Used Home Cinema on eBay
Finding used home cinema systems is easy on eBay. eBay offers a wide selection and search functions that make it easy to find any combination of components to complete a home cinema. Home cinemas on eBay can be bought as separate components, or as complete kits, that include both components and accessories like cables.To find home cinema components and systems, simply go to any eBay page and enter a search term such as 'home cinema&' in the search box. Then choose the appropriate subcategory to narrow down the search. Once you are within the correct subcategory, you can add keywords or choose advanced search options to narrow down the search.
Using search criteria like price, condition, brand, and others, makes finding the set you want fast and easy. As when buying any used electronics, it is important to read the listing carefully and ask the seller any questions you may have, before bidding or buying anything. Once you have found a listing you are interested in, the next step is to check the seller's feedback score and history. eBay's public feedback system makes it easy to find reputable sellers who offer professional and fast service. Also check the return policy and shipping rates.
Conclusion
Home cinema can be taken to the next level with the addition of surround sound speakers, and high definition video sources like Blu-ray players. To do this, consumers need a home cinema receiver that can coordinate the signals from all sources and send the correct ones to the TV and speakers. Since quality components can be expected to last many years, used home cinemas are a great option for anyone who does not want to spend large amounts of money on the latest gadgets. When buying a used home cinema, one should know about the basic components, as well as those that can be added on later. The speaker configuration is also one of the first decisions a shopper makes when choosing a system. Finally, knowing about the various features that are available, and the accessories that are necessary, can help a shopper make a decision that he or she will not regret. By using eBay to search for used home cinemas, anyone can compare deals and find a great system at an affordable price. eBay's search functions and feedback system make it a convenient and secure place to find electronic goods like home cinema systems.