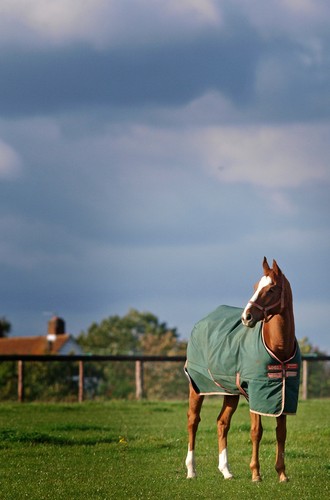 There are some simple rules to buying used horse rugs.
1 The weakest points on all rugs, no matter what the quality is, are the straps and buckles. These are always being pulled and strained and if these look at all damaged upon inspection then it is not worth paying good money for them.
2 Quality brands – do not be tempted by really cheap rugs. They will very quickly disintegrate and end up being a false economy. Buying used rugs means that the buyer should be able to get top quality brands at a good price so do not compromise in this area.
3 Check for damage done when not in use – rugs tend to suffer when they are not being used and are badly stored. Old, wool rugs suffer from moth damage if they are not correctly stored. With more modern rugs, they are often chewed by mice if simply bundled into a cupboard in the stables.
4 Rough linings and edges – nothing can cause more problems than a rug that has a worn strap or join which is touching the horse's skin and rubbing. Whilst most good horse owners regularly change the rugs and check for marks on the horse, a small sharp edge or rough bit of material can cause severe discomfort to the animal.
If buying used rugs apply the same basic principals in terms of sizing and material choice as with buying new rugs.
There are hundreds of horse rugs for sale out there from various manufacturers.
In order to choose the right rug for your horse, first you have to decide which weather conditions you want your rug to guard against.
Is it a rug for turning your horse out in the field?
Is it for during the summer, autumn or winter?
Do you want a stable rug, again, for summer, autumn or winter?
Sizing
The size of the rug is measured from the centre of the chest, round the shoulder, along the length of the horse to where the rug ends at the back. Rugs increase in increments of 3 inches. Ranging from:
| Animal | Size |
| --- | --- |
| Small pony | 4' 3" |
| Large horse | 7'3" |
Weight
All rugs these days come in different weights, according to the amount of stuffing they have, making the selection much easier. Heavy winter rugs tend to have about 660gms of polyfill, medium weight ones for spring and autumn about 220gms, and summer ones will be just the polyester outer fabric with a cotton lining.
You could buy a 220 gram rug and put another quilted under-rug underneath it, for the colder winter weather, instead of buying a completely new 660gm version.
Then you have to decide if you want a neck piece with your rug or not. A 600gm heavy winter rug with a neck piece attached is a good idea; your horse will be kept warm and dry right up to his ears. A detachable neckpiece is a good idea for the mid-weight rugs, so you can remove it on the sunnier days. All turn-out rugs should be made of waterproof, breathable, rip-stop outer shell fabric, and all the seams should be taped, to prevent any water leaking in.
Winter stable rugs all seem to be about mid-weight, so again you can add a quilted under rug when the weather turns colder. For the summer you have just a cotton stable sheet, to keep any draught off your horse.
For summer turn-out you can buy fly-sheets, again with or without neck pieces. These are sheets made out of tightly woven strands of polyester that keep the flies off your horse's body.
Attachments
Next consider the attachments on the rug - the main buckles, or clips in the middle of the chest, there should usually be two, set at slightly different angles. One takes the strain from round the horse's neck; the other, lower down, takes the pull from his body. Check that they are:
robust enough to stand up to general horse wear and tear
easy enough for you to do and undo
with enough soft padding underneath them, to ensure there is no rubbing against the horse.
Cross-surcingles under the horse's belly are standard these days to keep the rug on and straight, and even better, if there are also cross surcingle straps that run from under the rug, about half way down, between the horse's back legs, and then clip onto a metal ring sewn onto the rear seam of the rug.
All these extra straps ensure the rug stays in the right position after a horse has rolled, got up, bucked and charged off round the field. The neck pieces usually have two or three buckles under the horse's neck to close them up.
Some rugs have extra shoulder darts, which are a very good idea as they help prevent any rubbing to the horse's coat on the point of the shoulder. This point always takes most of the strain as the rug pulls back when the horse moves.
You also need to consider the depth of the rug when looking at it in a photograph. Check whether it will just skim the horse's belly, or will it be nice and deep so that it turns inwards a bit, keeping the outer edges of the belly warm and dry.
When looking to purchase a rug, eBay stock a variety of quality brands for you to choose from.
Storage
More rugs are damaged beyond repair by being stored in a damp or cold environment. If they are put in such places, even if covered, then the rug will suffer. If rodents can get to them they can be badly chewed and damaged.
It is as well therefore to store any rug in a dry environment at a good height off the ground. Cover the rug with an old blanket or sheet as this will keep the dust and, if there is any damp, mildew off the rug.
Before storing a rug it is very important to make sure it is completely clean and dry. Mud or sweat left on the rug will eventually cause it damage and can develop mould.
Maintaining
Many rugs are small enough to fit in a domestic washing machine. Take note of the care label for specific guidelines on which temperature a rug should be washed at. Pay attention to straps and buckles when placing a rug in washing machine.
Tip: Put a sock or two over the buckles to avoid damage to the machine.
Larger rugs are sometimes not suitable to be washed in this way for these rugs the following guideless are applicable:
1. Lay out the rug shaking off and removing any excess dirt
2. Use a brush or other suitable tool to remove and stubborn dirt
3. Turn over the rug to remove any excess hair or sweat as best you can
4. Fill a large bucket or tub with water and none-bio soap
5. Soak the rug in the water stirring occasionally to ensure the entire rug is covered.
6. Leave to soak in the tub/ bucket
7. Lay an old clean ground sheet on the floor or something similar – must be clean. Lay the rug on top of the sheet and scrub any remaining dirt off using a hand held brush or broom if preferred.
8. Hang the rug over a sturdy fence or strong washing line to dry off in the sun/ wind.
Buying used horse rugs on eBay
You can find horse rugs quickly and easily on eBay. While you shop, don't forget Saddles, Other Tack, Grooming & Health, Bridles, Supplements & Treats and Food. Click the Sporting Goods portal and click Equestrian.
Categories: The Categories list on the left side of each page will help you narrow down your listings by item type. You'll find links for Books & Magazines, Driving, DVDs, Horse Wear & Equipment, Prints & Art, Rider Clothing & Accessories, Stable Accessories, Trophies and Videos. As you refine your search you'll be able to narrow down your choice by subcategory.
Product Finder
Use the Horse Rug Finder to quickly narrow down item listings by brand, model and condition. (new or used)
Keyword search
Search eBay listing titles for specific words. For example, if you want to find new Horse rugs type the keywords "horse rug new" (without quotation marks) into the Search box. Click "Search title and description" to expand your results. Visit eBay's Search Tips page for more tips on searching with keywords.
If you can't find exactly what you want, try browsing eBay Stores or tell the eBay Community what you're looking for by creating a post on Want It Now, or save a search on My eBay and eBay will email you when a matching item becomes available.
Buy a Horse Rug with Confidence
Make sure that you know exactly what you're buying and understand how eBay and PayPal protect you.
Know your item
Read the details in the item listing carefully.
Remember to add delivery costs to your final price. If you're buying a high value item, check that the seller will insure it until it is delivered to you.
If you want more information, click the "Ask seller a question" button on the seller's profile or the "Ask a question" link at the bottom of the item listing page.
Always complete your transaction on eBay (with a bid, Buy it Now or Best Offer) otherwise you will not be covered by eBay Buyer Protection.
Never pay for your eBay item using an instant cash wire transfer service like Western Union or MoneyGram. These are not safe ways of paying someone you do not know.
Know your seller
Research your seller so that you feel safe and positive about every transaction.
What is the seller's Feedback rating?
How many transactions have they completed?
How many positive responses do they have?
What do buyers say in their Feedback?
Are they positive about the seller?
Most top eBay sellers operate like retail shops and have a returns policy.
Do they offer a money-back guarantee?
What are their terms and conditions?
Buyer protection
In the very unlikely event that you do not receive your item or it is not as described, eBay Buyer Protection your purchase price plus original delivery cost.
Conclusion
Buying used horse rugs is often a good option, particularly if buying for children's ponies which are constantly being changed as the child grows. It is an equally sensible option because horses require many different kinds of rugs throughout the year. The winter months may mean that the horse needs to be kept warm when let out in the field. Equally, when in work a sweat rug may be required in the stable. In short, the horse owner, whatever the type of riding enjoyed, will need a selection of rugs and buying used can help you get a good quality product at a fraction of the price new.