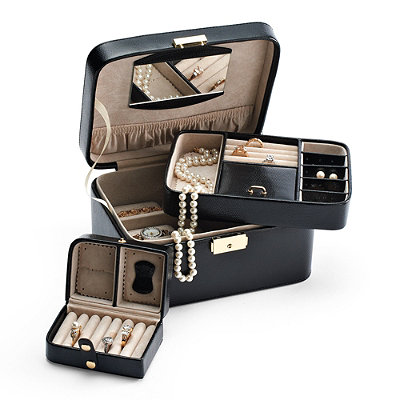 Many adults have memories of the jewellery box their mother used to store her jewellery in when they were children. As adults, some want to recreate that feeling by purchasing a jewellery box that is just like the one their mother had, even if it is no longer made. For these people, as well as many others, the best way to store their jewellery collection is in a used jewellery box. Some might think that choosing a used jewellery box might limit their choices, but in fact the opposite is true. By not limiting themselves to those jewellery boxes that are still in production, the potential buyer is able to open up the field and increase the variety of boxes to choose from. They can choose anything from musical jewellery boxes large and small, to plain boxes that call to mind a simpler time. Buying a used jewellery box, one that has it's own history and is therefore not quite the same as any other, is an excellent way to ensure that the owner has a unique place to store his or her jewellery.
What Makes Buying Used Different from Buying New
The biggest difference between buying a new and used example of anything, whether it be a jewellery box or something completely different, is interchangeability. Any brand new item is essentially interchangeable with the next one on the shelf. That is simply how mass production works, everything is the same. When buying used, the paradigm changes. Instead of everything on the shelf being the same, every item is unique. No two used jewellery boxes have exactly the same history, no two used jewellery boxes are in exactly the same condition. Each one is distinctive and needs to be approached in that way. This is why it is important to examine or research used items before buying them.
One big advantage of buying used is that it often supports a much wider range of budgets. A person with a limited budget who shops carefully may be able to find a jewellery box that was otherwise outside their price range by the simple expedient of looking at used boxes rather than restricting themselves to just buying new.
Features to Look for When Buying a Used Jewellery Box
Whenever anyone looks for a jewellery box, there are several features they should pay particular attention to before buying, and this goes double for those who are looking at a used jewellery box. No one knows exactly how the previous owner treated the jewellery box until they have the chance to study it and see the box's current condition, and what features it originally came with. The following checklist provides a guide for things to look for in any used jewellery box.
| Feature | What to Check |
| --- | --- |
| Hinges | Make sure the hinges are secure |
| Compartments | Each kind of jewellery requires its own compartment |
| Lining | Make sure the protective lining is present in each compartment |
| Locks | If the box has a lock, make sure it has a key |
| Fit and Finish | All doors and drawers should fit properly |
By checking all of the above features, regardless of the external appearance of the used jewellery box, buyers can be assured it is suitable for its purpose. This does not mean that any jewellery box which does not pass this inspection is worthless, only that it may require some repair before use.
Different Kinds of Jewellery Box
Jewellery boxes can be categorised in several different ways. By style, purpose, and even material. Some jewellery boxes are designed to carry just a few items and protect them on a trip, while others are designed like miniature strongboxes. Which kind is appropriate for a given buyer depends on that person's intended use for the jewellery box. The material the jewellery box is made of can also be important, as it has a direct bearing on both the care the box needs, and its expected lifespan.
Leather Jewellery Boxes
Often designed for men, leather jewellery boxes are usually not so much made from leather as they are covered with it. This adds a masculine feel to what is often called a valet box. It is used for storing watches, cufflinks, and other articles of men's jewellery. Because men generally have fewer pieces of jewellery and a smaller variety, these boxes also have fewer compartments than womens' jewellery boxes.
Wooden Jewellery Boxes
Wood is probably the most common material for jewellery boxes. Wooden jewellery boxes come in a wide variety of shapes, sizes, and styles and can last a very long time when given proper care. Some are small with just a few compartments inside, while others are larger with multiple compartments and drawers.
Travel Jewellery Boxes
A travel jewellery box is usually a relatively small box which is designed to hold a limited selection of jewellery securely during the rigours of travel. One way in which these boxes differ from most others is that the interior walls of the individual compartments are likely to reach all the way to the top of the box, so as to keep items separated, even if the box is overturned while in transit. They are also likely to have locks in order to ensure they stay closed.
Musical Jewellery Boxes
Music jewellery boxes have existed for a very long time, and the sound they emanate is one that has captivated generations. Most such boxes play only a single tune, being driven by clockwork. Those buying used should pay attention to whether the music actually plays, as it can be difficult and expensive to have the mechanism repaired.
Keys to Buying a Used Jewellery Box
The first step in buying a used jewellery box is for the buyer to identify their needs. Once a person knows exactly how they intend to use their jewellery box, it becomes that much easier to find the right one to meet those needs. The next thing the prospective purchaser should pay attention to is their budget, as that is often the controlling factor when buying anything. Once they have their budget set, it is time to look at features such as the number of compartments, the type of lining, whether it plays music or even locks. Knowing which features matter to any given buyer makes it that much easier for them to make an informed purchasing decision.
It is also very important for buyers to gather as much information as they can about any used jewellery box they intend to buy. This is where it is important for the buyer to do their due diligence. If the seller has photos of the jewellery box, the buyer should examine them closely in order to get an accurate impression of its condition. They should also pay attention to the description provided as this often includes a lot of important information that can be missed if the buyer only skims over the description rather than paying close attention to the details.
Buying a Used Jewellery Box on eBay
eBay is a good place to buy any jewellery box, whether used or new. All you have to do is enter your search terms in the box, there's a search box on each page, and watch the results come up. Once you have the results on your screen, you can use eBay's many tools to find exactly the used jewellery box you want. The filters in the sidebar can narrow your results down to just the ones that meet your criteria. You can filter by new or used, price range, even seller location. The site also offers a sorting tool that lets you arrange your results so that the ones you are most interested in are at the top of the list.
After you have your list of boxes, the next step is to determine which eBay seller you wish to do business with. One of the best places to check them out is at the seller's profile page where you can see both their location and feedback. You can also look to see if they have any special policies such as offering bundles, or whether they allow local purchasers to pick up their jewellery boxes in person to avoid shipping costs.
Conclusion
Buying a used jewellery box is a great way for any buyer to find exactly the box they want. Looking for used jewellery boxes opens up a wider variety of items to the attention of any purchaser. Buyers have the potential to find almost any kind or style of box ever made, rather than being limited to just those which are currently in production. The thing to remember when buying anything used is that no two used items are the same. New items may be interchangeable, but every used item is the product of its individual history and therefore unique. This also means that the buyer must research the specific jewellery box they are buying, not just the maker and type. Regardless of the type of jewellery box a person wants, be it a valet for cufflinks or something designed to store a person's entire jewellery collection in individually padded compartments, there is likely to be a used option for any potential buyer.