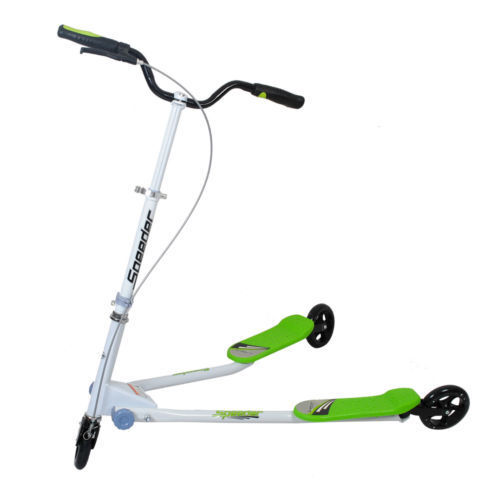 Kids scooters are immensely popular and have increased in demand and availability in recent years. More compact than a bicycle yet more maneuverable and practical than roller skates, kids scooters offer an excellent combination of fun and exercise,. They also make travel to school and around town a faster, more enjoyable journey for both children and parents alike.
Kids scooters are often known as "Kick scooters ", and are propelled by the rider kicking away from the ground, hence the name. They typically consist of a small platform supported by two , three or four wheels, and handles that the rider uses to steer. Many scooters are made of aluminium and feature a convenient fold-up option, but they can also be made from plastic. For models used for racing purposes, a more durable material is also seen.
Kids scooters are available in a range of styles, sizes and materials to suit children of all ages, and also come in adult sizes. There are many brands on the marketplace producing kids scooters; choice of style and selection of features is a matter of choice and will depend on the needs of the child using the scooter. Thousands of kids scooters are available on eBay and can be easily located and bought.
History of Kids Scooters
Kids scooters have been part of childhood play from as far back as the 1920's. In urban areas, primitive scooters were often seen, and were self-made using roller skate wheels, wooden planks and a handle for steering.
Manufacturers of kids scooters who began to follow the urban street trend and created different versions of kick scooters. As bicycles became more popular for children to ride, kick scooters lost their popularity a little, until In Switzerland in 1990 an inventor named Wim Oubother perfected new designs for a kick scooter that would also folded up for convenience. The idea was inspired by his sister who had one leg shorter than the other, so whilst she found riding a bicycle difficult, she could kick a scooter with ease. The resulting design, a small aluminium micro scooter kick-started the trend for scooting once more and demand rapidly grew.
Other companies worked with the idea and scooters were marketed worldwide. Popular brands today include Micro and Razor.
Benefits of Kids Scooters
The benefits of kids scooters are varied:
* They encourage children to exercise.
* They are faster than walking and an affordable alternative to bikes.
* They are easy to store in limited areas both inside and outdoors.
* They allow the rider to carry a backpack easily, and some come with accessories to turn the stem into a bag holder.
* They can be ridden indoors as well as outside.
* They can be stored in bags, making them transportable easily on buses, tubes and trains.
Types of Scooters
Kids scooters come in a range of styles, designs and brands. The main varieties are:
| | |
| --- | --- |
| Scooter Type | Details |
| | Folding scooters are able to be folded away and are designed to be very small to store away in backpacks and bags. Typically the handlebars can extend and retract into the stem to allow for a more compact design. |
| 2 Wheeled Scooters | The majority of kids scooters are 2 wheeled, and have wheels made from polyurethane which are durable and quiet when ridden. 2 wheeled scooters can also be electric and/or folding. |
| 3 Wheeled Scooters | 3 wheeled scooters tend to come in 2 varieties. Either they have two separate platforms for each leg like skis, adjoined to the front wheel, or they have 3 wheels with a wider platform in the middle. 3 wheeled scooters are easier to balance on and are more sturdy than 2 wheel scooters and might be a good option for younger children. |
| T- Bar Scooters | T-bar scooters have a steering column and handlebars that are all in one, in the shape of a "T". |
| 4 Wheeled Scooters | 4 wheeled scooters are also available which may be particularly useful for young children and toddlers, as the 4 wheel design allows for a sturdy, stable ride. They are bulkier than 2 and 3 wheel scooters and less able to be folded. |
| Electric Scooters | Electric scooters command a higher price range than kick scooters, and are battery powered with twist throttle mechanisms. Electric scooters may be 2, 3 or 4 wheeled, and may also be foldable. |
Parts of Kids Scooters
Scooter Part

Details

The majority of kids scooter frames will be made from aluminium. Aluminium is used due to it's low density and resistance to corrosion. It can also be produced cheaply.

Wheels

Wheel size:

* Basic kids scooters come with 62mm wheels for a low and stable centre of gravity.

* Many mid-range scooters have 100mm wheels.

Materials

Most kids scooter wheels are made with similar materials such as polyurethane which is durable, light and quiet to ride on.

Wheel Hardness

* Wheel hardness is measured in durometers.

* Low numbers indicate a softer wheel and higher numbers indicate a harder wheel.

* Durometer is shown by the suffix "A" following a number.

* The typical Scooter wheel is "82A."

Bearings

Bearings are balls at the centre of each wheel (usually 7 or 8 in number).

Bearings are either serviceable or non-serviceable; serviceable bearings may be taken apart to be cleaned, lubricated or replaced.

Non-serviceable bearings need only to be wiped off with a clean cloth.

Bearings do not need to be cleaned after every use; if they become wet they should be cleaned and dried.

Kickboard

Kickboards are the main boards for balancing on a scooter. Most kickboards are around 35cm in length, or smaller for toddler scooters, and are often made from aluminium too for durability.

Anti-slip Footplates

Some kickboards have anti slip footplates with a textured surface to help prevent slipping when riding the scooter.

Handlebars

Handlebars tend to be made from aluminium with rubber compound textured grips. Grips can be replaced if they become worn, and may come in a range of colours and styles.

Back Wheel Footbrake

Back wheel foot brakes are commonly found on kids scooters to help slow down and stop during a ride.

Tilt and Turn Steering

Some scooters, particularly for younger children, have a "tilt and turn" mechanism to aid steering when riding. This works by turning the wheels when the handle bars are tilted to the left or right.
Kids Scooter Designs
Kids scooter designs vary greatly. Commonly, there are the following varieties:
* Retro-style scooters have larger wheels and frames, to emulate the scooter style of the 60's and 70's.
* Clean aluminium styles, particularly found on folding "razor" style scooters.
* Some scooters may have character designs from well known cartoons or TV programmes.
Accessories
Many kids scooters have the option to add a range of accessories. These include:
* Handlebar streamers
* Mini seat bags
* Bespoke grip tape designs for the kickboard
* Lights, bells and locks
* Helmets
* Knee and elbow pads
* Attachable drinks bottles and holders
* Carry cover bags
Some scooters may be sold with accessories, or may have the option to add them. Certain accessories are brand specific, and some fit a range of scooters and are not exclusive to any particular make.
Choosing a Kids Scooter
When selecting a kids scooter, several factors may influence a choice:
* If a scooter is for a young child, look for tilt and turn steering and a wider balance board for extra stability.
* Budget may be a deciding factor, in which case consider which elements may be compromised; for example, decide if the scooter may be needed to fold, or if a heavier, non folding scooter will suffice at a lower budget.
* Make sure the size is sufficient for the intended rider, and that the weight of the rider can be supported by the scooter sufficiently and safely.
* The availability of spare parts for a scooter is an important consideration. Research thoroughly how easy parts are to buy if any need to be replaced.
* Research brands using reader review forums online, and make a choice as informed as possible by reading around the information.
How to buy a Kids Scooter on eBay.
eBay offers thousands of kids scooters, ranging from electric scooters to lightweight folding micro scooters. It is easy to pick up a second hand or nearly new bargain with eBay sellers, who are renowned for their competitive pricing and wide range of products. Plus, there are plenty of flexible payment options available by buying on eBay.
To search for kids scooters , visit the Sport & Leisure portal category on the home page. From there, navigate to Sporting Goods and select the Scooters section.
Alternatively, type in specific search terms into the search box provided on every page. Using specific searches such as "kids 3 wheel scooter" can also help you find suitable items.
When searching through listings, carefully review all the data. Make sure the item matches the product required. Look over the photographs a couple times, and feel free to ask the Seller a question. When ready to buy, either place a Bid, Buy it Now, or put down a Best Offer. Buying with PayPal will ensure the transaction will go smoothly. eBay users are protected by the Buyer Protection Program.
Conclusion
eBay sellers have a wide range of kids scooters available to buy. Kids scooters come in a range of designs, brands, styles and sizes, and may be suited to individuals dependant on budget, colour and material choice and functionality. Finding the right scooter is simple and easy on eBay.