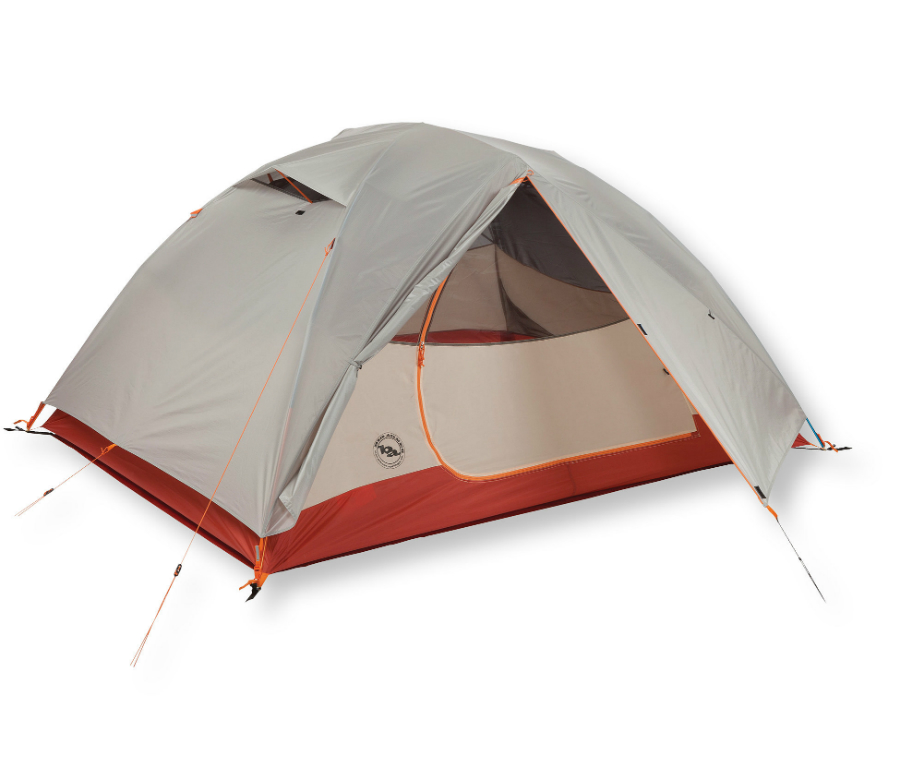 A tent is a form of portable housing, usually made of fabric which is stretched over poles to create a structure, and pinned down to the ground. Tents are a more affordable, portable form of shelter than alternatives like a hotel, that can be packed up and taken everywhere - making it a popular housing option for campers and those who like to travel at a low cost, as well as festival goers. There are even tents designed for children to use in their garden for general play.
Some tents are large enough to include rooms, such as a sleeping area and a living room. These are particularly good for families.
Tents now come in a wide range of styles and layouts. There are even a number of novelty tents that take the form of famous landmarks and vehicles, for those that want to stand out. Some tents are designed to be simple and quick to set up, with newer designs adopting a 'pop-up' style to allow users to erect the tent in seconds.
Lightweight Tents
Lightweight tents are designed to be collapsed into a compact shape, which can be stored away easily. The materials are designed to be as light as possible, therefore making them suitable for packing in a backpack or small bag. Lightweight tents are generally made for 1-2 people, as larger tents for more people are heavier and usually take a little more time to set up.
Lightweight tents may not be designed for heavy use, or challenging circumstances such as extreme sports or challenges, but they're ideal for light usage like annual holidays, festivals and those travelling. They're also used as emergency accommodation when required, for example in the aftermath of natural disasters.
Lightweight tents come in a range of sizes, from a one-man tent to a tent large enough for a family.
The History Of The Lightweight Tent
The first tents used were believed to be from the early Iron Age, as they were mentioned in the bible. In Genesis 4:20, Jabalis was described as "the first to live in tents and raise sheeps and goats". In the Roman Army, leather tents were used, and the format continued to be redesigned throughout history into different styles. Military tents were designed to help soldiers have shelter when in the field, and much larger tents were created to house large groups of soldiers as well as other 'buildings' in military camps.
The Main Tent Styles
There are a number of popular tent styles. Some of the most common include:
Family Tent - Large and spacious, often with more than one area to be in so the children and parents can have separate areas.
Festival Tents - Cheap and cheerful, and ideal for a weekend away. Festival tents are usually easy to put up and collapse.
Pop Up Tents - These tents are usually set up within seconds of opening them, and only need to be pinned to the floor if necessary.
Compact Tents - Compact tents sit between Family Tents and Lightweight Tents as a tent for 3-4 people, with one large space.
Large Tents - Ideal for 5-6 people, large tents have enough space for a number of people plus storage space.
Lightweight Tents - Ideal for 1-2 people. Lightweight tents are designed to be easily carried and set up, making it great for travelling or army professionals.
Large Professional Tents - Marquees, party and circus tents can be found on eBay, for special events, weddings and corporate events. These are designed for daytime events, rather than for staying overnight.
A family or group might prefer to stay in several small tents, rather than all sharing the same sleeping space.
Considerations When Buying A Lightweight Tent
There are a number of things you need to consider before buying a lightweight tent:
The material used for the canvas. The most common materials are cotton, nylon, felt and polyester which can be coated with paraffin to increase the waterproof coverage. Cotton itself is a useful material as it expands when wet, which can cover up any small holes. However, wet cotton is heavier when wet. Nylon and polyester are more lightweight and soaks up less water, but tends to suffer more wear and tear over time than cotton. Have a look at the Hydrostatic head count to find out how waterproof the tent will be.
Insulation. Does the listing tell you how good the insulation is? This is particularly important in colder climates where the heat needs to be kept in.
A mosquito net: A mosquito net is handy in most situations, as mosquitoes are common in most locations overnight.
The structure. A lightweight tent will come with a light structure such as plastic poles, or sprung poles. Metal poles will be sturdier over time, but heavier and better suited to a more heavyweight style. The poles in lightweight tents can usually be dismantled so that they can be packed away into a compact bag. Some poles are flexible, so that they can bend to create the rounded roof of some of the tent designs.
A floor sheet. Some tents come with a floor sheet and padding to make sleeping in the tent more comfortable and avoid getting too wet if the weather is bad.
The number of people it can fit. Most tents give an indication of how many people they can fit. However, as a rule of thumb, it's worth deducting one person from this recommended number as reaching full capacity can be rather snug.
Carrying case or bag. The majority of tents come with cases or bags that it can be collapsed and stored into. It's worth checking the tent comes with one when looking on eBay at used lightweight tents.
Added extras. Some tents have internal pockets to store your contents away, while others have sections within the tent to hang a light.
How To Buy A Used Lightweight Tent On eBay
eBay has plenty of choice when it comes to buying a used lightweight tent. There are plenty of options, from one man tents to pop up tents designed for quick and easy setup. There are also plenty of designs, ranging from camouflage designs for the serious campers, to themed designs aimed specifically at children. On eBay, sellers are renowned for their competitive pricing and wide range of products, coupled with the flexible payment options available by buying on eBay. Additionally, eBay can offer a much wider range of tent styles and accessories than many of the high street competition.
It is important to find the right kind of tent for your needs. For example, there are plenty of simple and quick options like the previously mentioned pop up tents. There are also plenty of professional tent styles for those that want to take on extreme challenges, while family tents can suit those on holiday.
Lightweight tents can be found in the Sporting Goods section, across a number of sections. The simplest way to find a wide range of tents is to search for 'tent' in the search bar. Depending on the time of year, this should bring up tens of thousands of results. However, it's worth considering that more people will be looking before the summer holidays and festivals, and are likely to be more likely to sell after this period of time.
Alternatively, type in specific search terms into the search box provided on every page. Using specific searches such as "family tent" or "festival tent" or other terms you require will help locate the desired item.
When you find an item of interest, make sure you thoroughly look through the listing and read all the available information. Do your research, to make sure the item listed matches descriptions elsewhere. If there are few photos, or low quality photos, contact the seller for a clearer photo to make sure you're getting a good quality tent. Also, check their feedback to make sure they have a good reputation and feedback. Finally, contact the seller if you have any questions.
When buying a second-hand lightweight tent, make sure all the pieces are included - such as the fabric, mosquito net, poles and bag if required. The tent might have small holes or tears, so it's worth checking this with the seller before buying.
If you're interested in the item, you can Bid on it, Buy it Now or put in your Best Office. These options depend on whether the seller offers them. You then have the option to pay with PayPal, to make sure the purchase goes smoothly. Remember - eBay users are protected by the Buyer Protection Program.
Some people buying a tent for the first time on eBay may also be looking for other items for their camping trip or travelling. eBay has a huge variety of things, such as backpacks, camping stoves, inflatable beds and even wind up torches.
Conclusion
Buying a used lightweight tent on eBay requires some research and knowledge of what tent would suit your needs most. Different tents suit different requirements, and there is now a wide range to choose from for all needs. Buying through eBay makes it easy to track down rare or affordable parts for your camping needs.