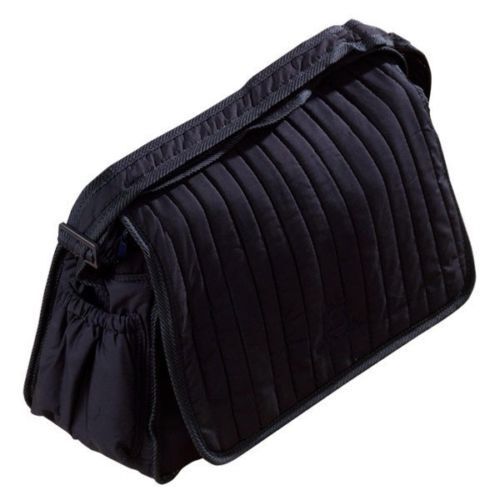 Some buyers go for basic baby bags that fulfil the basic function of holding a few baby necessities, while others opt for a more luxurious baby bag that serves the basic function as well as makes a fashion statement. Luxurious baby bags often comprise more features and are generally more expensive. However, if a buyer would like to purchase trendy, feature rich baby bags, they can opt for used luxury baby bags at a fraction of the original cost. Many online stores offer these used baby bags in mint condition, so buyers can easily purchase one without leaving their home.
Baby bags today can be found in numerous styles, shapes, colours, and price ranges. But before a buyer venture out to make a purchase, they should consider certain factors that may impact its functionality. They should play close attention to the weight, size, and design of the bag, as well as its manufacturing material and conformity.
What to Consider When Buying a Used Luxury Baby Bag
Even though a baby bag can seem be a simple item, there are still quite a few factors to consider. Below is a discussion of three important factors to consider for buyers interested in used luxury baby bags.
Luxury Baby Bag Weight
Having a luxury baby bag does not mean that it should comprise a whole lot of unnecessary embellishments. When carrying a baby, it is often necessary to travel with numerous items, including diapers, baby feed, change of clothes, blankets, baby skin care products, and other items that may vary on an individual basis. Therefore, a baby bag can quickly become heavy, so buyers should avoid bags with metal frames and large heavy buckles that can create additional weight.
Luxury Baby Bag Colour
While looking at a baby bag in a store or online, buyers tend to fall in love with colours that are not conducive to the environment that baby bags may come in contact with. They should try to avoid light colours, such as beige and white, or even light pink and blue. Instead, buyers should focus more on dark colours if the bag has one solid colour, and if a printed bag is chosen, look for a dark background, abstract, or floral pattern.
Luxury Baby Bag Material
Even though the bag should be relatively lightweight, it should also be sturdily constructed from heavy duty materials. Baby bags made with canvas, nylon, or leather are often sturdy enough to last a few years. These materials are the best choices, especially when used baby bags are being considered. Despite the fact that the baby bags may have dark colours, it is always wise to select a bag that can be easily wiped clean or spot-cleaned.
Leather and vinyl luxury diaper bags are best for quick cleaning, but if buyers are more drawn to fabric bags, they should ensure that it is made with an outer plastic covering for added protection. Diaper bags can get messy or wet very often, so these factors have to be considered to maintain cleanliness.
Luxury Baby Bag Styles
Luxury baby bags are made in many different designs to accommodate the style and comfort preference of the user. Some buyers even opt to buy two or three different designs and change them based on the traveling parent or destination. A baby bag is considered luxurious when it incorporates multiple features and functions, or is made by top designer brands. Even when used, these bags can often remain in good working condition.
Luxury Messenger Baby Bags
Messenger baby bags are made for easy carrying and may resemble the bag carried by the postman. They generally have long straps that allow them to be slung over the shoulder or worn across the chest. They are often made with a single flap and two or three outer pockets.
Luxury Backpack Baby Bags
As the name suggests, backpack baby bags are generally made with one or two back straps to allow the user to sling it across their back like a child would their school bag. Most backpack baby bags would differentiate themselves from standard backpacks by being insulated or comprising various compartments to facilitate carrying baby bottles, used diapers, and other baby oriented items.
Luxury Tote and Shopper Bags
Luxury tote baby bags greatly resemble the luxury tote bags that fashionable females often don. They have the same bright colours, embellishments, and style. However, they may be a little bigger and contain more compartments. The shopping bag designs tend to be less fashionable and more practical. However, they are more geared to short trips and have fewer compartments.
How to Choose the Right Baby Bag Style
Before selecting a baby bag style, buyers should consider the amount of time that is to be spent carrying it around. For long journeys with additional luggage, it is best to use a backpack baby bag, which allows the hands to remain free to hold the baby and other items. Shopping and tote bag styles are best left for short trips.
Compartments
Additionally, buyers should try to not base their decision on the number of compartments that a baby bag has. The bags are generally fine with just two external pockets and a zipped area, one internal zipper, and maybe a divider section. More importantly than compartments, buyers should ensure that the bag has interior plastic lining for those inevitable leaks, spills, and breakage.
Bag Straps
Bag straps should be long and adjustable. This way, the strap can be adjusted to suit the height of different users on different occasions. The strap should also be sturdy and padded if possible because the weight of the items that are sometimes in a baby bag can strain the shoulders.
Space
An ideal baby bag has enough room to hold all the essential items and maybe a little extra room for the occasional additions. However, it is not wise to simply select the biggest baby bag available because buyers tend to want to fill the empty spaces and before long, an entire nursery is packed inside and weighing down the carrier's shoulders.
Flexibility
The bottom of the bags should be sturdy, preferably with something rigid and flat, so that it can stand up easily. However, the sides should be softer and more flexible so that the bag does not appear bulky even when only a few items are in it, yet it can still look appealing when it is over stuffed.
Closures
Baby bags are made with a variety of closures including, zippers, flaps, buckles, snaps, and ties. The closure aspect can be a bit tricky, but it can easily be narrowed down when considering how the bag may be used. For instance, if the baby bag is being bought simply for the purpose of traveling to the day care, then a nice zipper closure would be best. However, if the bag is for trips to the park and similar events, a flap or snap closure may be more suitable for quick and easy access that may be required frequently.
Baby Bags for Guys
Women are often the main buyers for baby bags, but that does not mean that the bags are only used by them. In many instances, the bags are also used by their partners who may cringe at the thought of sporting a girly-looking tote baby bag or a messenger bag with bright colours and floral patterns.
If buyers are not willing to purchase two different baby bags, it is best to choose a neutral colour and style that both parties can be comfortable carrying. Buying a neutral baby bag does not mean that the luxury aspect has to be diminished, it simply means that buyers need to select something stylish yet subtle. It is actually quite easy to find used luxury baby bags for dads , and buyers may even be able to get details and recommendations from the sellers.
Personal Preference
After considering all the factors above, buyers still need to make a choice that they are comfortable with. The bags should still match their personal style and taste while maintaining practical functionality.
How to Buy Used Luxury Baby Bags on eBay
Buying used luxury baby bags on eBay is a pretty simple task. Start out by performing a search for " luxury baby bags ", "luxury diaper bags&", or " luxury nappy changing bags&" as the three terms are interchangeable. You can perform this initial search from the eBay homepage and then sift through the numerous options that the search may return.
Additionally, you can opt to apply some of the appropriate filters to aid in narrowing down the selection. Filters include bag type, bag feature, brand, and colour. However, if you are already certain of the elements that you would like your baby bag to have, some of those features can be included in your initial search. For instance, if you would like a used, black, Mothercare, luxury baby bag , you could search for "black Mothercare baby bags" and then select the "used" and "luxury" filter.
Remember that you can often find luxury bags that are not listed as such, so take the time out to browse through the selections once all the important filters have already been added. Before you make a final selection, choose at least two different baby bags and contact the seller for additional pictures, info on past usage time, unseen damages, and anything else that you would like to know before making a final decision and submitting your payment.
Conclusion
Ample consideration should be given to selecting the right baby bag. Even more consideration may be required when a used, luxury baby bag is the item of choice. Before buyers go on a shopping spree, there are a few specific factors that need to be taken into account, such as the bag's weight, colour, and main material. Buyers have to understand how these factors may affect their selection process and the usage of the bag once it is acquired.
In addition, they also need to consider the style of luxury baby bags available. Not all baby bags are created equal and even though it is luxurious and bought used, buyers still need to ensure that the selected style is functional and practical.
Personal preference is not thrown out of the selection process, but it is not among the main consideration factors. However, eBay's large selection, powerful search engine, and incorporated filters allow buyers to easily find a stylish luxury baby bag that fulfils all the necessary requirements.