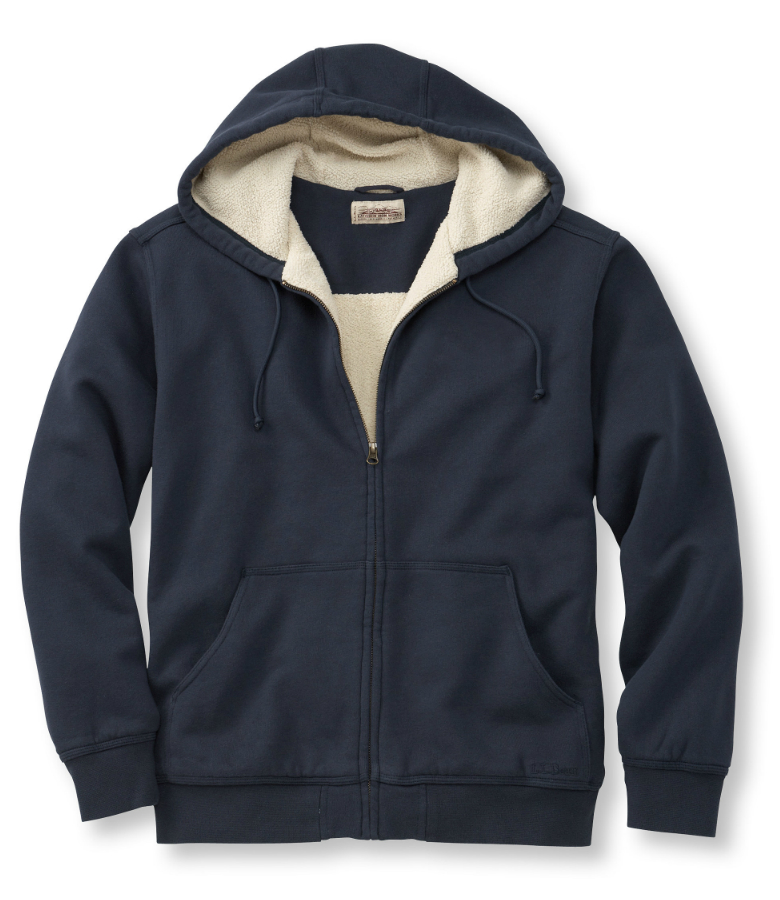 A lot of people have discovered the great thing about buying second-hand clothes. Not only are they more affordable than new clothes in ordinary retail trade, but used clothes also provide an opportunity to express one's unique personality. The market for used clothes offers a limitless range of different styles and designs and is a perfect source for finding an original article of clothing. The classic hooded sweater, known colloquially as ahoodie, is a comfortable, stylish, and versatile casual wear that is widely available in the used market.
When shopping for a used men's hoodie, it is useful to consider a few main points in order to effectively browse the sometimes overwhelming assortment available. It may be useful, for instance, to consider one's motive for wearing the hoodie; is it part of a fashion statement, or simply a nice garment to wear while relaxing in front of the television? Other factors to consider fall on the design dimension, including whether to get a zipped hoodie or a "pullover" variant, how tight or loose it needs to be, and what fabric one prefers. In spite of how commonplace the men's hoodie is around the world, the opportunities for finding one that fits one's unique style are endless. Whatever their tastes, hip hop fans, sports fans, and coach curlers are likely to find a hoodie in the used market, including online sources such as eBay.
The Universal Hoodie
Few pieces of clothing enjoy as universal an appeal as the classic hooded sweater known as hoodie. Though perhaps a far-fetched illustration, one might want to ponder the remarkable circumstance that the hoodie design has been an important marker of identity among a wide spectrum of male figures. The hoodie has featured in a wide range of characters and personalities, from Robin Hood and Little John, all the way up to modern hip hop artists such as Li'l Wayne, and countless ascetic monks through history. Even glamourous red carpet celebrities have been spotted wearing an oversized hoodie as a "statement". Clearly, there is something special about the sweater with a hood attached. Not only is it extremely convenient to have a cosy hood close at hand for when it gets chilly, but the hoodie is also ideal for staying comfortable and unassumingly fashionable. The used market is a great source for finding affordable and unique hoodie designs for every type of male.
Used Men's Hoodie Considerations
Before going out to buy a used men's hoodie, it is wise to have an idea of what one is after. Though it can be fun and inspiring to aimlessly browse the range of hoodies available, most people like to have at least a hunch of what they are after. This section offers a few useful points to consider in order to make an informed used hoodie purchase.
The Hoodie as a Musical Statement
It has probably not escaped many people that the hoodie is an important fashion item in the world of hip hop music. Classic artists, such as Public Enemy, Tupac Shakur, and Wu-Tang Clan, left a lasting impression on generations to come, introducing the hoodie as a prime fashion statements among hip hop fans. Countless used hoodies in the market can work great as a tribute to hip hop heroes. Hip hop fans usually like to wear oversized hoodies, combined with baggy jeans. Another great way to show off one's allegiance with hip hop is to wear a hoodie with a nice print of a favourite artist or group. For instance, if one missed the latest tour of a favourite hip hop group, chances are that an original merchandise hoodie is available in the used market.
The Hoodie as a Fashion Statement
Even people who are not particularly into hip hop find the hoodie to be a great accessory for making a statement. The hoodie has been associated with a certain rebellious attitude and been popular among various subcultures and youth groups. The nice thing about getting a hoodie on the used market is that there are many chances of finding a unique piece. Rather than getting a hoodie from a mainstream fashion store, the person who wants to stick out from the crowd will find that there are many unique designs available second-hand. The wear and tear that is sometimes associated with buying used clothes may even be regarded as a bonus in certain subcultures, such as the punk scene. In fact, many mainstream stores sell new hoodies that have been deliberately designed to look used. Why not get one that was actually used instead?
The Hoodie as Sportswear
As seen in the Rocky Balboa film suite, the hoodie is also a functional and fashionable garment to wear during exercise. Sports hoodies are usually tighter than standard models and made of a lighter fabric. The sports hoodie is ideal for going out running, when the weather is too cold to be wearing just a T-shirt, or for when it is raining. When getting a used sports hoodie, it may be wise to check the overall condition of the hoodie. Naturally, sports garments are subject to wear and tear and do, after some time, become unhygienic. Provided that the hoodie looks fresh and washed, however, there is no reason why one should not get a used sports hoodie.
The Hoodie as Cosy Casual Wear
During the weekend, few things are as relaxing as putting on a large hoodie and curling up on the couch to engage in a shameless TV series marathon. The hoodie is a must-have garment for just "kicking back" during an off-day.
Used Hoodie Variations
The market for used hoodies is immense. Indeed, one of the benefits of buying used clothes is the limitless range of variations available.
Zipped Hoodie
One thing to consider when getting a used hoodie is whether a zipped hoodie or the traditional "pullover" model is more appropriate for one's need. Zipped hoodies are useful in that they can be used as spring and summer jackets. Particularly in the UK, and the northern parts of Europe, summer can be unpredictable, leaving people confused about what to wear. Having a hoodie with a zipper is perfect; zip it up when it gets chilly, zip it down when the sun comes out. Zippers have a notorious tendency to wear out over time, so when getting a used hoodie, it is important to check that the zipper is still working.
Pullover Hoodie
The alternative to a zipped hoodie is the traditional pullover model. Buyers looking for this type of hoodie need to choose between V-neck and regular crew neck variants. Unlike other men's tops, where the crew neck is typically considered to be more formal than the V-neck, the difference between V-neck hoodies and crew neck models is really only one of personal preference. The V-neck often leaves a bigger shirt opening below the neckline and is perhaps more suitable in warmer environments. People who intend to use the hoodie as outerwear in spring and summer might find that the crew neck does a better job at keeping the upper body warm. Pullover hoodies usually come with cords, but there are cordless models as well. Again, the person who wants to use the hoodie as outerwear might find it useful to be able to tighten the hood around the head when it gets chilly. When getting a used corded hoodie, it is important to check that the cords are still there.
Tight or Loose Hoodie
Hip hop fans, as noted, like to wear loose hoodies as part of an overall fashion statement. Though most hoodies are indeed at the looser end of the spectrum, there are variations such as the sports hoodies discussed above. Since hoodies are often used on top of other clothes, such as a T-shirt, most people like to wear a looser model that fits comfortably on top.
Hoodie Sizing Chart
When getting a used hoodie, it might be worth checking that the actual size matches the stated size. Depending on how many times the hoodie has been previously washed, some shrinkage may have occurred. The chart below displays standard measurements for men's hoodies as reference.
| Size | Chest Measurement (cm) |
| --- | --- |
| XS | 86-91 |
| S | 91-96 |
| M | 96-101 |
| L | 101-106 |
| XL | 106-111 |
No matter what type of hoodie a man chooses, sizing will typically run the same from style to style. It is especially helpful to use a sizing chart when ordering hoodies online so that one knows the garment will fit upon delivery.
Fabrics in Used Hoodies
Hoodies are available in many different fabrics. Cotton is very common and is usually a strong and durable material. Alternatively, one might want to look for polyester hoodies, which are often warmer than cotton equivalents. Cotton and polyester are used most often in standard indoor hoodies, intended to be used primarily as regular sweatshirts.
Another popular fabric for hoodies is fleece. This fabric is thick, warm, soft, and comfortable, making it ideal as a lighter alternative to wearing a jacket. Anyone looking for a used hoodie that will be used outside during spring, or early autumn, should consider buying one made of fleece. However, hoodies made of fleece may be too warm to be worn inside. The hip hopper or fashion fan, therefore, should probably look for cotton or polyester hoodies.
Buying a Used Men's Hoodie on eBay
Perhaps an even better place to look for used men's hoodies is the Internet. There are several online marketplaces that offer whole selections containing used clothes. eBay, for instance, has hundreds of listings for used men's hoodies in all shapes, sizes, and designs.
An easy way to quickly access the huge assortment of used hoodies available on eBay is to go to the main page and type "used hoodie", or "used men's hoodie&", in the search bar. This search provides listings of the men's hoodies available on the site. Usually, such a search will also display a few useful categories to browse. Another great feature on eBay is the ability to filter out results according to personally relevant criteria. For instance, if you forgot to include the word "used" in your keyword search, simply tick a box to narrow down your listings and display used items only.
Similarly, you can specify criteria such as size, brand, colour, material, neckline, and shipping conditions. You might also want to filter out sellers according to where they reside, and, for example, look for "UK only", "European Union", or "Worldwide" sellers. If you are looking for a print hoodie such as that of a favourite hip hop group, specify this in your keyword search by adding phrases such as "Public Enemy" or "Tupac" to the search terms.
Conclusion
The hoodie is a timeless article of male clothing, available in an almost limitless range of different designs. Hip hop fans, and other subcultures, use the hoodie as a powerful fashion statement and marker of identity, while other people may prefer to use it simply for lounging around in cold weather. Individuals who want to express their unique personality, or just want an affordable hoodie, might want to look in the used market. Regardless of the hoodie design one is after, such as a zipped or a pullover, one with cords, V-neck or crew neck, the abundant assortment of used hoodies means that the chance of finding one that meets the requirements is almost certain.
Important factors to consider when getting a used hoodie include design, size, fabric, and whether one wants to make a "statement" by wearing it. Good places to look for a used hoodie are flea markets, second-hand stores, and garage sales. Perhaps an even easier way to find a hoodie that matches one's needs is the Internet. The online auction site eBay offers a huge selection of used clothes. The site's intuitive search function and the many ways to narrow down search results make eBay a great resource for used hoodies for men.