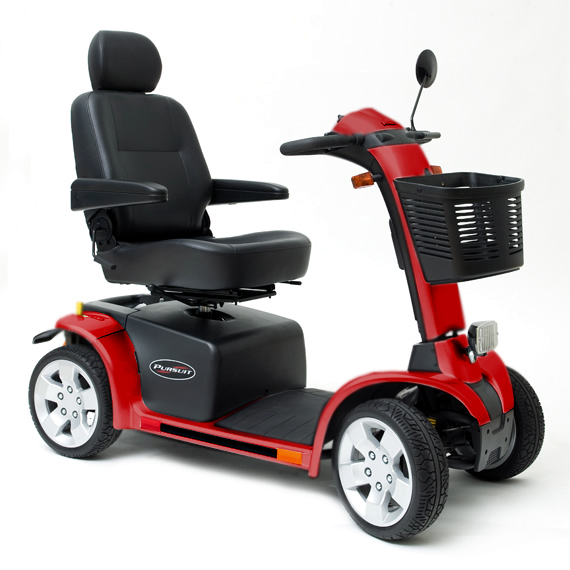 It can happen to anyone at any time: An illness, injury, or condition leaves a person unable to walk unassisted (or at all), either temporarily or permanently. Such situations include paralysis, amputations, degenerative disorders, postsurgical recovery, bone fractures, and obesity. A number of devices exist to help people get around, including crutches, wheelchairs, and knee scooters. Mobility scooters are another popular solution for people with impairments; however, these vehicles are no small investment. People who are trying out a scooter to see how it works for them, or simply people who are on a budget, may want to look at used mobility scooters when they begin shopping.
In order to get the best value from a used motor scooter, buyers should first learn about mobility equipment and scooters in general so that they know what options are available and what to look for. Consumers should also understand the pros and cons of a mobility scooter before making a purchase. Learning what features to look for and what to consider when purchasing a used scooter, round out the buyer's necessary education.
Mobility Scooters vs. Other Mobility Aids
A mobility scooter serves the same purpose as a wheelchair; however, the user of a manual wheelchair must be in good general health and have adequate upper-body strength, flexibility, and endurance. For example, paraplegics with no other injuries or underlying conditions may prefer being in control of their own movements by using their hands and arms. On the other hand, some people who are unable to walk lack total-body strength due to a systemic condition or more advanced impairment; these people are not capable of moving their body weight with their arms. A mobility scooter allows such individuals the same freedom as those who can use a regular wheelchair.
Power wheelchairs are another solution for people who cannot use a manual wheelchair, although these are costly and, in many cases, more expensive than mobility scooters. For this reason, power chairs are best for quadriplegics and those who have no other options.
Crutches are often prescribed for recovery from surgery and fractures of the lower limbs, but again, these require skill, muscular strength, and healthy joints. The one leg supporting the body weight must be in optimal condition to take on the extra load. An older person or someone with a limited range of motion may do better to use a mobility scooter while healing.
Pros and Cons of Mobility Scooters
As with any purchase, there are benefits and drawbacks to mobility scooters. Buyers should understand these thoroughly to avoid buyer's remorse.
Mobility Scooter Pros
Because mobility scooters look more like a fun vehicle than a piece of medical equipment, they are accepted better by society at large. Getting into a scooter is also easier than seating oneself in a wheelchair, as there are no footrests to lean over and adjust. Usually, getting into the scooter simply requires swivelling the seat. Some scooters can fit into a car boot for use when working, running errands, or visiting family and friends, so consider a portable scooter if travelling is necessary.
Mobility Scooter Cons
Mobility scooters can be difficult to navigate, depending on the environment. Some wheelchair-accessible areas are not designed to accommodate scooters. With the mobility scooter being longer and closer to the ground, getting through doorways and over low curbs or other bumps can be a challenge. Moreover, while the scooter does not require as much upper-body capability as a manual wheelchair, it is necessary to have some upper-body control and core strength in order to sit up and operate and steer the machine.
Mobility Aid Classes
Mobility scooters are categorised according to their class: 2 or 3. The UK government specifies different speeds and uses of mobility equipment as different classes. The following chart gives the details on each class.
| Classification | Description | Mobility Aid Specifications |
| --- | --- | --- |
| Class 1 | Invalid carriage / manual wheelchair | Speed limit 6 km/h; pavement use |
| Class 2 | Powered wheelchairs and mobility scooters | Speed limit 6 km/h; pavement use |
| Class 3 | Powered wheelchairs and mobility scooters | Speed limit 12 km/h; pavement and road use; minimum operating age of 14 |
The difference among these is important, because Class 3 scooters must be registered as a motor vehicle with DVLA and display a tax disc in order to be used on the road. Failure to comply with mobility scooter laws can actually result in a ticket. Class 3 scooters must also feature a horn, rear view mirror, turn signals, lights, and reflectors. The scooter must include a device that restricts speed to 6 km/h under certain conditions. A Class 3 scooter must weigh no more than 150 kilogrammes when empty and should be no wider than 0.85 metres. Needless to say, the choice to purchase a Class 3 device is a real commitment to safety and law.
What to Look For in Mobility Scooters
As with a car, it is usually best for a buyer who needs a scooter on a long-term basis to test out a few scooters before committing to a purchase. It is important that the scooter be perfectly comfortable, easy to operate, and in good working order. Test the turning radius to be sure the scooter can turn in a tight space in the home or wherever it is to be used. This factor often depends on the steering mechanism and the number of wheels on the scooter.
Number of Wheels
The number of wheels on a scooter can make a difference in its manoeuvrability. The most popular mobility scooters feature three or four wheels, with a few resting on five wheels. One must consider where the scooter is to be operated in order to decide how many wheels are best.
Three-Wheeled Mobility Scooters
A three-wheeled mobility scooter is easiest to manoeuvre. The two wheels may be in front or the back, with the third wheel at the opposite end. If a buyer plans to use the scooter indoors most of the time, a three-wheeler is the way to go. Three-wheeled scooters can be unstable on uneven surfaces, but this is not usually a problem inside buildings. Speed should be kept low to maintain control and stability.
Four-Wheeled Mobility Scooters
Four-wheeled mobility scooters are more stable than three-wheeled versions; this makes them better for outdoor use. Pavement cracks, low curbs, even pebbles and twigs can upset a scooter, so four wheels gives the vehicle less likelihood of tipping when running over such an obstacle. Four wheelers are a bit trickier to turn, but larger outside spaces usually do not require tight manoeuvring like indoor environments do.
Five-Wheeled Mobility Scooters
A five-wheeled mobility scooter supposedly combines the benefits of both three and four-wheeled scooters. Five-wheelers are reportedly more stable than three-wheelers but easier to manoeuvre than four-wheelers.
Weight Limits
Any vehicle can only support so much weight. The person who needs to use the scooter must consider his or her weight and be willing to divulge this information if necessary when shopping. Some models can hold up to 110 kilogrammes; others hold up to 155 or even 225 kilogrammes. If obesity is an issue, there may be fewer choices when it comes to mobility scooters, but getting an appropriate model is safer and more comfortable. Remember that if a shopping basket is attached to the scooter, the weight of the merchandise must also be considered.
Scooter Seats
A scooter user may be seated for a long time, so it is essential that the seat is comfortable. The seat must provide enough room for the legs. Padded seats, seats with arms, and even luxurious captain's chairs are available, depending on the manufacturer and model. It all boils down to how long the user plans to stay in the scooter on a regular basis. Short shopping trips may require less comfort than all-day use around the house.
Used Mobility Scooters
Generally, as with automobiles, there are two ways to buy a used mobility scooter: from a dealership or company and from an individual. Private sales may be better for buyers who are looking for the best prices; however, one must also consider that the use and care of the machine is unknown, and there is almost never a warranty included in such a sale. Dealerships check out and restore equipment before reselling it but are more likely to charge more. The buyer must make a decision as to which is preferable, since the trade-off is inevitable.
Communicating with the seller and getting answers to questions is paramount. Be wary of any seller who is unwilling to answer questions or is generally evasive or uncommunicative. Be sure to find out about the following:
How long the owner had and used the scooter
If there were any previous owners
If any service or repairs have been performed
What kind of battery is in the scooter and how old it is
Check online to find out how much a particular scooter costs brand new; this is a good way of determining if the price of a used one is relatively fair.
Keep in mind that it may be a good idea to buy a used scooter only if the brand is still in existence. Equipment from used companies is difficult or impossible to get parts and service for.
Where to Find Used Mobility Scooters
There are a few different shopping options for used mobility scooters. Buyers can check with medical equipment rental companies; these businesses may sell their rental items after a while. One can also look at classified advertisements or check online auction sites. Some shops and and even larger employers feature bulletin boards where buyers might get lucky and find a posting for a used scooter. Finding a used mobility scooter may not be easy, since most people use them for the long term.
How to Buy a Used Mobility Scooter on eBay
You are likely to find the largest selection of used mobility scooters on eBay, since you get the benefit of viewing items from multiple sellers instead of one individual (as through an advert). To begin shopping, start at the home page and go to all categories; then, continue clicking on categories until you arrive at mobility scooters. Finally, use the Condition category filter to specify only used mobility scooters.
Another eBay search-and-shop method is to use keywords. To try this, return to the home page and enter "used mobility scooters" into the Search field. Once you click the Search button, you are redirected to a page that features all appropriately tagged listings.
Either way you shop, eBay allows you to use additional category filters to locate items that come with free P&P or express delivery. You might also choose to minimise shipping expenses by indicating products from the UK only as opposed to those that ship from anywhere in the European Union. Because mobility scooters are large, bulky, and difficult to ship, many sellers specify "collection only" on these items. You can use the Distance filter to find appropriate items within a certain radius of you, which makes it easy to pick the item up after it is purchased.
Conclusion
A mobility scooter can greatly improve a person's independence and quality of living. People with ambulatory impairments have a few different options when seeking assistance, but a mobility scooter is the equipment of choice for many, and with good reason. Scooters have less of a "clinical" appearance and seem more like a practical or recreational vehicle.
There are many things to keep in mind when shopping for mobility scooters in general and used ones in particular. First, buyers must decide whether they need to use their scooter on the road. A Class 3 mobility scooter requires DVLA registration and must meet several legal requirements. If transportation to shops and other outside venues is not an issue, then a Class 2 mobility scooter should be sufficient.
The number of wheels on a mobility scooter affects its usefulness. Three-wheeled models are easy to navigate but a little unsteady and best for indoor use on flat flooring. Four-wheeled scooters are better for outdoor mobility, since they are more stable. Five-wheeled scooters claim to offer the best of both worlds.
Buyers must be comfortable with the seat, controls, and other features of a mobility scooter, and the scooter must also be able to support the user's body weight plus any merchandise carried when shopping or accessories such as an oxygen tank. Purchasing a used mobility scooter requires getting thorough information from the seller about the condition of the vehicle. By taking their time, buyers can make a satisfactory purchase of a used scooter.