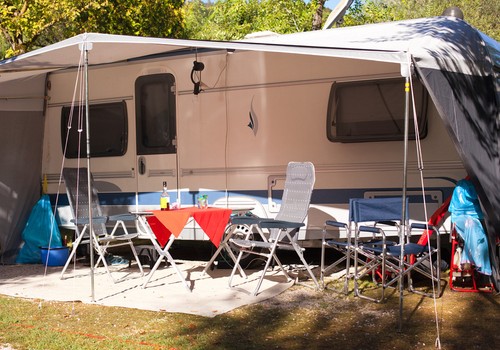 A motorhome awning is a roll-out awning that can be attached to the side of a recreational vehicle for the purpose of providing shade and shelter when the motorhome is parked. Awnings come in a variety of styles including motorised and hand cranked but are typically quite expensive when new. As a result, many buyers choose to purchase used motorhome awnings to either afford a better awning or to simply save money.
Buyers looking for used motorhome awnings should consider the condition of the awning, the size of the awning, the features and functions, and colour and style before making a purchase. The two main types of motorhome awnings are canopy awnings and drive-away awnings, each with its advantages and disadvantages. Choosing where to purchase the awning can also be a consideration for most buyers. Usually, online stores are more convenient for purchasing used motorhome awnings than local retailers that sell caravan accessories.
Types of Motorhome Awnings
There are two types of motorhome awnings and both are suitable for most types of recreational vehicles. Buyers should consider which is the most convenient for them based on their specific needs, the size of the motorhome, the practicality of transporting the awning, and the location where the motorhome typically parks. These factors can greatly affect the type of motorhome awning that is suitable for the vehicle, so they are all important to consider when shopping for used motorhome awnings.
Canopy Awning
Canopy awnings are attached directly to the motorhome and often use a motor or hand crank to simply roll down from the side of the vehicle. These are very convenient and practical, can be easily rolled out and taken in, and are easy to store as they go on the outside of the vehicle. However, canopy awnings are expensive, must be fitted to the side of the vehicle, require being attached to the motorhome, and can rip or tear in the wind if not rolled in during storms. Canopy awnings are excellent for anyone with very limited space in the motorhome but who plans to travel frequently because the awnings take up very little space and are very convenient.
Drive-Away Awning
Drive-away awnings are simple tents that can be erected against the side of the motorhome. These awnings are affordable, offer maximum protection from wind, insects, and weather, and can be used for other purposes. Drive-away awnings are attached to the awning rail on the motorhome to stabilise and protect them from wind damage. These are similar to tents and are excellent for setting up a picnic table or chairs regardless of the weather. Drive-away awnings take more time to set up, should normally be pegged into the ground, and do take up a lot of room to store than canopy awnings.
| Features | Canopy Awning | Drive-Away Awning |
| --- | --- | --- |
| Suitable for travelling | Very portable and easy to store | Takes up more storage room |
| Set up | Very easy | Medium |
| Cost | Expensive | Mid-range |
| Installation | Difficult | Not applicable |
| Suitable for | Everywhere | Dirt, grass, gravel, some tarmac with pegs or tie-downs |
| Protection | Rain, sun | Rain, sun, wind, insects |
The chart can be used to quickly and easily compare the two types of awnings. Generally, the canopy awning is more suitable for anyone who does not have the time to set up the awning like a tent, and for anyone who does not typically have the storage space. Drive-away awnings are more convenient for anyone who wants the awning to be similar to a tent and to protect them from insects, rain, wind, and more while they enjoy the outdoors. Drive-away awnings are typically seen as an expansion of the motorhome and are sometimes actually used for sleeping.
Consider the Condition of the Used Motorhome Awning
The condition of the awning should be a major deciding factor when making a purchase. An awning in poorer condition might cost less money but it also might rip, tear, or break sooner than a more expensive option. In some cases it might also be a good idea to check the condition and original quality of the awning by researching its original cost to get a good idea of how much the awning is worth used. It is possible to use online sites to research used models of the same awning to find a good deal.
Motorhome Awning Material
Most buyers should also check the materials used to make the awning. Fibreglass is very popular for making poles but aluminium poles are sturdier and more likely to hold up under harsh weather. Steel poles are even more durable but can be very heavy and expensive, even when purchasing used models. Steel poles are also difficult to ship so some buyers might have to arrange a pickup when purchasing on online sites. The quality of fabric does also play a part but it is very difficult to tell the quality of fabric on a used awning.
Motorhome Awning Condition Problems
Buyers should check for patches, repairs, tears, rips, stains, and other condition problems before making a purchase. Any cosmetic damage should lower the cost of the awning. For example, an awning that has been repaired should retail for significantly less than one that is in like-new condition, and one that has been ripped is worth much less than even a repaired awning. Buyers can decide what type of condition they are looking for based on preference, budget, and whether or not they are ready to repair an awning on their own.
Motorhome Awning Colour, Style, and Size
Motorhome awnings come in a range of different colours, styles, and sizes, so it is important to choose the one that suits the vehicle. This is especially important for canopy awnings, which might require an exact size of awning to fit properly. Many awnings are sold in small, medium, large, and extra-large sizes so buyers can look at the measurements for each size and then compare them to the size of their motorhome. Usually, the awning should cover the door and a large portion of the side of the vehicle in order to offer good coverage.
Colour is a personal preference but many buyers tend to prefer colours that match or go well with the motorhome or van the awning is being attached to. Darker colours are stain resistant and therefore many awnings are produced in colours such as grey, which are neutral, go well with many motorhomes, and are stain resistant. Many awnings are also produced in striped colours, usually white, blue, green, or grey.
The style of the awning might also be important although this affects drive-away awnings more than it affects canopy awnings. Drive-away awnings can be produced in round, square, lean-to, tent, or a variety of other styles, so buyers can choose almost anything they find appealing. Different shapes offer different advantages, including more spacious interiors or fewer materials required for set-up, depending on the style.
Motorhome Awning Features
Many motorhome awnings can have a variety of features, but these do differ from one style of awning to another. Most awnings are waterproof or water resistant to help give cover from storms. Canopy awnings can include hand cranks to roll-up the awning or can include a motor crank. Motor cranks are easier to use but often a great deal more expensive. Drive-away awnings often include features such as opening flaps or 'windows', insect screens, adjustable doors, and tent bottoms. Each of these features can affect the budget, so it is important to decide which features are nice-to-have and which are necessary or worth the extra cost.
Purchasing Used Motorhome Awnings on eBay
eBay is an excellent place to look for a used motorhome awning for several reasons. The first is that many people list used items on eBay, which makes it an excellent place to find used motorhome awnings. The second is that eBay allows you to shop from your home without searching for awnings or spending time and money driving. Because you can use easy search features, you can also find different types of awnings quickly and easily.
Search for the type of awning you would like to own and either browse through the results or click one that you are interested in. Read the full description to check the condition, size, colour, and any features. You can then ask the seller any questions that were not answered by the description before making your purchase. Purchasing from local eBay sellers can help you save money on shipping if you are on a budget.
Conclusion
Purchasing a used motorhome awning can be an excellent choice for buyers on a budget because used awnings can be much cheaper than their new counterparts, but there are several things to consider when choosing a used awning. Used awnings might suffer damage, require washing, or have been mended, which while lowering the cost of the awning, require more work before attaching them to the motorhome. Buyers must consider whether they want a canopy awning or a drive-away awning, what materials they are looking for, and how much they can afford to spend on the awning.
From there, buyers can set a budget and find available options before settling on preferred size and colour. Some options, including canopy awnings, might require complex installation, especially if they have a motor or electric crank, which must be attached to the motorhome's electrical system. Buyers can look for used awnings at local stores that sell caravan accessories as well as on eBay.