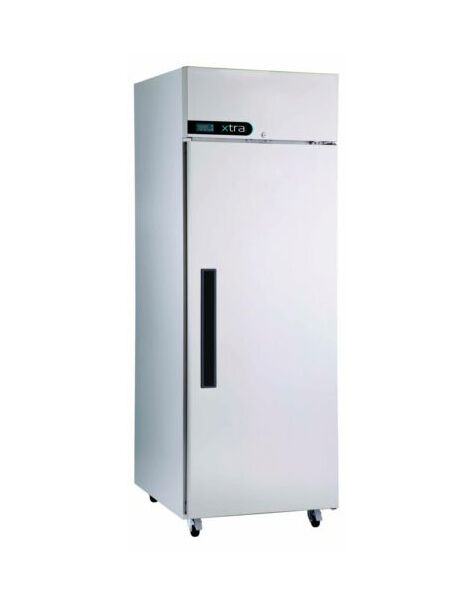 Running a business is no easy task, no matter what type of business it is. However, food service and food retail can be a particularly gruelling undertaking. One of the biggest investments when running either type of these businesses is the major equipment, such as refrigeration needs. Food storage and safety is essential for such a business to be successful, which means keeping food at safe temperatures is also essential.
One way to provide customers with safe, fresh food without spending too much is to purchase reliable used refrigeration equipment. These used items are widely available from auctions, resellers, and online from eBay. It is important for a business owner to be able to determine what type of refrigeration equipment is necessary as well as how to assess its condition. Having the right information when searching for a refrigeration unit, and including used refrigeration equipment in that search, is the best way to cut costs while still nurturing a business effectively.
Restaurant Refrigeration Units
Although there are many types of businesses that require refrigeration equipment, restaurants and food retailers are the biggest segment of that market. The type of refrigeration equipment that is required for a restaurant may be different from that which another type of business requires. Restaurants also must remain conscientious about food storage as well as local regulations that apply to food service establishments.
Refrigeration Display Units
Some refrigeration units are designed to display items, such as desserts, to customers. These may come in the form of a cabinet or a refrigerated counter with a clear window so that customers can see what is inside. When purchasing a used refrigeration display unit, it is important to consider aesthetics, which may not be as important for kitchen equipment or refrigerators that are kept in a storage area. Be sure to thoroughly evaluate any scratches and cosmetic damage since customers see these types of units.
Drink Coolers
Restaurants, in addition to convenience stores, shops, and other retail establishments, often display refrigerated beverages to customers. To do this effectively, drink coolers are usually employed. These display units may be in an area where customers are free to reach in and take a beverage themselves, or they may be for employee use. Again, it is a good idea to make sure a used drink cooler is in good aesthetic condition so that its appearance does not turn off customers.
Walk-In Refrigeration Units
A walk-in refrigeration unit is another important piece of equipment for any restaurant. These are large refrigerators that can hold refrigerated items that need to be purchased and stored in bulk. A walk-in unit is large enough that a person can walk into the refrigerator and find whatever they need.
Depending on the size of a restaurant, a walk-in may be installed in the back of building, or may even need to be put outside as an annex of the original establishment. This type of equipment can be quite expensive, so looking for a used walk-in can be a good idea.
Walk-In Refrigerator Floors
Although consumer refrigerators are self-contained no matter which type is purchased, that is not always true with walk-in refrigeration units or freezers. Some units come with a floor, meaning they can act as an entirely separate building for a restaurant or shop, but others do not have a floor.
Other units, however, do not have a floor. A walk-in cooler can survive installed on top of concrete, but a walk-in freezer must be insulated at there for a floor must be purchased separately. Depending on the needs of the business, owners must determine whether the purchase of separate floor is necessary.
Ice Makers
Any restaurant that serves their own beverages certainly has a need for a commercial ice maker . This equipment is much different than a refrigerator or freezer since it needs to actually make ice and must be connected to a water supply, which not all refrigeration units need. Ice makers also produce ice at different rates, so it is important that a business owner choose an ice maker that is able to meet the demands of his or her customers.
Types of Ice Makers
One of the most important considerations when choosing an ice maker is determining which type of ice comes from the machine. The following table describes the most common types of ice as well as their advantages.
| | | |
| --- | --- | --- |
| Type of Ice | Description | Good For |
| | Generic ice cubes; may come in different sizes | Beverages because it melts slowly |
| Flaked Ice | Very small pieces of ice | Blended drinks or childcare settings because it melts very quickly |
| Nugget Ice | Small nuggets that are bigger than flakes but smaller than cubes | Beverages as well as salad bars and other ice-cooled displays because it is soft |
Clearly the right type of ice maker for one business does not necessarily make sense for another. This is why it is so important for a business owner to carefully evaluate his or her individual needs before purchasing any major equipment.
Portable Refrigeration Units
While restaurants and shops are the most common places to find refrigeration equipment, there are other types of business that use it as well, to varying degrees. These businesses, such as catering services, may require a portable refrigeration unit .
Often, these take the form of a refrigerated trailer that can be hitched to a pickup truck or other vehicle and taken to different locations. A portable refrigeration unit may not be a trailer itself but instead may simply be a small refrigerator that can easily be transported from one location to another using a car or truck. These types of units are generally less costly than the trailer-style units.
Refrigeration Equipment Accessories
When it comes to keep food and other items refrigerated, the refrigeration equipment itself is certainly the most important aspect. However, there are also a number of accessories that can make that equipment more useful and even more efficient, such as shelving, topping units, and digital controls.
Refrigerator Storage
One of the best ways to run a business efficiently is to make sure that everything is in its place by staying highly organised. This cannot always be an easy task when it comes to organising refrigeration units. Adding storage, in form of shelving or topping units, is a good way to deal with this problem. Depending on the size of a walk-in refrigerator, free-standing shelves that can stand up the cold temperatures are likely the best choice. Topping units sit on top of smaller refrigeration units and are useful for holding sandwich or salad fixings, which can be very helpful for staying organised and sanitary.
Refrigerator Control Units
It is important to be able to control the temperature of any refrigeration equipment so that it keeps food at maximum freshness for as long as possible. A digital refrigerator control unit can make it easier to tell what temperature it is inside a refrigerator and to make any necessary changes. When looking for a digital refrigerator control unit, business owners should be sure that it is compatible with the refrigerator unit being purchased.
How to Buy Used Refrigeration Equipment on eBay
When you have determined exactly what type of refrigeration unit best suits your business, you can begin to look for it on eBay. Because there are many different types of refrigerators, freezers, and coolers, it is a good idea to narrow down your search terms before you begin. Looking for a " freezer &" yields many more results that looking for a " stainless steel refrigeration unit ". Also remember that you can narrow down your results by using the eBay filters.
Shipping can be a hurdle when buying refrigeration equipment simply because it can be extremely heavy, making it costly to ship. For this reason, some sellers offer discounted shipping rates for products of these types. Be sure to find out what the cost of shipping to your business is before completing your transaction so that there are no surprises. You may also choose to utilise eBay's geography filter, which can help to narrow down your items by location. If the right item is available near you, there is a possibility you can arrange a pick up and avoid shipping costs altogether.
Conclusion
Purchasing a piece of major equipment, whether it is for a home or for a business, can be a stressful time. It is no different for a business owner choosing used refrigeration equipment, which is both important and costly. Fortunately, taking the initiative to research and compare the equipment that is available makes the process much easier and hopefully less intimidating.
A business owner should determine his or her refrigeration needs as a first step, which then leads to the best type of used refrigeration unit for that business. Those units can then be compared based on their features, brand, condition, and price. This type of comparison shopping is the best way to ensure a good deal on a worthwhile piece of equipment. No matter what type of business is being run, having the best equipment at the lowest price can contribute to a better bottom line, which is any business owner's ultimate goal.