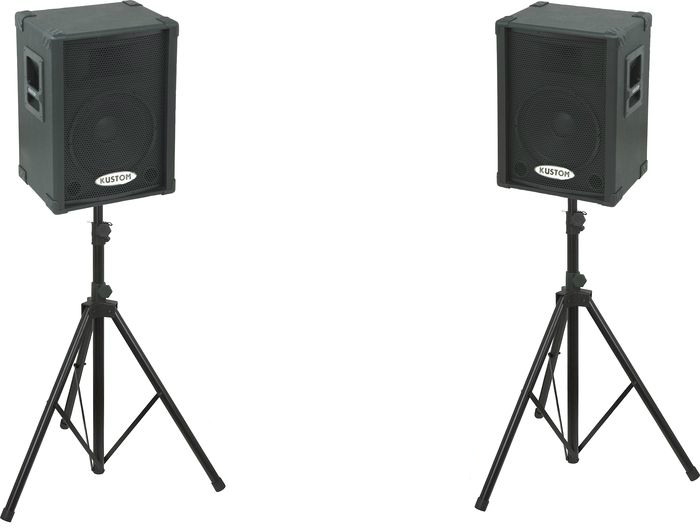 Standmount speakers are designed to pump out enough sound to satisfy everyone, from the audiophile to the casual listener. Whether it is metal or classical, music emitted from a quality standmount speaker can fill an entire house. Standmount speakers, however, tend to be prohibitively expensive. With used standmount speaker options, however, even those on a tight budget are able to select a speaker that offers quality sound.
Used standmount speakers are not easy to find when approached with traditional shopping methods. Online marketplaces such as eBay, offer up thousands of sellers who feature speakers of all shapes and sizes. Standmount speakers, because of their bulky nature, tend to be sold off by those needing to downsize. Sifting through used options without knowing what to look for can be quite challenging. Individuals searching for used standmount speakers should consider size, manufacturer, exterior condition, and sound quality. When embarking on a quest to find the perfect standmount speaker option, one must first understand factors including: space limitations, manufacturer reputation and overall preference.
Used Standmount Speaker Size
Standmount speakers come in all shapes and sizes. A standmount speaker that is larger than another, does not necessarily mean it is of higher quality than a smaller option. Standmount speakers can range from 100 mm to 300 mm and up, and size really only matters as far as space constraints go. Yes, a larger tweeter can mean more sound, but the odds of such a used speaker option being in good condition are relatively low.
Consider the space the speakers are going to be placed in before committing to a purchase. Standmount speakers offer quality sound even in smaller sizes. Those who have a limited space should make sure to search for a more slender standmount speaker. Consumers should search for used options that are able to be integrated into the home entertainment systems more easily.
Sound Quality
Once a consumer knows the size of speaker and manufacturer that best suites their needs, determining what type of sound quality is desired from the speakers is the next step. Sound quality, however, is a complicated factor. Everything from sensitivity to impedance and frequency response, can affect how a speaker ultimately performs. Generally, standmount speakers have better stats than lightweight options, simply due to the hardware that can be installed in standmount speakers. Understanding the jargon of speaker sound quality, allows individuals to select a speaker knowledgeably.
Sensitivity
Sensitivity specifications allow individuals to select a speaker that will work well with an amplifier or receiver. Generally, higher ratings like 95 dB allow consumers to experience higher levels of volume with minimal power input. Those with a higher powered amplifier or receiver, should consider a higher rate of sensitivity if more volume is desired. With a higher powered receiver, however, even 88 dB standmount speakers are adequate. People with a sound system that has a relatively lower powered receiver, tend to find that higher sensitivity speakers can drastically improve volume levels for the entire system.
Frequency Response
Sound clarity and overall quality, is likely most affected by the frequency response of a speaker. Frequency response is labelled in Hertz with a range that exists anywhere between 1 and 25,000 Hertz and higher. A speaker that is likely to need no subwoofer, should have a low end Hertz rating of below 50 Hertz with a high level frequency response of 22,000 Hertz. A quality, full-range speaker would be labelled as having a frequency response of 49 Hertz-22,000 Hertz. For the clearest sound and deepest bass, look for a speaker with the largest frequency response range possible.
Impedance
Impedance is not the most important element in speaker sound clarity and quality. Impedance really only refers to how much power is needed to match to a receiver's signal output. People using lower powered A/V receivers should, however, be mindful of impedance levels. Impedance is measured with the label ohm, and users should search for speakers with relatively high ohm levels if using a low powered receiver. An impedance of 8 ohm is likely to do the trick for most home audio systems. With an impedance of 4 ohm or less, individuals risk a receiver and speaker combination that do not work together.
Standmount Speaker Manufacturers
World renowned speaker manufacturers offer incredibly high fidelity standmount speaker models, but tend to charge an incredibly high premium as well. Those who consider purchasing used standmount speakers are much more likely to find an affordable option. Wharfedales are large standmount speakers that produce quality audio. Used Wharfedale speakers are available through various sellers on eBay.
More Affordable Options
Those who wish to save even more money on standmount speakers, should consider a set that is labelled as 'vintage'. Vintage standmount speakers usually include speakers that are more than 20 or even 30 years old. Surprisingly, speakers that are decades in age, tend to stand up well to the test of time. Although many individuals would think of such technology to be outdated, the sound quality offered from a vintage Neal Ferrograph standmount speaker set, is likely to beat out more modern options from companies like Bose and Epos Elan.
Speaker Compatibility
It is true, however, that more modern options offer advanced integration with current entertainment systems. Underestimating the expertise it takes to set up a quality sound system leads to headaches and wasted time. If a standmount speaker system is purchased for integration into a modern home entertainment centre, make sure to purchase more modern speakers that offer the compatibility required by today's technology.
Exterior Condition
The exterior condition of a standmount speaker, also referred to as a bookshelf speaker, is more important than one might think. An externally damaged speaker is likely to have similarly damaged inner workings. If water damage signs are present, avoid the item being sold altogether. Water damage to the electrical and speaker components of a standmount set can be irreversible. The swelling and cracking that can occur due to moisture, can impact the sound produced by the speaker in question.
Examining the Speakers Thoroughly
Another place to look for damage is on the back of the speaker. Speaker terminals are easily damaged when transported improperly. Most images of standmount speakers are only of the front of the product. The front speaker grate, or grill, can be easily replaced if damaged, but damage to the overall structure of the speaker is much more difficult to disguise. Ask a potential seller for images that represent the speaker as a whole. With online marketplaces such as eBay, image galleries tend to offer a fairly accurate perception of the item in question.
Concerns Regarding Used Speakers
Buying a set of standmount used speakers is a fairly large financial commitment. Due to this, individuals should make sure to ask the seller about any potential speaker damage. One question to ask sellers of used speakers, is whether or not the speakers are functional. Most sellers are honest and are willing to explain any issues which might arise from the condition of the speaker. A more indirect way to ask a question about speaker condition is to ask why a speaker or system is being sold in the first place.
Finding the Right Buy
Sellers who say that they are upgrading their system and must now get rid of their current standmount speakers, might be avoided by some shoppers. Those who need to upgrade their system might have faulty speakers, or speakers that are comprised of subpar quality. For the best results, search for a set of used standmount speakers that are barely used and that are well described. For convenience sake, shop for speakers that come with original manufacturer documentation for specifications and proper installation procedures.
How to Purchase Standmount Speakers on eBay
The amount of standmount speakers available through the varied sellers, who utilise eBay, is quite impressive. Those who decide to use eBay as their chosen market should visit the eBay homepage first. In order to find various speaker listings, consumers must simply type in 'standmount speaker' into the searchbar. Such a search should turn up quite a few speaker options to choose from. If no item meets your needs based on this type of search, consider entering in a new search term such as 'bookshelf speaker' instead.
Since many sellers of used audio equipment tend to auction off their entire set at once, consumers in the market for an entire audio system should consider bundling technology. Simply entering a term such as 'standmount speaker system', or 'standmount speaker bundle', will result in listings for entire audio systems. Recievers, speakers, subwoofers, and amplifiers can all be found in bundled or lot auctions. Used items that are bundled, tend to be somewhat cheaper than buying each piece of equipment individually.
Conclusion
Standmount speakers are quite different from one another, and finding a set that is slightly used and powerful enough to meet entertainment needs, can often be difficult. Make sure to consider the size of speaker desired before ever setting out on a shopping excursion. Online marketplaces such as eBay, allow individuals to stay home and shop for used standmount speakers that match even the strictest of needs. With new listings appearing every day, shoppers are able to continually browse through new items.
Used speakers, especially of the standmount variety, allow consumers to save quite a bit of money. A brand name standmount speaker that is also brand new, is simply not affordable for most individuals. Used options on eBay, however, tend to be within the price range of most households. When considering used options, it is still important to factor in sound quality, external condition, size, and manufacturer into the purchasing decision. Know the options, buy a speaker, and start listening to quality audio in no time.