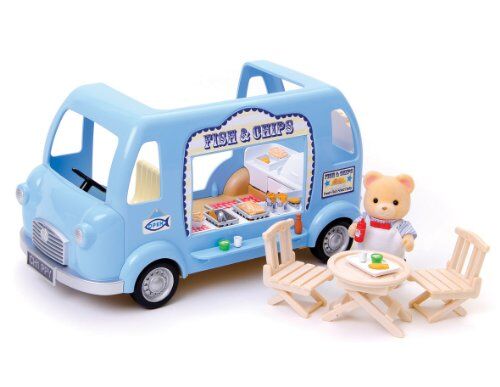 Sylvanian dolls have a timeless quality which every generation of children finds magical. Whether the buyer is looking for a little cottage for a family of mice, or a little barge for a family of rabbits; such iconic toys should be in every child's play box. Everything that a Sylvanian Dolls fan will ever want can be found with confidence on eBay with this helpful guide.
What are Sylvanian Dolls?
Sylvanian families were first made in Japan in the early 1980's and quickly became popular around the whole world. The range quickly expanded into many different families of animals and a wide range of play sets and scenery. The range now has over forty animal families with parents, siblings and even babies.
Sylvanian families have come back more popular than ever before, though they have been rebranded under different names in some countries. In the USA they are known as Calico Critters, the buyer may wish to bear this in mind if they are interested in buying Sylvanian figures from abroad.
Sylvanian families offer a wonderful combination of quality and imagination that is highly sort after in toys. Parents report that children can spend hours playing with Sylvanian dolls, they are toys which last for years as new sets and accessories only need to be bought occasionally.
Sylvanian families differ slightly depending which country they are from:
Japanese Sylvanians are slightly taller than the UK and USA figurines.
Older UK/USA Sylvanian figures have closed hands which may impact on accessories bought more recently. Modern Sylvanian dolls have open hands in which items can be placed.
Types of Sylvanian Dolls
The range of Sylvanian dolls has expanded since they were first made in the 1980's and now people the world over enjoy many different characters and styles of houses and play accessories.
Sylvanian dolls/Figures will be a huge range of characters, from rabbits to kittens to kangaroos depending which country they were made in. Some are very rare and were only available from Japan at a certain time. Used dolls are often of varying quality but most will be in good condition.
Play sets, these can be themed play sets such as tree houses or caravans, ice cream shops and much more.
Dollhouses, these are wonderful houses for collectors and children to admire. Used ones will vary in condition and some sellers will add extra furniture and accessories which is a fantastic bargain to pick up.
Cars/Vehicles- these will vary from motorbikes with a sidecar to buses and family cars.
Furniture/Room Sets the choice to decorate a room based on different accessories and themes, the choice is endless for collectors and children alike. There are even themed garden pieces as well.
Advantages to buying Used Sylvanian Dolls on eBay
eBay is the ideal place to look for Use Sylvanian dolls/figures, there are many great reasons why a buyer should first look to eBay to purchase some of the most popular and collectable toys around:
eBay is the best place to track down unusual or vintage Sylvanian dolls.
Buyers can browse listings with filters to ensure that they only see used Sylvanian dolls.
Sylvanian dolls in a used condition are often as good as new and are often cheaper through eBay than other websites.
The buyer has protection guarantees when buying through eBay which is not always possible when buying through other websites.
Buyers can view items being sold by passionate Sylvanian family collectors who will know their product well.
How to Buy Used Sylvanian Dolls on eBay
The two main ways of buying used Sylvanian dolls on eBay will be to utilise the categories at all times. This can done by selecting the 'used' option on every page, and also to enter the search term 'used' at the start of each new search term. The two can be used together to narrow down the amount of listings.
The buyer can begin at the eBay home page which is www.ebay.co.uk. From there they can select the Doll & Bears, Dolls and then Sylvanian. The range of Sylvanian Dolls is vast on eBay, and it can be difficult to know where to start looking. The buyer could enter the term 'Used Rare Sylvanian Families' to view the range of listings of collectable Sylvanian dolls. It is advised that if the buyer is unsure of which dolls may be rare or collectable that they research the dolls on the internet before committing to a purchase.
When buying any used toy such as Sylvanian dolls, some of the following aspects needed to be considered when viewing a listing:
| What to Consider | Reason |
| --- | --- |
| Clear Pictures | Look carefully at the listing; does the item seem to be in good repair? Are there any obvious flaws or does the buyer point this out in the listing? Some used Sylvain toys may be missing pieces or have damage to the doll. If unsure don't hesitate to contact the seller to find out more. |
| Packaging | Does the toy still have its original packaging? For collectors this is a vital piece of information, and in the case of Sylvanian dolls, the packaging increases the value of the item greatly. The packaging should have a clear picture to show its country of origin as for Sylvanian dolls can have different packaging depending which country they were sold in. |
| Seller Feedback | The seller's feedback is a small aspect to consider, as when buying used toys the item may be been heavily used and therefore not be suitable to buy. If their feedback is very positive, then the purchase should be simple. Top Rated Sellers will have impeccable feedback, and the buyer is advised to read comments left by other buyers. |
| Postage | The size of most of the toys will vary but in general most of them can be posted and this price will be quoted on the item's listing. A handy tip however is to ask the seller to combine listings if there is more than one items the buyer wishes to purchase from the same seller. Some items may be collection only, and the buyer may wish to do this in order to ensure the item's safe delivery. |
When purchasing through eBay, the two main methods are:
Bidding- Bidding is a fantastic way of getting a good deal with used toys but always consider when bidding that it is a legally binding agreement between the buyer and seller. If the buyer is not confident that they can pay for the item then a bid should not be entered.
Buy it now- 'Buy it now' options are great ways of securing an item without the worry of losing out on a bit. 'Buy it now' options are being used more often for private sellers as it will help make a quick sale.
PayPal is a safe way of paying but other forms of payment can be used, it is best to check the seller's preference for payment. It is advisable then when buying through PayPal a credit card should be used where possible as this offers the best protection for the buyer on eBay. eBay also offers a buyer's protection policy should anything happen to the item or the transaction.
How to Clean Sylvanian Dolls
Due to how real the 'fur' of the Sylvanian dolls feels, they can often pick up dust and dirt through play with children or from not being protected whilst on display. The following steps will help ensure to keep any Sylvanian's fur looking tip top:
1. Fill a bowl with hot water with a squirt of washing up liquid (the gentler soap the better). Remove any clothing from the doll and then place the doll in the water. Leave to soak for 20-30 minutes.
2. Take a clean, white washcloth and wet it with warm water. Remove the doll from the water and carefully wipe or pat any dirt and soap off the doll, avoid rubbing as this may remove the coating on the doll.
3. Rinse the doll with warm water until all traces of soap have been removed. Allow the doll to air dry but do not use a heart source such as a hairdryer as this may melt the doll.
How to Store Sylvanian Dolls
For children who are using the toys, it is advisable to store the dolls with their sets in small boxes that are labelled for each set. This will prevent the sets being spilt up and may allow them to be sold on the future if nothing is missing.
Collectors may wish to store their favourite collectable Sylvanian dolls in glass cabinets. It is advisable to keep the dolls out of direct sunlight as this will fade them over time. If there is a light in the cabinet it is best not to leave it on for long period of time as the doll may melt under such a heat source.
Conclusion
Sylvanian dolls are a delightful reminder of childhood, whether the buyer bought such toys for their children or if the buyer remembers Sylvanian toys from their youth, Sylvanian's dolls popularity is clear. Many collectors love to track down the more unusual or rare types of Sylvanian dolls and thanks to eBay this is become more of a possibility. Thanks to eBay's useful way of sorting listing by certain categories a buyer can find almost anything relating to Sylvanian dolls, from perfect matching families to wonderful outside swing sets and vehicles.