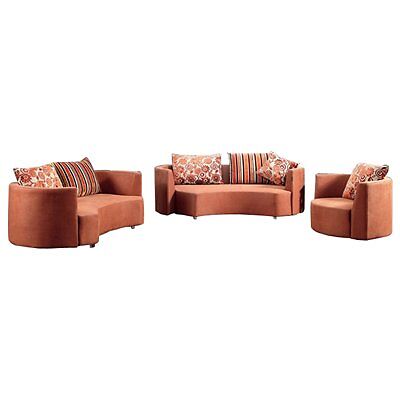 Furniture suites are an integral part of the modern home. Many people prefer to buy a new suite, but these can be expensive and it is often preferable to find a used suite in good condition. With the right guidelines, buying a second hand three-piece suite can be easy resulting in the addition of beautiful new items of furniture for the home.
About Used Three-Piece Furniture Suites
Furniture suites are made up of individual upholstered items. Three-piece suites usually contain one sofa and two chairs, or two sofas and one chair. The sofas may be two-seater or three-seater sofas. The chairs are usually armchairs, but might include two different styles of chair. Furniture suites became more affordable throughout the 20th century and today many homes contain suites of various types. Three-piece suites come in a range of styles and are manufactured with various materials. Coiled springs were designed in the 19th century and are still used in some sofas to provide flexible support and even out the distribution of weight. Modern springs that are more commonly used today are serpentine or zigzag springs. Elasticated webbing made from rubber or fabric and steel meshing fulfil a similar function. Frames are usually made of wood, often manmade boards rather than solid wood or a combination of the two except in expensive suites, but they are increasingly also made of materials such as steel. Methods of construction involve gluing, stapling, and screwing. In modern sofas, polyurethane foam and polyester fibre are most often used for padding, though traditionally other materials such as straw and animal hair were used. Feathers are used, frequently duck and goose and sometimes in combination with fibre, in several more expensive suites. The soft feathers used in cushion padding are also referred to as down. The covering of sofas and chairs might be made with synthetic or natural materials. Leather is a highly sought after material for its elegance and comfort. Polyester is frequently used and this has numerous advantages, including durability and ease of maintenance. More expensive sofas and chairs often use synthetic and natural fabrics in varying blends.
Choosing a Used Three-Piece Furniture Suite
Given the suite's pride of place in the house, deciding which three-piece suite to actually choose is by no means easy. Give the following points due consideration to ensure a wise decision is reached.
Furniture Components
Three-piece suites are composed of various elements:
Frame
The frame of a sofa or chair needs to be able to support the other components and have the strength to resist the springs, webbing, or mesh which are held under high tension.
| | |
| --- | --- |
| Solid hardwoods e.g. beech, birch | Elegant, traditional appearance. Strong and long lasting. Expensive. |
| Manmade boards | Inexpensive. Not as strong as solid hardwoods. |
| Metal e.g. steel, chrome, aluminium | Attractive, contemporary appearance. Strong and durable. Relatively inexpensive. |
Padding Material
The usual padding materials for chairs and sofas include polyurethane foam, polyester fibre, feathers (down) and rubber latex.
| | |
| --- | --- |
| Polyurethane foam | Comfortable to sit upon, with varying degrees of density and compression. Hard foam has higher density and compression than soft foams. Foam is usually wrapped with the polyester terylene to soften edges and add shape. May be hypoallergenic. Inexpensive. Obtained as a by-product from petrochemical manufacture. |
| Polyester fibre | Soft to sit upon but less supportive than polyurethane foam. Flattens easily and requires regular plumping up. Not recommended for sole use in seat cushions but may be combined with other materials or used in back cushions. Needs to be enclosed in a fabric casing. Moisture and mildew resistant. May be hypoallergenic. Very inexpensive and quality varies. Obtained as a by-product from petrochemical manufacture. |
| Feathers (down) | Comfortable to sit on and supports the body well. When used on its own requires regular plumping up and eventually becomes flattened. May be combined with other materials to retain a firmer shape. Breathable and stays cool in warm weather. Not generally hypoallergenic. Expensive. A renewable resource obtained from birds including duck and geese. |
| Rubber latex | Flexible, elastic, supportive and very comfortable. Fits body contours. Available in a medium density. Resilient and durable. Retains its shape well. Breathable. More resistant to dust mites than other foams and resistant to moisture and mildew. Relatively expensive. A renewable resource obtained from the sap of the rubber tree Hevea brasiliensis. |
Covering Materials
Furniture suites are available in a variety of covering materials, from comfortable fabric to sumptuous leather.
| | | |
| --- | --- | --- |
| Cotton | Obtained from fibres around the seeds of the cotton plant Gossypium. | Versatile. Soft and smooth texture. Durable and long lasting. Breathable and stays cool. Easy to dye and blend with other fibres. Relatively good resistance to fading. Relatively good resistance to pilling (becoming fuzzy). Generally hypoallergenic. Easy to care for and can be machine washed. Inexpensive. |
| Polyester | Polymer resin obtained as a by-product of petrochemical manufacture. | Soft texture. Can look crisp rather than smooth. Strong and durable. Can handle heavy duty use without fraying. Does not wrinkle easily. Easily dyed. Blends well with cotton. Good resistance to fading, moisture and stains. Can be prone to pilling. Generally hypoallergenic. Can be frequently washed without weakening. Can be machine washed. Inexpensive. |
| Rayon (viscose) | Rayon is the material made from the liquid viscose. It is composed of organic fibres so considered a semi-synthetic material. | Versatile. Properties include an attractive lustre, bright sheen and soft, comfortable texture. Mimics the feel of natural fibres such as cotton, linen and silk. Stays cool. Absorbent and easily dyed, so available in a wide range of colours. Good resistance to pilling. Not as durable or elastic as many fabrics. Dry cleaning recommended. Inexpensive. |
| Linen | Obtained from fibres of the flax plant Linum usitatissimum. | Attractive, rough texture. Strong and durable. Keeps its shape well. Resistant to fading. Excellent absorbency and breathability. Stays cool. Easily absorbs dyes. Attracts less lint (accumulation of fluffy fibres) than other fabrics. Wrinkles and shows dirt easily. Can be machine washed. Labour intensive to manufacture and expensive. |
| Acrylic | Made from the plastic polymer polyacrylonitrile. | Attractive, warm and plush wool like feel and appearance. Cheaper acrylics can be rougher and scratchier. Can also mimic other fibres such as cotton. Resilient and durable. Retains shape well. Good resistance to fading. Resistant to stains and moths. Some acrylics may become fuzzy, though others are designed with resistance to pilling. Absorbs dyes well. Generally hypoallergenic. Washable. Less expensive than wool. |
| Leather | Obtained from animal rawhide, usually cattle hide. | Comfortable and supports body well. Breathable and stays cool. Durable and long lasting. Resistant to fraying and tearing. Retains its shape well. Relatively resistant to stains. Retains its colour well as it ages. Expensive. |
Using a combination of different fabrics will result in a product with the advantages of both or all.
Safety Considerations
Both the padding and cover materials used in upholstered furniture are subject to the Furniture and Furnishings (Fire Safety) Regulations of 1988. Loose chair and sofa covers and scatter cushions must also comply. The regulations concern the flammability of materials. All furniture sold new in the UK should have two labels, a display label and a permanent label. The display label is a green box or red triangle stating that the cover is match resistant. The permanent label states CARELESSNESS CAUSES FIRE and has further information about how the product complies with the regulations. Used furniture sold in the UK must meet the same standards as new furniture, although antique furniture manufactured before 1950 is exempt. Used furniture may have had the labels removed, which is not an offence, but in this case it is not possible to be sure that it complies without sending it to be tested.
Conclusion
A furniture suite is an expensive purchase and it is important to have confidence in the seller. Safety considerations are especially important when buying used furniture. There may not be as much information available as to which materials are used in furniture construction or how to maintain the items. However, buying a used three-piece furniture suite is often preferable to buying a new suite, particularly from a cost perspective. There are many second hand suites available, so the range is not limited when it comes to choice of styles and materials. The various materials used in chair and sofa manufacture each have their own advantages and disadvantages. To have confidence in a purchase, research product descriptions and sellers, reviewing seller feedback and reviews.