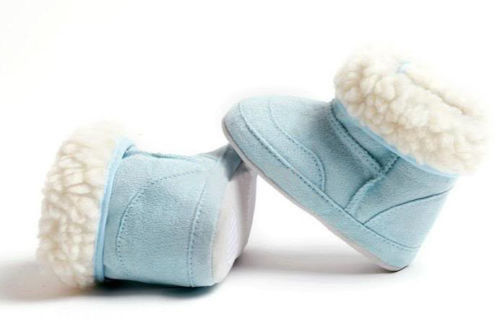 The word toddler typically refers to children that fall in the one to three years old age group. However, the term toddler should actually refer to any child that has started walking, up to four years old. Once a baby has transitioned to the toddler stage, it becomes time for him or her to acquire "real" shoes.
Given the fact that toddlers may quickly grow-out their first sets of shoes, it can be wise to consider buying used toddler shoes to minimize the amount of money spent in the initial stages. Unlike the shoes that were bought during the "baby" stages, toddler shoes has to be flexible, with a sturdy upper material and non-skid soles to minimise slipping.
Parents like to don their kids in cute looking shoes, but toddler shoes should be concentrated on the fit and function, rather than appearance. However, many designers manufacture toddler shoes with all elements considered, so buyers can easily make the right decision by applying their knowledge of measurement, fit, shoe type, and material.
Toddler Shoes Measurement
Measurement and fitting are two parts of the same equation, because a typical toddler may require new shoes every few months. This means that new measurements should be taken every three to four months to stay current.
How to Measure a Toddler's Feet
Before attempting to measure a toddler's feet for purchasing shoes, buyers should make sure that the toddler is wearing the thickest pair of socks owned. This is to ensure that the shoes can be comfortably worn with any socks once it is bought.
Once both feet are adorned in thick socks, the child should be put to stand upright in order to get accurate measurements of the length and width of the child's feet. Toddlers are prone to curling their toes when they stand, so buyers should attempt to get the child to relax and uncurl their toes before measuring.
At this point, the toddler's feet should be measured along the inner side from heel to toe tip. It is common for the measurement of one foot to be longer than the other, and when this occurs, the longer measurement should be used. Shoes sizes may vary by brand, so if buyers are able to stick to one or two brands for a while, that can greatly minimize sizing issues when making a purchase.
Shoes Size Chart
After acquiring the measurement for the toddler's feet, buyers now need to know how to apply that knowledge in selecting the correct shoe size. The chart below indicates foot measurements in centimetres, as well as the corresponding shoes size, and approximate age group.
| | | |
| --- | --- | --- |
| Size | Length (cm) | Age Group |
| 4 | 12.1 | 12 months |
| 4.5 | 12.7 | 12 - 18 months |
| 5 | 13 | 12 - 18 months |
| 5.5 | 13.3 | 12 - 18 months |
| 6 | 14 | 18 - 24 months |
| 6.5 | 14.3 | 18 - 24 months |
| 7 | 14.6 | 18 - 24 months |
| 7.5 | 15.2 | 24 months - 3 years old |
| 8 | 15.6 | 24 months - 3 years old |
| 8.5 | 15.9 | 24 months - 3 years old |
| 9 | 16.5 | 3 years - 4 years old |
| 9.5 | 16.8 | 3 years - 4 years old |
| 10 | 17.1 | 3 years - 4 years old |
It is always best for buyers to utilize the size chart given by the seller, but if using the chart above, there are two things to keep in mind. Firstly, buyers should consider the fact that their toddler's feet may not always perfectly match any measurement listed above, so the closest match should be considered. Secondly, used toddler shoes are often already "broken in", which means that they may fit a little looser now than they would fit if they were brand new.
Toddler Shoes Fit
Even after the measurement is done and the correct size has been deduced, buyers need to consider three main points in selecting a pair of shoes that fits correctly. Buyers should pay close attention to the back and front of the shoes, as well as its width.
Shoe Front
Special attention should be given to the length at the front of the shoes because it is best to have at least 1 cm extra but no more than 1.25 cm. There should be wiggle room for the toes and a little room for growth, but the space should not be too big; otherwise, they may be unstable.
Shoe Back
The back of the shoe should also have a little room but not too much room that it can slip off the heel, and it should not be too constricting either. A good fitting pair of shoes allows for someone to stick their pinkie in the back but only up the point of the first joint.
Shoe Width
The width of a toddler's shoes is also very important because their feet are often fat, wide, and flat at that stage. Their shoes should also not be too tight at the inner parts of the instep. It is not always easy to tell if a pair of shoes is wide enough, but a pair of shoes with a tongue is often easier to select. When the shoe is fitted onto a toddler's foot, the sides of the tongue should be parallel to the edges where the laces or Velcro would be located. If there is too much space, the shoe may be too tight, and if the tongue overlaps too much, the shoe may be too big.
Toddler Shoe Types and Material
It is often recommended to buy sneaker-type shoes for toddlers due to the way they are made. Sneakers are generally less constraining and are often made with canvas , soft leather , or other pliable materials. This allows room for proper development and enables the shoe to mould to the toddler's feet for a better fit. They are also the best choice for used toddler shoes because these shoes stand a better chance of being remoulded to fit the feet of the second toddler.
Whether buyers opt for used sneakers , boots , or sandals , they should always strive to get shoes with soles that are not too thick or thin. Thin, soft soles may result in slips and falls, and a thick sole may cause hindrance. Buyers should always aim for a medium layer rubber or leather sole to provide protection and traction.
Some buyers have a difference in opinion about open-toed and closed shoes. It is easier to get a better fit for open-toed shoes because there are no constraints on the toes, and there is room for minor size errors. However, they do not offer much protection for the toddler's feet, especially if they may be running around outdoors.
How to Buy Used Toddler Shoes on eBay
eBay makes it easy to buy used toddler shoes online. You can start out by searching for " toddler shoes" from within the eBay homepage and then apply the " used " condition filter. This means that your initial results includes all listed toddler shoes, but enabling the "used" filter narrows down the options to only those listed as "used" by the sellers.
Even with the filter enabled, there is still a wide variety of shoes to choose from, so it is recommended that you enable additional filters to further minimize the options to only include items that you would be interested in. You can start with filtering by gender, then by colour and brand. At this point, you can choose to input a price range if you are working on a budget.
Additionally, you can perform specific searches instead of applying many filters. For instance, you could type " used boy toddler shoes" and then select a colour filter, or be even more specific and type " blue Adidas toddler shoes " and then select the used filter.
You can now make a few selections and contact each seller for specific information on each pair of shoes. You can find out how many months the shoes were initially worn for, which can help you to ascertain its level of wear and tear. You can also ask the seller about their shipping and return policies before making a final decision. Once you have concluded on the final choice, proceed to making your payment.
Conclusion
Before buyers perform their first search on eBay, they simply need to remember the basics in shopping for used toddler shoes. They should buy toddler shoes with a little room to grow but not too much room to cause stabilization issues. Toddler's foot size should be measured often but especially just before shopping. Age is often used to determine a toddler's shoe size, but it is always best to use a measurement chart to select an appropriate size. Use the chart provided by the seller or the one provided in this guide if none is available. Overall, toddler shoes should be porous to allow air circulation and flexible for easy mobility, and it should be sized and fitted correctly for comfort.
Buying toddler shoes online is a task on its own; thus, buying used toddler shoes may require a little more effort. eBay minimizes the stress that often comes with searching for a good pair toddler shoes by providing a powerful search engine and creative, helpful filters.