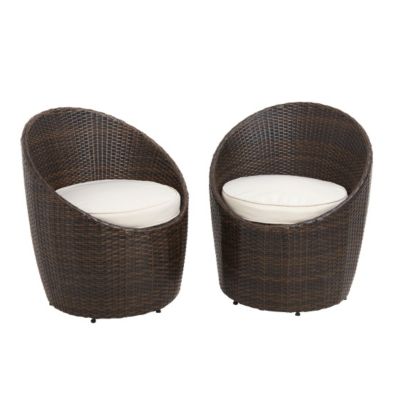 The concept of a furniture suite made up of matching items developed in the early 20th century, though individual items of upholstered furniture had been mixed and matched long before then. Today the most typical furniture suite is the three-piece, made up of one sofa and two armchairs or two sofas and one armchair. However many people do not have the space requirements for this many items of furniture and so two-piece suites, typically consisting of one sofa and one armchair, are becoming increasingly popular. The sofas and chairs that make up a two-piece furniture suite are constructed with various elements. Firstly the frame is constructed. This may be solid hardwood, softwood, plywood or metal. Springs are frequently included for suspension. Coiled springs were the original type but today zigzag springs are more frequently used. The sofas and chairs are padded with materials to provide comfort and support, such as polyurethane foam, polyester fibre, rubber latex or feathers, or a combination of these. Lastly the items are upholstered with natural, synthetic or blended fabric, or leather.
Choosing a Used Three-Piece Furniture Suite
The kind of three-piece furniture suite chosen will depend on a number of factors. Some are listed below.
Furniture Suite Materials
Furniture suites come in a number of different materials.
Frame
The frame may be made of solid woods or plywood or a combination. Weight can give an indication of frame material, with heavy sofas being more likely to be made of solid hardwood while lighter sofas are more likely made of softwood or plywood. Solid hardwoods make the strongest frames.
Padding Material
| | | | | | | |
| --- | --- | --- | --- | --- | --- | --- |
| Polyurethane foam | Varies from firm to soft | Good comfort and support | Low breathability | Good resistance to moisture | Usually hypoallergenic | Inexpensive |
| Polyester fibre | Soft, flattens easily | Poor comfort and support when used on its own, good in combination | Low breathability | Good resistance to moisture | Usually hypoallergenic | Very inexpensive |
| Feathers (down) | Medium to soft | Good comfort and support | High breathability | Relatively poor resistance to moisture | Not usually hypoallergenic | Expensive |
| Rubber latex | Medium | Good comfort and support | High breathability | Very good resistance to moisture | Usually hypoallergenic | Relatively expensive |
Covering Materials
Typical covering materials include cotton, polyester, viscose rayon, leather, and faux leather. A hardwearing material such as polyester may be preferable if young children or pets are a factor. Viscose rayon is relatively fragile and should be combined with other materials. Leather is a beautiful, elegant material that is also hardwearing and ages well. Faux leather does not have all the same qualities as leather, but is cheaper and also has an attractive appearance. Tightly woven fabrics and those with a higher thread count are typically more durable. For patterned fabrics it is usually preferable to buy a fabric with the pattern woven in rather than printed, as these are longer lasting.
Suspension
| | | | | |
| --- | --- | --- | --- | --- |
| Zigzag springs | One end attached to front rail and other end attached to back rail | Comfortable and even weight distribution, though can be less comfortable than coil springs | Less long lasting | Cheaper and quicker to construct |
| Coil springs | Attached to webbing at base and tied to each adjacent coil to prevent movement | Comfortable and even weight distribution | Long lasting | More expensive and time consuming to construct |
Size and Style
One of the most important considerations when buying a furniture suite, whether used or new, is the dimensions of each piece and how they will fit into the space available. Carefully measure the space and decide where each piece will fit. Take into account permanent fixtures such as doors, windows, radiators and fireplaces. Also take into account other items of furniture and how they will fit. The suite should complement the room rather than dominate or be lost in it. Some of the more usual styles of sofa are contemporary, traditional, modern, and vintage/retro. Sellers do not always specify a style and some terms can be used interchangeably, for example, traditional, period and Victorian, modern and contemporary, and farmhouse and country. It can be worth browsing a few categories to get an idea of the type of items listed in each category.
| | |
| --- | --- |
| Contemporary | Minimalist and neutral, contemporary style is all about clean lines and silhouettes. Materials such as steel and chrome are often incorporated and colour schemes are often light and airy, emphasising space and openness. Furniture is often low to the ground. |
| Modern | Strictly speaking, modern design evolved in the early to mid 20th century and conveyed a functional style, which could also be termed retro. It features angular lines, geometric patterns and natural materials such as leather and teak. Furniture often has legs. However, many people also use the term to mean recent or contemporary. |
| Traditional | Traditional style can cover a range of periods, from baroque to the early 20th century. Typical traditional sofas and chairs feature dark woods and dark leather or heavily patterned fabrics. Particular types of traditional sofa/chair include the Chesterfield and Queen Anne (the original design of both dates from the 1700s). Chesterfields are characterised by their deep buttoned leather upholstery and low seats. Queen Anne sofas are distinguished by their cabriole legs, an almost S shaped leg of two connected curves. The 1920s and 1930s featured styles such as Art Nouveau, Art Deco and modernism. Furniture dating from these periods was streamlined with stronger lines. |
| Vintage/retro | Vintage and retro are typically used to describe furniture from the 1950s, 1960s, and 1970s. The 1950s featured bright abstract patterns and kitsch furniture. 1960s and 1970s furniture had geometric and psychedelic designs along with animal prints and natural wood. |
The fabric is one of the most noticeable aspects of a furniture suite and largely a matter of personal taste. Various intricate patterns are available, as well as simpler patterns such as stripes and plain blocks of colour. When considering the style of chair and sofa, think about the type of backs, arms, and seats preferred. Padded arm cushions give extra comfort while the height of the back and sides can affect resting position. For example, some people prefer low arms to rest on or higher arms so that the side can be fully leaned against. Some people prefer high backs as they find these more supportive. Chairs and sofas, particularly more traditional designs, may have extra ornamentations and finishes, such as skirts that cover the lower part of the item. Covers are not usually removable, but this can be a useful feature for items that may receive heavy use. Scatter cushions in matching designs may be included with the suite.
Used or New
Buying a used furniture suite has its advantages. The first, obviously, is price. Second hand two-piece suites can be bought for a fraction of the price of the equivalent item when new. However, they can still be relatively expensive and there are several guidelines to consider when purchasing a used furniture suite. The definition of used items sold on eBay is that the item has been previously used, but, despite cosmetic wear, is fully functional. This means that confidence can be had in the purchase.
| | |
| --- | --- |
| Check for damage | Any damage should be stated in the product description. With expensive items like furniture suites it is preferable to also check for damage in person before paying. Used furniture descriptions often mention that the product(s) have "character". "Character" is a valid description for an item that has aged well and has minor imperfections or wear and tear. It is different to significant damage or decay; for example, water and mildew damage to upholstered chairs and sofas. |
| Don't be persuaded by price | The main reason, of course, for buying a second hand furniture suite is price. However, it is not worth paying for a suite that isn't liked or that doesn't fit the space available. Consider the size, colour, and style of the suite in the same way that a new suite would be considered. |
| Consider re-upholstering | Second hand sofas and chairs can be re-upholstered and even have new fillings inserted if the frames are sound and worth saving. Be realistic about how much the work will cost and who is able to carry it out. This may apply more to antique furniture. |
| Pet and smoke odours | Sellers usually state in the product descriptions if the items come from a smoke and pet free home. |
| Safety | Used furniture suites sold in the UK (except furniture manufactured before 1950) are subject to the same regulations regarding flammability. Sofas and chairs should have a label stating CARELESSNESS CAUSES FIRE and giving further information about how they meet safety requirements. |
Conclusion
It is no longer necessary to trail through car boot sales and charity shops to find a used two-piece furniture suite. There are many listings on eBay, with a wide range of styles and colours to choose from. Bear in mind basic considerations such as dimensions, safety and appropriate covering materials. Research product descriptions and seller feedback to have confidence in a purchase.