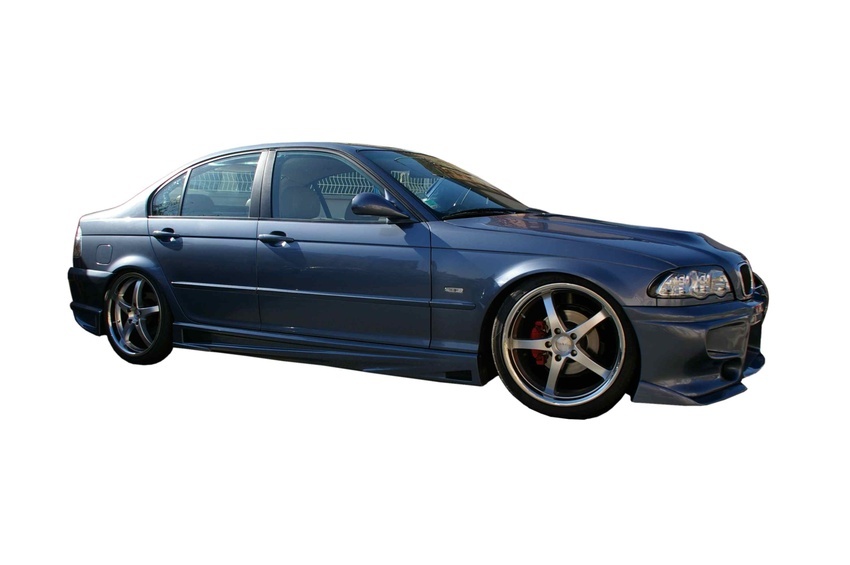 Since 1917, BMW has been one of the leading car manufacturers for premium, luxury cars. With their sleek design, powerful engines, and luxury features, BMWs exceed customer standards across the board. BMW offers a wide array of vehicles, from sleek convertibles to hybrid vehicles, that appeal to all different types of prospective buyers.
When looking for a new car, one of the most important considerations is whether to purchase a new car or used car. Most new BMWs are purchased directly from a BMW car dealership, a general car dealership, and can occasionally be found online using helpfuls websites like eBay. Pre-owned cars can also be found at BMW or general car dealerships, but many people prefer to use eBay when shopping for a new car. Aside from where to purchase the vehicle, there are many different considerations for choosing a new or used vehicle. Before purchasing a BMW, buyers should understand the various types of BMWs, as well as the benefits of choosing a new or used BMW.
Types of BMWs
One of the first things to decide when choosing a BMW is the model. BMW classifies its cars by the series, and then by the model. By understanding the different characteristics of each series and the different models in each series, buyers can decide on which model is right for them.
| BMW Series | Description | 2013 Series Models |
| --- | --- | --- |
| | Compact vehicles | Three & five-door sports hatchbacks, coupe, convertible, Active E |
| | Slightly larger compacts | Coupe, saloon, touring, convertible, Gran Turismo, ActiveHybrid |
| | Mid-size vehicles | Saloon, touring, Gran Turismo, ActiveHybrid |
| | High end luxury sports coupes | Coupe, convertible, Gran Coupe |
| | Full-size luxury sedans | Sedan, ActiveHybrid |
| X-Series | Compact, mid-size, and full-size crossovers | X1, X3, X5, X6 |
| | Two seater sports roadster | Roadster, convertible |
| | Top of the line luxury sports sedans | M3, M3 convertible, M3 saloon, M5 saloon, M6 coupe, M6 convertible, M6 Gran Coupe, X5 M, X6 M |
ActiveHybrid BMW models are the types of hybrid BMW vehicles that combine electricity and fuel. Although ActiveHybrid models usually cost more initially, the cost of owning the car is usually lower because of the savings on expensive fuel costs. When deciding on the model of BMW, buyers should consider the size of the vehicle they are looking for, the horsepower, the fuel economy, and the cost.
Benefits of Purchasing a New BMW
When deciding on the condition of their new vehicle, people choose to purchase a new BMW for many reasons other than just the new car smell. Oftentimes, new vehicles feature the latest in technology, safety, fuel, economy, and power. In addition, new vehicles are always in excellent condition, and can be customised to fit the buyer's exact specifications.
Newest Technology and Features
Because technology is constantly evolving, each new BMW is better than the next. From advanced navigation systems to high tech safety features, new vehicles feature the latest in vehicle enhancements. In addition, safety standards for vehicles have risen, and new cars feature the newest in safety technology from electronic stability control to blind spot monitoring. Fuel economy is another thing that is constantly evolving in new vehicles, so the latest models of BMWs are usually some of the most fuel efficient, aside from hybrid vehicles.
Manufacturer's Warranty
When purchasing any type of new car, buyers receive a manufacturer's warranty that covers the cost of certain repairs or replacements for a set period of time. Many BMWs feature a three year, unlimited mileage warranty, which includes emergency roadside assistance. Some pre-owned BMWs may also have an optional warranty for new buyers, but they may only be offered at an additional cost.
Custom Ordered BMWs
Many people choose new cars so they can customise the car to their exact specifications. On the BMW website or through a BMW dealer, buyers can decide on the series, model, interior and exterior colour, size, engine, and additional features. Custom ordering a BMW is the best way for buyers to get everything on their new car wish list.
Excellent Condition
Many people purchase new cars since they were not previously owned and come in excellent condition. Although many used cars are in good condition, most still have regular wear and tear. Aside from being much less likely to require repairs or maintenance, new cars are guaranteed to have a spotless interior, no exterior damage, and no internal problems.
Benefits of Purchasing a Used BMW
Buying a new BMW is usually much more expensive then used models, and the value drops much quicker with new vehicles. In addition, models of BMWs are constantly changing, and some models are no longer produced. Therefore, the selection of used BMWs is much larger than the selection of new vehicles.
Affordability
Since BMWs are premium vehicles, they are oftentimes more expensive than standard cars. Pre-owned BMWs are usually much more affordable than new BMWs, and may even come with additional features. For a good value when choosing a used car, buyers should choose a gently used car with low mileage and a clear vehicle history report if possible. Pre-owned BMWs that are in good condition with no previous damage reports are usually just as reliable as new vehicles, without the expensive price tag.
In addition to the cost of purchasing the vehicle, insurance rates are oftentimes much lower for used vehicles. Since the value of the vehicle goes down with age and mileage, the insurance company does not have to pay as much for a used car then they would to replace a new vehicle. This also makes used vehicles much more affordable to own.
Better Value and Slower Depreciation
When purchasing a vehicle, buyers should consider how long they plan to keep their car. Many vehicles require maintenance and replacements around 100,000 miles, so many buyers choose to trade in their vehicles beforehand so they do not constantly have to dump money into repairs on an older vehicle. However, others trade in their vehicles much earlier because they want the newest style or technology that is available. Buyers who plan to sell their car after a few years should consider purchasing a used car since they depreciate much slower than new vehicles. The minute the new car is driven off the lot, the value drops significantly, and as a result the owner gets much less of a return on their investment when they sell the vehicle.
Larger Selection of BMWs
Because some models have been discontinued or remodelled, the selection of new BMWs is typically much smaller than the selection of pre-owned cars. Also, many car dealerships only have a limited number of vehicles in stock for buyers to compare and contrast. When shopping on eBay, buyers are able to compare thousands of different models of BMWs, making it easy for them to find a vehicle from the comfort of their own home.
How to Purchase a New or Used Vehicle on eBay
eBay not only offers a large selection of pre-owned vehicles, they offer new vehicles from reputable sellers as well. Because so many people buy and sell vehicles on eBay, BMWs and other vehicles can be found at affordable, competitive prices. After deciding whether a new or used car is best for you or your family, you are ready to begin your search for the perfect BMW on eBay. If you have already decided on the series and model of BMW, you can search a specific keyword in the keyword search bar, such as 'BMW X5&'. To browse a number of different models and prices, you can use a more broad search, such as 'BMW&'.
eBay also makes it easy for buyers to narrow their results to make their search for a BMW quick and easy. Buyers can search by location, so it is easy for them to check out and test drive cars they are interested in purchasing. You can also narrow results by car type, mileage, condition, transmission, and colour, making it easy to find a vehicle that meets your needs. Finally, buyers are able to set their price maximum when shopping on eBay, so they can stick within their budget when purchasing a BMW. Aside from helping buyers stay within their price range, setting their maximum price or narrowing results by other factors helps buyers quickly find a vehicle that fits within their needs and budget.
Conclusion
Because of their excellence in style, luxury, and power, BMWs are vehicles that are loved by their owners. Even if a new BMW does not fit in a buyer's budget, there are many pre-owned BMWs that are much less expensive to purchase and own. After deciding on the series, model, or type of vehicle, buyers must weigh the benefits of both new and used BMWs to decide which option is best for them.
When purchasing a new or used BMW, buyers should test drive the vehicles they are considering before making a final decision. Although buyers may think they want a small, fuel efficient car, they may realise that they prefer something larger once they test drive the vehicle. If the vehicle is new, buyers should consider how the car handles, accelerates, and drives. For used cars, buyers should also test drive if possible to ensure that everything works by checking the lights, turn signals, radio, air conditioning, and heat, since these things may be costly to replace. Regardless of whether buyers are looking for a new or used car, they can find what they are looking for quickly and easily with the help of eBay.