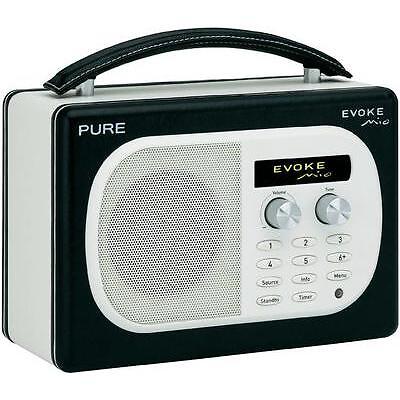 The switchover from analogue to digital radio has left buyers requiring a replacement for their current electronics. Those who like to stay up to date with the latest trends should consider investing in the future of digital audio broadcasting, or DAB radio. Digital radio provides listeners with more services, clearer reception, higher sound quality, and a wider array of features. Digital services take up much less space on the radio spectrum than analogue AM and FM, which means that there is more room to accommodate a greater number of digital radio stations.
Buyers can listen to digital radio in a number of ways including a DAB digital radio, online, and on the television. Digital radios are available in a wide array of styles and sizes, ranging from portable, handheld models to larger, tabletop designs. When considering uses for a newly purchased digital radio, buyers should consider the advantages and disadvantages, and features of the radio. Digital radios can be bought from electronics shops, department stores, and online at retailers such as eBay.
Advantages of Digital Radio
Digital radio offers listeners many benefits over traditional analogue radio. In areas with good reception, digital radio delivers better sound quality and less noise interference. There is no hiss, crackle, fading, or overlap of stations as heard with AM or FM radio. Digital radio also allows for more variety: more stations can be broadcast within the same spectrum. In addition, digital radio tuning is easier as there is no need to remember the frequencies of stations. Instead, listeners search by the name of the station or through an electronic programme guide. Digital radios have a display screen which gives further information about what listeners are tuned into.
Disadvantages of Digital Radio
Although the sound quality of digital radio is better in areas with strong signals, if the reception is weak, the sound is likely to be completely lost. Digital handheld radios often struggle to relay good quality sound because their digital system has difficulties in distinguishing between background noise and the sound of a voice. This presents a major concern for emergency response teams. Another downside is that digital radios are more expensive. Also, not all areas receive digital radio broadcasts, as the service is still in its expansion process and not all analogue radio stations have migrated to digital.
Features of Digital Radios
Digital radios have a wide array of features that allow them to be used conveniently and with ease. Determining which features best benefit the buyer is simply a matter of personal preference.
Recording Live Programmes on Digital Radios
Some digital radios are able to record programmes on the radio's internal memory card, allowing playback at a later date. Memory cards differ in their capacity and the number of programmes that can be saved. Some simply record over previously saved material. Buyers looking for a digital radio with recording abilities should bear in mind that 1MB can usually store one minute of digital radio. Using this as a guide, buyers can ensure that they have sufficient storage space.
Electronic Programme Guide for Digital Radios
Although a rare feature, electronic programme guides are becoming increasingly popular on digital radios that have a record function. An electronic programme guide allows listeners to select a digital radio station and scroll through to see the current and future programmes. If desired, listeners can set the radio to record a future programme.
Pause and Rewind for Digital Radios
Pause and rewind are much sought after features. However, listeners should note that they cause severe energy drainage as the functionality requires the radio to make constant recordings of what has just been broadcast. Most digital radios with pause and rewind functions allow listeners to go back 10 to 15 minutes depending on the bit rate of the broadcast.
FM for Digital Radios
In addition to digital broadcasting, most digital radios can also tune into FM stations. This is ideal in situations and areas where digital coverage is unavailable.
Radio Text for Digital Radios
Radio text offers scrolling information on a small screen on the digital radio regarding music and speech programmes. A music station, for example, may provide the listener with the song title and the artist's name. Other stations may provide the latest news and weather or website addresses and contact phone numbers.
Intellitext for Digital Radios
Intellitext allows listeners to receive scrolling text information related to the broadcast that they are listening to via a small screen. This feature is similar to radio text. However, there are several notable differences. For example, sports broadcasts may offer listeners up-to-date information about scores and refereeing decisions. For optimal convenience, the text can be both paused and stored.
Stereo Sound for Digital Radios
In order to receive stereo sound, buyers need to consider a tabletop digital radio with two speakers. Stereo sound is not compatible with portable digital radios as their speakers are too close together. However, some digital radios with a single speaker allow listeners to connect the device to their hi-fi, enabling them to listen in surround sound.
Presets for Digital Radios
Digital radios automatically tune in to all available stations when they are first switched on. Due to the overwhelming selection of stations, many digital radios come equipped with preset buttons. These buttons allow listeners to save their favourite stations as presets, for quick and easy access at any time. Rather than buttons, some models have presets that can only be accessed from the main menu. These presets are less convenient and entail more work.
Uses for a Digital Radio
In addition to their many features, digital radios offer most of the same uses as analogue radios. The common types of digital radios as well as their popular uses are given in the table below.
Type of Digital Radio

Uses

Doubles as an MP3 player

Keeps listeners up to date with news and weather while they are on the move

Used when travelling

Mobile phone

Used as both a mobile phone and digital radio

Increased versatility

Used for listening to music

Keeps drivers up to date on traffic conditions

Clock radio

Doubles as an alarm clock

Used as a MP3 player docking station

Used for emergency communication
Commuters may benefit from an in car digital radio, while frequent travellers should consider investing in a portable digital radio. A tabletop radio is ideal for use at home and is a great bedside companion.
How to Buy a Digital Radio on eBay
To navigate to eBay's assortment of digital radios, buyers should start their search on the eBay homepage. Using the search bar, buyers can type in any key terms related to the item they are looking for. Buyers may choose to simply search for digital radios or type in more specific keywords such as DAB radio. A more specific search better narrows down the listings, although searching this way often misses items that may have been of interest to the buyer.
Alternatively, buyers can use eBay's advanced search feature to narrow down item listings by price. This feature also allows buyers to search by location or limit the listings of digital radios for sale to that of Top-rated sellers. Buyers can also use the advanced search to limit listings being sold close to home.
Before making a purchase, buyers should be certain that the digital radio meets all their expectations. The buyer should read the item description carefully and look at the photos. The seller should provide the full details of the radio, including its type, size, and any features. There should also be details of the accepted payment methods, and postage and packaging costs. Always remember to include the delivery costs to calculate the total cost of the digital radio. If there are any questions about the digital radio or the seller's policy, contact the seller directly using the "Ask a question" feature. Reliable sellers respond quickly and are happy to provide additional information to promote a positive transaction.
Conclusion
Digital radio broadcasting is quickly moving the listener away from the sound of traditional analogue radio. With the growing popularity of this new technology, the UK government has high hopes of completing the digital switchover within the next few years. So, buyers should consider making the switch by purchasing a digital radio. Not only does digital radio offer listeners a larger selection of stations, but it also provides up to date information via a scrolling screen. In addition to a separate digital radio device, buyers can choose to use a radio as part of their mobile phone, or to have a device that functions as a clock radio or MP3 docking station. Digital radios can also be used to record live music or speech radio. For those constantly on the move, a portable digital radio is easy to transport, while a tabletop radio is ideal for use by multiple listeners. Whatever a buyer's intended use, eBay's vast marketplace offers a wide selection of digital radios at competitive prices.