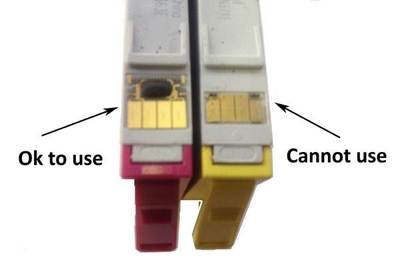 Correct Micro Chips
The non-chipped compatible cartridges for the HP 364 range require the micro chip from your empty original cartridges. First of all you need to ensure that you have the correct type of micro chip. The image on the left shows the two types of micro chips that are found on the HP original cartridges.
As long as you have the micro chip as show on the left hand side, with the black bubble, then you will be okay to use it with our compatible cartridges.
Removing the Micro Chips
The micro chip should be removed carefully from your empty original cartridge. To do this we recommend using a Stanley blade. If you carefully slip the blade under the micro chip, as shown below, and moved down slowly until the micro chip becomes detached from the cartridge.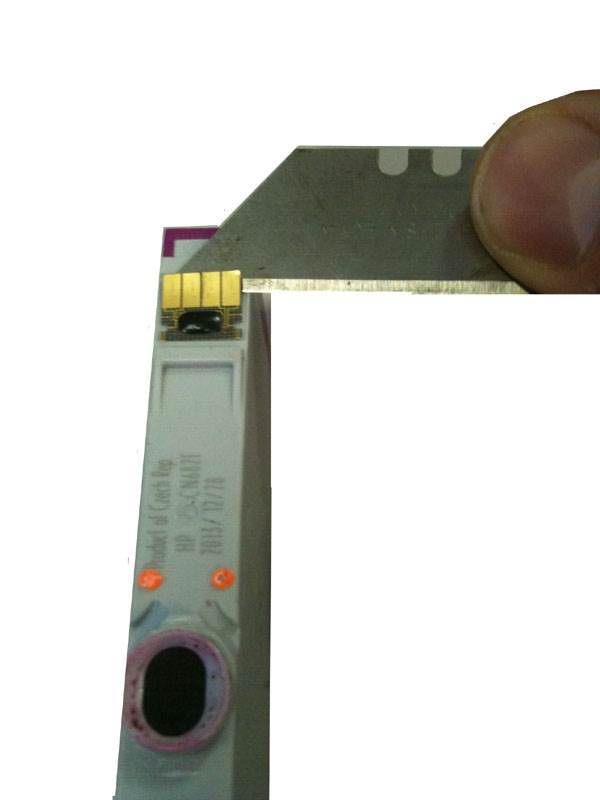 Attaching the Micro Chip
Now the micro chip should be attached to the chip extender that it provided with our non-chipped cartridges, making sure that the black bubble is next to the raised section. The micro chip should be sticky enough to hold to the chip extender, but if not then you will find that a small piece of double side tape is included with each non-chipped cartridge.
The below image shows how the micro chip should be attached.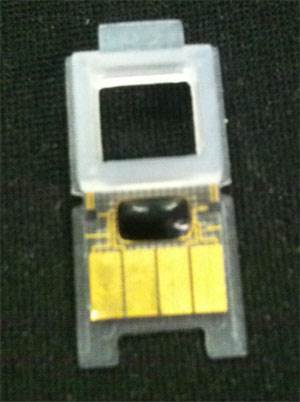 Inserting the Micro Chips into your HP Printer
The chip extender should then be placed inside of the printer, with the micro chip facing down (A). The square raised section should be placed inside the cut out in the cartridge carriage (B), which will allow the micro chip to rest on the four gold contacts (C). The below image shows the chip extender correctly inserted into the carriage.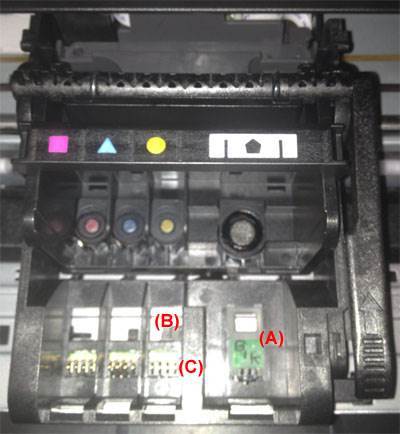 Warning about Empty, Depleted or Counterfeit Cartridges
You may get a warning on your printer or computer informing you that you have installed either empty, depleted or counterfeit cartridges or a warning that the cartridges are running low. Such messages should be ignored and you then be able to print as normal.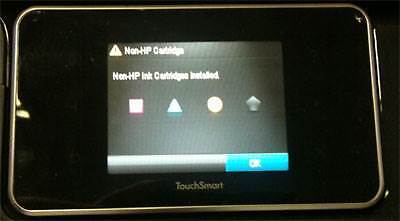 From time to time you may get a pop-message informing you that updates are available for you printer. We suggest that you click Cancel and do not allow these updates as they may prevent the cartridges from working with your printer.
Incorrect or Damaged Micro Chips
Chipped Compatible Cartridges