The new, reinvented eBay for iPad app is now available in the App Store in eight languages across 220 countries. Learn how to best utilize it by reading these helpful tips.
Every day on your Today screen, we'll bring you new, inspiring collections of items available on eBay that have been carefully hand selected by our staff. It's easy to search and switch between different categories, such as Motors or Fashion - either tap the topic name in the header, or swipe the whole page to the right or left.
eBay Categories and eBay Deals also have their own sections for easy browsing and quick access to the best deals.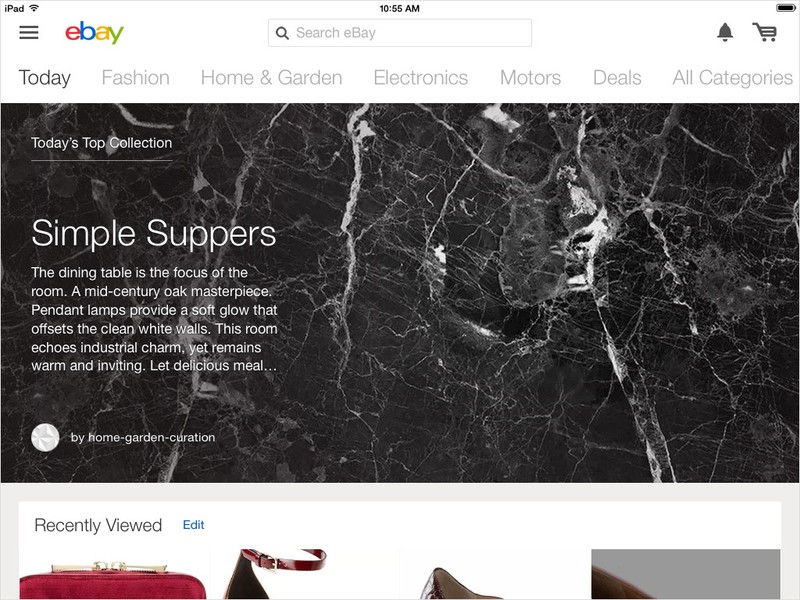 Menu Bar
To get to My eBay or adjust your settings, simply tap the menu button (the three lines at the top left corner) Here you can quickly see everything you're watching and buying plus read and respond to eBay messages. To view your eBay selling activity or list an item for sale, select Selling.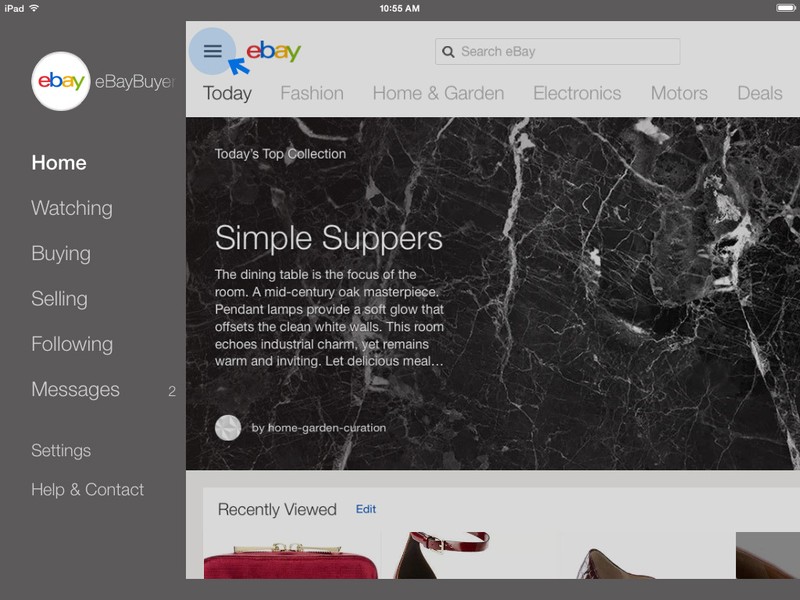 Recent Searches, Followed Searches, and Followed Members
You can now reach Recent Searches, Followed Searches (previously known as Saved Searches), and Followed Members by tapping on the Search box at the top of every screen.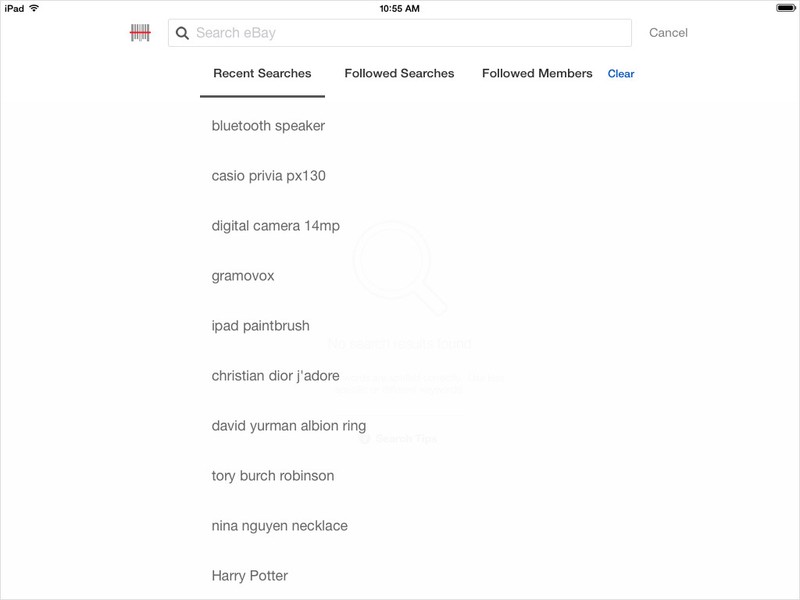 Edit or delete Recent Searches individually by swiping left on the search you want to delete. Or tap Clear on the right to delete the entire list.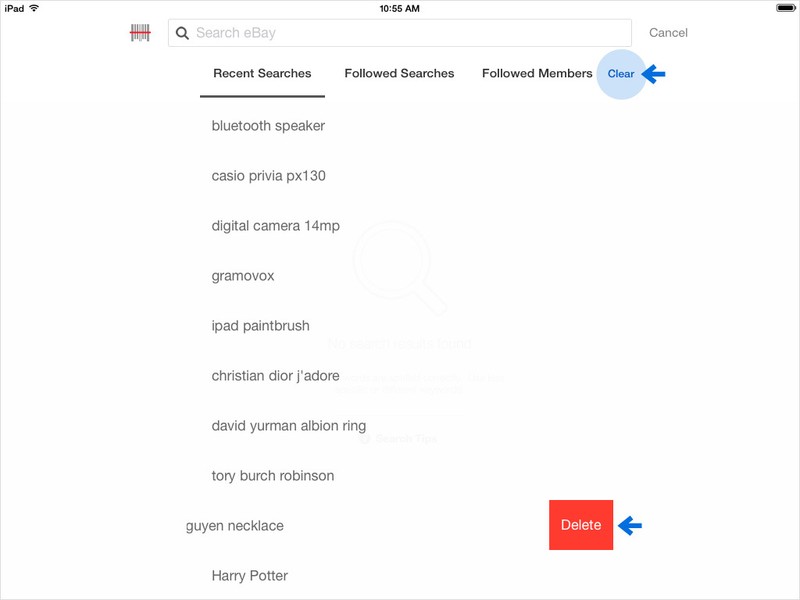 When you select Followed Searches, you'll see blue dots indicating which search has new matching items for you to review. To delete Followed Searches or change your notification preferences, select Edit on the right.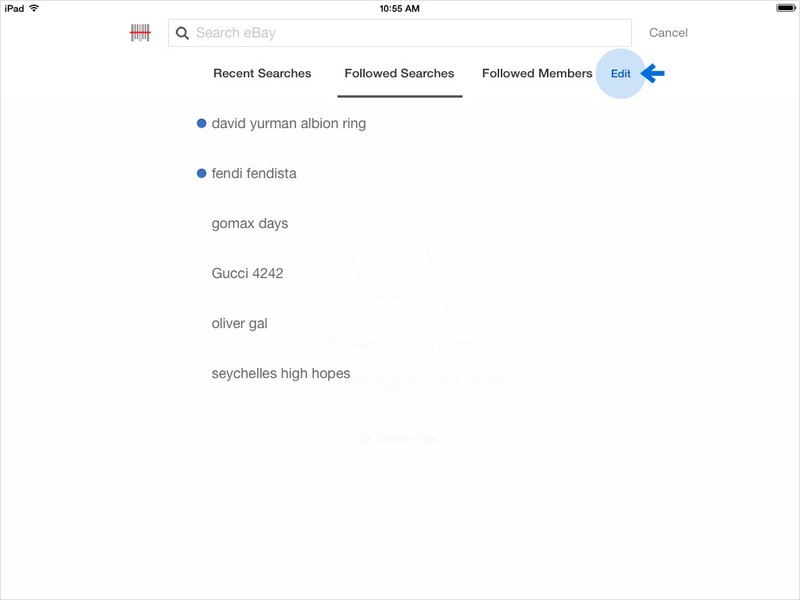 You'll then see the option to delete a Followed Search on the left. Or, you can choose to have a push notification sent to you when there are new items matching your search by selecting the "alarm clock" icon.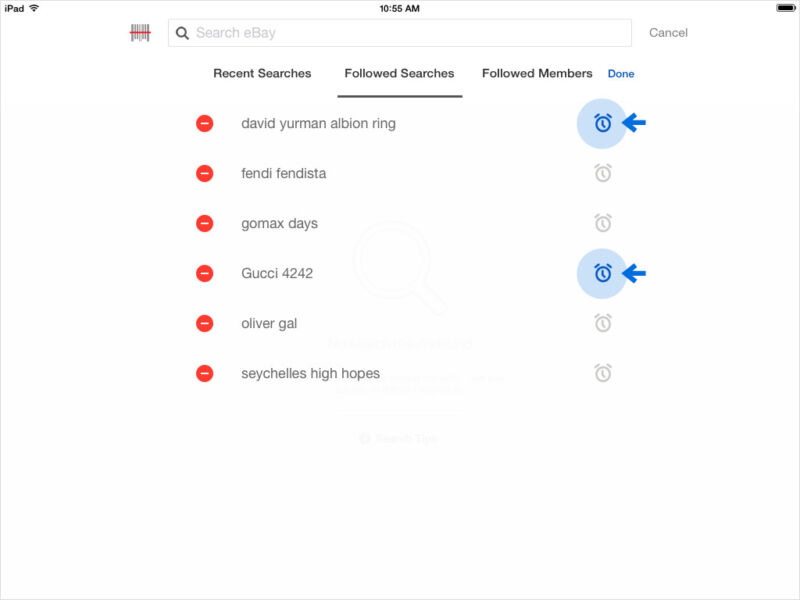 If you have chosen to receive a push notification for a Followed Search, we will send you a daily notification to let you know there are new items matching your Followed Search.
Following
The Following section is where you'll find the most popular items from your feed, collections, and curators you follow or have made your favorite. To see all your activity in these areas, you will need to tap the Search Bar as above.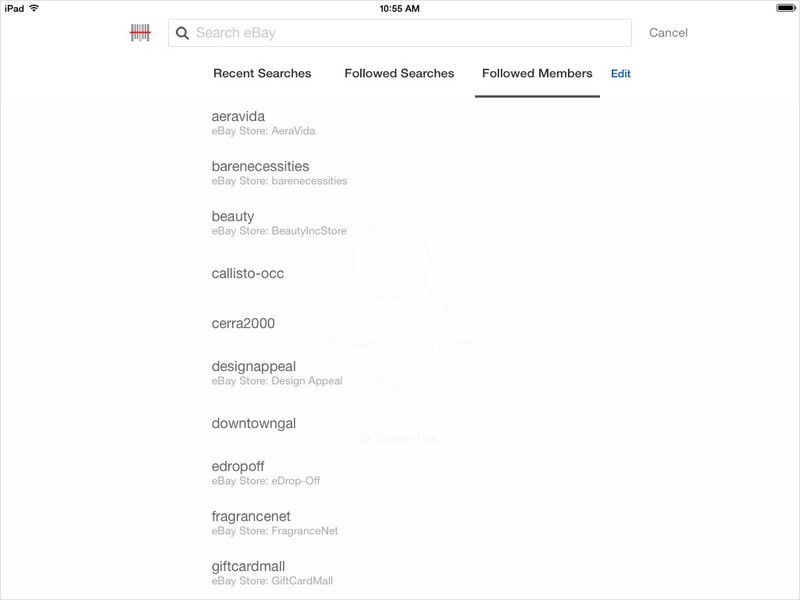 Refining Your Search
There are millions of listings on eBay, so knowing how to use our search tools is the key to finding exactly what you want.
Categories: Select a category to limit your search to only items in that category.
Condition: Only see the results of items in the condition you want. For example, you can search only for new clothing or used DVDs.
Price: Only show items with a certain price range.
Buying formats: Choose to only see Buy It Now listings if you want to purchase right away. Or check out eBay Auctions for the chance to be the winning bidder.
Refine: Here, you can limit your results in several ways. For example, you can choose to show only items with free shipping or those benefiting a charity.
Item Location: Choose to search for items around the globe or keep your search refined to the UK. Here's an example of how to refine your search by Item Location.