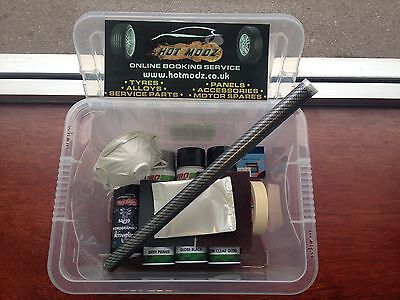 Hot Modz Hydro Dipping Kit
1. Sand your item to prep it.
2. Clean your item after you have sanded it making sure it is as smooth as you want it. The print will not cover up all imperfections.
3. Apply your primer if you need to as evenly as possible and let it dry completely.
3a. Apply your base coat as evenly as possible and let it dry completely.
4. Tape off areas that you don't want dipped.
5. Prepare your film by cutting the amount you will need for your project and taping around the edges of the film.
6. Fill your desired dipping container with warm (between 27°C to 30°C) clean tap water.
7. Place your film on top of the water in a floating manner making sure not to get any water on top of the film and allow it to sit for 1 minute undisturbed.
THE FILM MUST BE STICKY SIDE DOWN THE BEST WAY TO DO THIS IS TO WET YOU FINGER AND THUMB AND THE SIDE THAT STICKS IS THE SIDE THAT IT GOES DOWN ON TO THE WATER SURFACE.
8. Evenly spray the activator on to the film to turn it into a liquid (Spray side to side then up and down then side to side once again to make sure you cover all the film).
BEFORE DIPPING YOUR ITEM MAKE SURE THE FILM LOOKS LIKE GLASS ON TOP OF THE WATER.
ONCE THE ACTIVATOR HAS BEEN APPLIED YOU WILL HAVE AROUND 30 SECONDS TO DIP YOUR ITEM.
9. Dip your item into the film at an angle of about 25° to 30° working your way down until your item is fully submerged under the water.
10. Give your item a couple of seconds and shake it back and forth gently under the water, keep item under water until you have cleared all the tape from the surface and all the ink has gone away from where you are going to bring the item of the water.
11. Rinse your item under clean running water until it no longer feels slimy. Be careful not to handle or touch your item too much during this process, just check the feel of it with a light touch.
12. Let your item dry completely.
13. If you have a large area that messed up, simply start the process again and redip your item.
DO NOT BE PUT OFF IT THIS HAPPENS IT CAN TAKE A FEW GO'S TO GET IT RIGHT.
14. Make sure your item is completely dry.
15. Evenly spray the clear coat on your item using several thin coats and letting it dry in between coats.
16. Let your item dry completely and cure for a couple of days.

To buy one of our kits, or any other items please view our items on ebay.