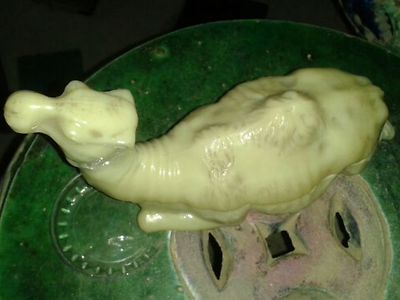 WHEN YOU THINK MILKGLASS, BUTTER DISHES, COVERED DISHES ...
THERE IS NO NAME MORE SYNONYMOUS, ESTEEMED OR DESIRED THAN VALLERYSTHAL,
PURELY FOR THEIR GREAT DETAILED WORKS OF ANIMAL COVERED DISHES & TRINKETS.
VALLERYSTHAL (SOCIETE DES VERRERIES DE PLAINE-DE-WALSCH ET VALLERYSTHAL) ORIGINATED IN LORRAINE (BORDER OF FRANCE & GERMANY) IN THE YEAR 1836.

AT A TIME WHEN MILKGLASS WAS CONSIDERED AS A CHEAPER & MORE AFFORDABLE ALTERNATIVE TO THE EXPENSIVE PORCELAIN DISHES, VALLERYSTHAL WENT ONTO PRODUCE SOME OF THE FINEST WORKS OF ART EVER TO EXIST IN MILKGLASS & OTHER PRESSED GLASS.
MOST COMMON COLOUR IS MILK-WHITE, HOWEVER VALLERYSTHAL PRODUCED DISHES IN FEW OTHER COLOURS AS WELL.

LIGHT BLUE & DARK BLUE ANIMAL DISHES ARE GETTING RARE TO FIND.
GREEN & CARAMEL ANIMAL DISHES ARE EXTREMELY RARE & CAN COST TOP $$$$.
SOMETIMES DISHES COME WITH PAINT ON THEM STATED AS ORIGINAL PAINT.
LET ME CLARIFY THIS, VALLERYSTHAL NEVER PAINTED ON ANY OF THEIR DISHES. HOWEVER THERE WERE ARTISTS CONSIGNED BY OWNER'S TO GIVE THEIR DISH A MORE PERSONALISED FEEL, HENCE THE TERM ORIGINAL PAINT.
PLEASE NOTE : THE ONLY SIGNATURE VALLERYSTHAL EVER USED IS THEIR COMPLETE NAME "VALLERYSTHAL" EMBOSSED ON THE INSIDE OR BASE OF THE DISH.
THEY NEVER USED SHORT FORMS OR INITIALS.
HOWEVER THERE ARE MANY VALLERYSTHAL DISHES THAT ARE UNMARKED OR VERY LIGHTLY EMBOSSED, MAKING IT ALMOST INVISIBLE TO THE NAKED EYE.
SOME GREAT EXAMPLES OF VALLERYSTHAL MILKGLASS DISHES ARE THE ALLIGATOR, CAMEL, WATER BUFFALO, RABBIT, FROG, ELEPHANT, DOG, FISH, COW, ETC ETC.
PLEASE FEEL FREE TO CONTACT ME ANYTIME.
I WILL POST PHOTOS SOON, KEEP A LOOKOUT.
HAPPY EBAYING !!!
ALL THE BEST,
JUNKINJAK.