What is Velcro?
Velcro is a registered trademark and a brand of hook and loop fastener. The name has become so popular that it is now the generic term for any two piece fastener with nylon hooks on one side and loops on the other. The name Velcro came from the French word velour (velvet) and crochet (hook). It was invented by George de Mestral, a Swiss engineer, in the 50's. He noticed that a certain type of seed stuck to his dogs fur. This set him to develop a fastening device that would rival the metal zip.
Velcro or other hook and loop tapes.
I use a hook and loop tape in my work to hang curtain pelmets and drapes ....... My customers are always amazed at the weight a 20mm strip can hold.
Velcro is a good product but a little expensive!
I use a non Velcro branded hook and loop tape that is widely used in the soft furnishing industry. There are many manufacturers out there. Some produce a better product than others. The one I use and sell is just as strong and much cheaper than Velcro!!!!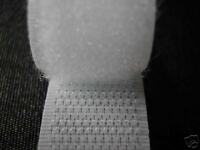 Types available
Hook and loop tapes come in a range of widths from 19mm up to 100mm wide. The most widely used is the 20mm tape. The hook side has a harder rough feel than the loop side which feels softer like fabric. You would sew the softer side to fabric and attach the rough harder side to a hard surface like board or wall where possible.
Many colours are available, white and black being the most popular.
You can buy tapes that are meant to be sewn or stapled on (sew + sew). You can buy tapes that are self adhesive (stick + stick). You can buy a combination of the two. (sew + stick). Also available are hook and loop dots and other specialist products.
The type you choose will depend on the intended use but consider the following before you buy:
Width of tape

Colour

For sewing on or the self adhesive type
Many types of hook and loop tapes are available in our Ebay store >>
Select fabric and curtain supplies