VW Golf GTI Cabriolet
This is one of many illustrated classic car guides I've created for the community. I hope you enjoy it. If you wish to find out more about the classic Golf GTI car art featured in this guide please click here.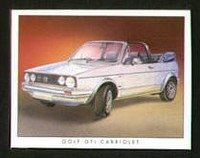 Styled and developed by specialist coachbuilders Karmann, the Cabriolet version of the monocoque Golf was introduced in 1979. As the first of the modern generation of cabriolets, the model set the standard for soft-top family motoring for the next decade and had many imitators. The Cabriolet Gti was never produced in Mk 2 form, the open-top car retaining the shape of the earliest model throughout its life.
If you would like to see more guides on VW Golf GTI cars please click!
Thank you for reading my guide and I hope you found it interesting!