VW Karmann Ghia 1955-1974
This is one of many illustrated classic car guides I've created for the community. I hope you enjoy it. If you wish to find out more about the classic Karmann Ghia car art featured in this guide please click here.
This guide covers the classic Karmann Ghia. Produced between 1955 and 1974, Volkswagen's sporty two-seater alternative to the Beetle was based on the stock Type 1 platform with a specially crafted body by Karmann coachworks of Osnabruck, West Germany. Styling was credited to the work of Luigi Segre of the Ghia studios in Italy.
Karmann Ghia Coupe Type 1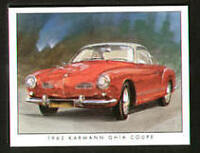 The type 1 Karmann Ghia first appeared in 1955 as a radically new VW model based on the Export Beetle chassis. Built by Karmann to a design by the Italian styling house, it provided a car of sporting appearance but without attendant cost or complication as the mechanics were pure Beetle. A convertible version arrived in 1958 and the Karmann Ghia continued to benefit from Beetle updates until the models were discontinued in 1974.
Volkswagen's sporty two-seat alternative to the Beetle, the Karmann Ghia found many admirers in both open-top and coupe form. The car's styling was the work of Luigi Segre of the Ghia studios in Italy, although there was more than a passing resemblance to the Chrysler d'Elegance show car by Virgil Exner.
Karmann Ghia Cabriolet Type I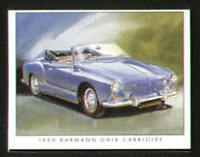 Following the success of the coupe, the Karmann Ghia Cabriolet Type 141 was introduced in September 1957. With no roof, the body wasn't very rigid, so Karmann reinforced both the body and the chassis. The folding top was very easy to put up and down, a turn of the knob above the rear-view mirror released two hooks that secured it to the windscreen frame and the convertible top could then disappear, neatly folded, behind the rear seats. Between 1957 and July 1974, 80,881 Cabriolets were built.
Karmann Ghia Coupe Type 3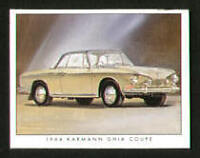 The success of the Karmann Ghia formula led Volkswagen to repeat the idea when the Type 3 1500 made its appearance in 1961, and early in 1962 a Karmann Ghia coupe version was introduced. A completely new design, it was perhaps less satisfactory in styling, particularly around the front-end, which embodied a four-headlamp layout beneath a prominent eyebrow ridge. No production convertibles were ever offered and production ceased in July 1979 after only 42,498 examples had been built.
Model Evolution Type 1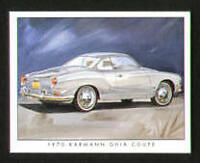 1955 VW Karmann Ghia Type 1 Launched.
1957 Convertible version announced.
1959 Facelift given: headlamps 2-in higher; air intakes enlarged, with different grilles.
1960 Right-hand-drive models available .
1961 Power increased to 34bhp.
1962 Better noise insulation for cabin; VW nose-cone emblem standardised.
1965 Disc brakes at front; domed hubcaps replaced by flatter versions with ventilated wheels.
1966 1300 engine announced, with 40bhp
1967 1500 engine with 44bhp introduced
1968 12-volt electrics; hazard warning lamps
1971 1600 55bhp engine announced; twin-port heads for easier breathing
1972 Four-spoke safety padded steering wheel; larger tail-lights
1974 Production ends. Total built: 363,401
Thank you for reading my guide and I hope you found it interesting!