VW Mk 4 Golf buyers guide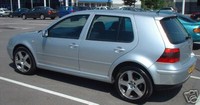 Welcome to the VW Golf Mk 4 used car buyers guide. If you are looking for a Volkswagen Golf GTI or a basic 1.4 litre this guide will help you identify the good points, bad points, common faults and what to look out for when purchasing this car on the second hand market. The author of this guide is an owner of Mk 4 golfs for the last 5 years and an
ex volkswagen employee
who has ben involved in the after sales servicing and repair of this vehicle.
In late 1997 the VW Golf Mk4 broke onto the UK market. A good choice of engines were available and the model seemed better in every way than the MK3 Golf that it replaced. Sharing no common parts with the old model the MK 4 was a new and fresh car.
It's fair to say that through it's life (1997 - 2004) the MK 4 golf underwent numerous changes and improvements. Lots of exciting new models were introduced after it's initial launch and many technical updates carried out. The most progress was made in terms of the turno Diesel engines found in the Mk4. In late 2000 the PD engine was launched in the UK which utilised new high pressure technology that gave great performance and economy. Firstly available in 115 bhp, then 130 with a top end GTI spec diesel at 150 bhp. A 100 bhp version was also released for the lower spec models and even this seemingly low powered version gave the petrol models a good run for their money.
The early PD engines required a cambelt change every 40,000 miles which at bewteen £300 - £400 at a dealer added significantly to the cost of high milage motoring. A later revised version of the PD engine giving out 130 bhp extended the life of the cambelt to 60,000 miles and had improved reliability. The 130 PD engine became the biggest seller in the MK 4 range towards the end of it's life and is a highly rated car.
In terms of petrol engines there was a vast choice. 1.4, 1.6, 1.8, 2.0, 2.3, 2.8 & 3.2. During 2000 many of the petrol engines updated their engine coltrol units and switched to 'drive by wire' throttle control thus eliminating the mechanical link between the accelerator pedal and the throttle. As the engines developed more electronic control was introduced with an increasing emphasis on controlling exhaust emmisions.
Common problems and issues
Like most new models of car the Mk4 came with it's fair share of common faults and problems. Probably the most highly publicised was the faulty coil packs used in many engines. The 1.8 Turbo engine suffered the most with this problem and a broken coil pack would result in a very poorly running engine or a non running engine. VW issued a recall on many of these cars and replaced all the faulty coils with an improved design. Despite this there are still plenty of older Mk 4s out there with the original coil packs in them. It is a little known fact that in the vast majority of cases VW will replace them free of charge even out of the 3 year warranty period.
Other common faults included broken electric windows, snapped exhaust mounts, premature wearing of suspension bushes, faulty engine sensors and general electrical failiures. Many fixes and modified parts were released to cure these problems wich were fitted as standard to later cars. It's is well worth checking the warranty claim history of a car with your local dealer to ensure that these faults were sorted. Althoug thought by many as a solid car easily cabable of many hassle free miles the Mk4 does have it's weak areas. A main dealer service history with evidence of extra work carried out throughout the cars life is a very good sign.
Dont be put off by high miles if evidence of service and lots of maintenance repairs is evident. Generally speaking most of the Mk 4 engines are very solid and relaible if serviced properly and regularly. Bear in mind that additional keys are very expensive indeed, if only 1 is present bear in mind the cost of adding a second could be well over £100.
Further information
There is a wealth of information on the web about these cars. Probably one of the best online recources is the UKs Mk 4 golf forum at www.uk-mkivs.net. Here you will find a wealth of knowledge and experience from a host of users, repairers and enthusiasts on this car.
A wealth of VW merchandise is available for your golf once purchased. A popular thing to have is a genuine VW key fob. These can be bought easily and cheaply from the author of this guide in his
ebay shop
. Ebay is also a great place to go to buy parts, accessories and the cars themselves. For further information visit
www.ebay.co.uk