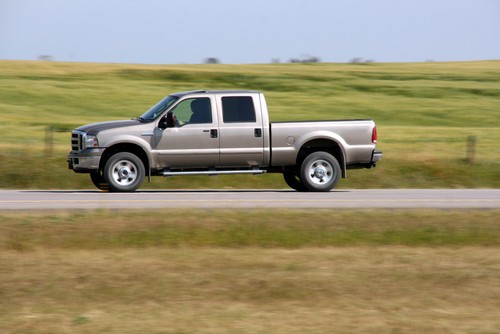 Vans and pickup trucks are often the best choice for a work vehicle. Therefore, it is important for owners to customise their vans and pickups to better equip them for the job they are doing. Plumbers and other repair service providers need a variety of tools on demand, and vans can provide room for tool carriers and other supplies. Both vans and trucks can be equipped with various sized racks to carry cargo on top. Interior and exterior lights can enhance the aesthetics or improve visibility.
Vehicle owners can modify the interior of their car with aftermarket floor mats, cargo liners, and vents. Many prefer to keep safety equipment, from road flares to first aid kits, on hand for emergency situations. Buyers should be informed about all the auto part options and features available before they go shopping for their van and pickup truck at specialty auto stores or online websites, such as eBay.
Exterior Parts
With such a variety of ways to customise the exterior of a van or pickup truck, buyers should have a general idea of which parts they need. While some enhancements are purely aesthetic, practicality is often the primary factor. If the vehicle needs to carry oversized loads, racks and tie downs are essential. Exterior lights such as turn signals, brake lights, and headlights can all be modified, and buyers should verify the parts are street legal before purchasing. Tool carriers are extremely useful for those with a lot of essentials to tote around. The following sections have information regarding popular parts and accessories for pickup trucks and vans.
Tie Downs and Racks
Items too large to fit in a truck bed or in the back of a van can often fit on an appropriate sized rack. There are specific models of roof racks designed for trucks, and others are made for vans and SUVs. Many options are universal and compatible with a variety of vehicles, while others are model specific. Racks are handy for transporting ladders and other oversized loads. Tie downs are needed to secure objects in place. Bungee straps can be used for small items, but larger items should be held in place with nylon straps with buckles or custom fitted holders.
Lights
There are many ways drivers can alter the exterior lights on their vehicle. The addition of fog lights can improve visibility during inclement weather. Other modifications may be much simpler, such as changing out headlamps and tail lights. While some may change a bulb only when it burns out, owners of older trucks and vans have the opportunity to replace old casings and upgrade technology.
Incandescent bulbs have been used on cars for decades; halogen and high intensity discharge, or HID, improved the quality of bulbs but were only recreations of incandescents. It was not until the implementation of LEDs in auto lights, which have significantly increased the life of the bulb and eliminated the risk of bulbs overheating and shorting out. The chart below lists the four common types of bulbs and a brief description of each.
| Bulb Type | Description |
| --- | --- |
| Incandescent | Rarely used in the auto industry, these cheap bulbs required the most replacing |
| | Like incandescent, but with tungsten filament and metal background for brighter light |
| | Also called "xenon" lighting", bluish coloured bulbs with no filament; can last 10 times longer than halogen |
| | Energy efficient technology that produces more light than heat; factory on luxury vehicles but popular aftermarket choice. |
Although LED lights are more expensive than the other three options, buyers should understand the increased cost diminishes the need to replace bulbs in the future. It is advised to spend the money upfront and pay for quality rather than having to buy several replacements in the future.
Tool Boxes and Carriers
Some pickup trucks can attach tool boxes in the bed of the truck. The boxes are permanently fixed in, and many come with locking options to keep the contents safe. The best and strongest boxes are constructed from metal and bolt to the truck. They come in various sizes and widths, so owners should measure the bed of the truck before buying. Vans with custom racks or interior organisation may benefit from installing a tool box. Those who want to haul their tools with them on the job should consider a tool carrier. Tool carriers are designed from heavy duty materials and segmented for optimal organisation.
Interior Parts
Many truck and van owners prefer to optimise the space within the vehicle. Replacing or installing new lights inside can improve the overall functionality. Construction workers and others who track mud and other debris into their vehicles could benefit from heavy duty floor mats and seat covers to keep for easy clean-up. Cargo liners are ideal for holding items in place and can be used in lieu of racks and tie downs if the load can fit in the truck bed or back of the van. Vans with heat sensitive materials might consider a roof vent to reduce the temperature.
Lights
Just as exterior lights can be replaced and modified, so can interior lighting. The most basic repair is changing burned out bulbs for overhead lights. Auto owners also have option of installing new fixtures and replacing them all together. Cargo lighting is used in vans, and LED and fluorescent models are most popular.
Floor Mats
Floor mats are a great way to protect the lower interior of the car. They protect the floor from getting caked with dirt and mud. For heavy duty protection, thick rubber mats are easy to clean and can hold up to lots of foot traffic. Many floor mats are sold in a universal size, but buyers can also look for model specific options.
Seat Covers
Seat covers are a great way to protect the bucket and bench seats of work trucks and vans, especially if owners tend to get dirty on the job. The most basic, inexpensive seat covers are made of cloth, and heavy duty canvas stands up well to general wear and tear. Sheepskin seat covers are favoured for their comfort. Neoprene seat covers are great water resistant options. More durable covers are often more expensive, but vehicle owners that track dirt in the car should spend enough for quality seat covers. Some covers can be used on various makes and models; others are sold for specific autos.
Cargo Liners
If hauling around items on the truck bed or in the back of the van, they often need to be secured in place. Tie downs may not provide enough security to hold everything, and therefore, cargo liners are a popular choice. Typically made of elastic netting, cargo liners are engineered to fasten into place with hooks, snaps, or other methods. Before purchasing a cargo liner, shoppers should ensure it is compatible with their vehicle.
Vents
Vents are typically installed in cargo vans to keep the back area ventilated. Vans that need more air circulation can rely on roof vents with a built-in fan to disperse the heat. The vents should have the option of being propped open or shut airtight.
Safety Equipment
Van and pickup truck drivers, or any car owner for that matter, should consider having safety equipment in the vehicle. At the very least, auto owners should have a road emergency kit with a safety triangle or traffic cone, and a small fire extinguisher; some even include LED hazard beacons. First aid kits are another encouraged piece of safety equipment. A basic first aid kit should have an assortment of bandages, gauze, antiseptic spray or wipe, aspirin, and gloves.
Buying Van and Pickup Truck Parks on eBay
Finding the right van and pickup truck parts on eBay involves knowing what you are looking for before beginning your search. Utilising keywords, such as the type of part, feature, or brand can all help focus search results. For example "seat covers" generates a list of all seat covers listed on eBay. Of course, buyers can add in more keywords, such as "neoprene seat covers" or "Nissan seat covers" for more specific results. Refine your search with filters if there are too many to sort through. If there are too few results, consider removing a few keywords. Check out eBay's search tips page for more helpful hints.
Top-Rated Sellers
Van and pickup truck modifications can be pricey, so it is important to find a buy you feel is trustworthy. eBay awards sellers with an outstanding history of customer service and quality products with top-rated seller status. eBay consistently monitors top rated sellers to ensure they are meeting buyers' expectations. Look for the top-rated seller icon next to the username.
Conclusion
Finding van and pickup truck parts to modify and enhance a vehicle is easy as long as shoppers do their research before buying. Cargo liners, tool boxes and carriers, and racks are used all used for transporting items; buyers should know beforehand what they are hauling and how much space it takes up. Lights can be installed internally and externally; while some lights are designed to enhance visibility at night, others are installed to customise the appearance of the car. Regardless of how the lights are used, LEDs are well worth the investment.
Vehicle owners prone to dirtying up the inside of the car can take a few measures to preserve the interior. Durable seat covers protect from spills and stains. Heavy duty floor mats, especially those made from thick rubber, are favoured since they are easy to clean. Van and truck parts are available and local automotive shops, but buyers can find better prices online with Internet retailers and virtual marketplaces such as eBay.