British Vans Of The 1960s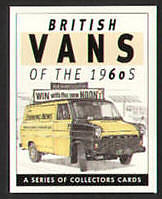 This is one of many illustrated classic transport guides I've created for the community. I hope you enjoy it. If you wish to find out more about the classic van art featured in this guide please click here.
This guide features several classic British vans from the 1960s.
Ford Transit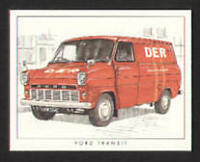 The introduction of the Transit in 1965 represented a landmark in small commercial vehicle design. By housing the engine in its own separate compartment, fully forward of the cab, passenger car levels of refinement and confort were now available to commercial drivers. The "box-on-wheels" type of vehicle had suddenly become obsolete and the Transit became the delivery van of the future.
Morris J2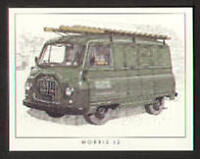 The Morris J2 of 1956 was Britain's first fully forward-control compact van. Launched with the 1,489cc B Series engine, column change and pressed steel cab seats, it was BMC 's answer to Bedford's market leading and long-lived CA. Available also in pick-up or minibus form, the J2 and its Austin counterpart, the 152 Omnivan ran until 1967. Total production was 160,000.
Morris LD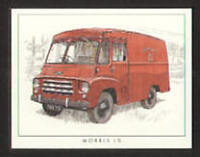 Produced between 1952 and 1968 the forward control Morris LD series offered a 1 or 1.5 ton capacity. With wide rear doors, a low floor line and sliding front doors, these versatile models found popularity with many businesses.
Commer Series 1500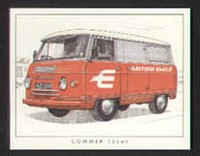 Introduced in 1958 the Commer 1500 was Rootes' contender in the lucrative 15cwt class. Fitted with a 1,724cc Hillman Hunter or 1,795cc Perkins diesel engine later examples were badged as Dodges and lasted until as late as 1981.
Austin J4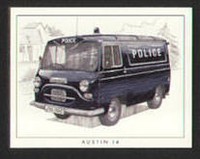 The new BMC 10/12 cwt vans were announced in September 1960. Available in Austin or Morris versions, differing only in the style of radiator grille, the J4 featured a 160-cu-ft body and car-type independent suspension. Power came from the BMC B-series engine of 1.489-litres, developing 42bhp at 4,000rpm.
Bedford CA Mk2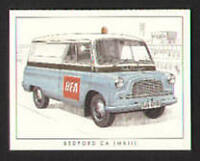 The CA Series, Bedford's semi-forward control van models, covered 10/12cwt and 15cwt for both short and long wheelbases. The model earned an enviable reputation for toughness and was a great favourite among the newspaper delivery agents and local traders.
Thank you for reading my guide and I hope you found it interesting!