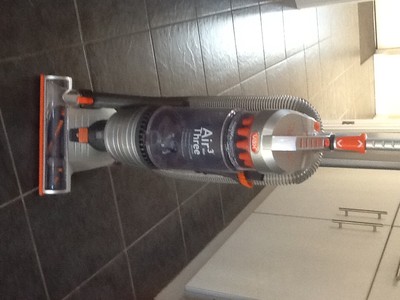 As part of a Bzzz agent and eBay guide project I have decided to write this buying guide on my latest purchase.

I have just bought a Vax Air Max 3 vacuum cleaner and quite frankly I wonder how I ever coped without it ! What suction ! What power ! My carpets and ceramic floors look spotless.
The vacuum is so light just over 3kg. It tilts when you vacuum so no more picking it up and moving it when you come across a piece of furniture. It took a little getting used to as it actually moves where you want it to go with very little effort.

I was was quite worried about ordering an upright as until now I have had a Henry Hoover. But quite honestly it is the best thing I have ever done, the height of the handle can be altered for different heights of people, I am quite tall so use it all the way up. Someone shorter than me would click it lower.

If if I need to get the cobwebs from the ceilings transfering to a static using the handle and u clicking the pipe from the main body is very easy. I would recommend you did this once per room as opposed to keep clicking it in and out as and when. Possibly a slight drawback, as with the Henry it is very easy to pull off the main floor slider at any point.

When end vacuuming carpets the brushes at the front of the machine need to be on as it really gets down deep into the pile, this is done by the push of a button that is right next to the power button, when you move to tiles or hard floors the same button turns off the brushes as they aren't necessary for this type of floor.

I honestly could not believe the amount of dirt and dust and hair the vacuum pulled up. My home was , what I thought was clean. But apparently not ! we have a little dog and this is great for pet hair. What makes it even more satisfying is that you can see what the vacuum has bought up.

There is a 6 meter long cable which means there is no need to keep unplugging, takes a while to wrap it up though ! But I can vacuum upstairs and nearly down without having to stop.

A considered purchase at the price, but well worth the money. The 6 year warranty sold it for me. Vax are very helpful and always at the end of the phone.