Velocette Motorcycles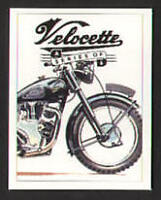 This is one of many illustrated classic transport guides I've created for the community. I hope you enjoy it. If you wish to find out more about the classic Velocette motorcycle art featured in this guide please click here.
The Velocette Company built many landmark machines and has gained a loyal following among motor cyclists world-wide. This guide details six of their best-loved models from the post-war years, a time when engineering excellence always mattered more than the whims of the market to the Goodman family who owned Veloce Ltd.
Velocette MAC
After the war Velocette continued with their tradition of black and gold singles of high performance with ohv or ohc engines. The 349cc overhead valve MAC was perhaps the most impressive three-fifty of the early 1950s, it was fast (for its cubic capacity), smooth and refined. Redesigned in 1951, it lost much of its 1930's look with a fresh one-piece light-alloy cylinder head, rocker box barrel and enlarged timing chest. In 1953 the solid frame was replaced by one with a full pivoted fork with adjustment for ride stiffness possible by moving the tops of the springs fore and aft in articulate slots arranged in rear-frame extensions.
Velocette MSS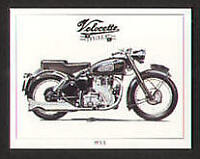 The Velocette MSS was built post-war until 1948 when it was then discontinued in order that production could be concentrated on the revolutionary LE. Powered by virtually the original 1935 designed 495cc long-stroke (81x96mm) engine, there was little to distinguish it from the last of the pre-war line. 1954 was the year the motorbike returned to a listing. Re-designed, the engine now all-alloy and of "square" dimensions (86x86mm), giving a capacity of 499cc. A sprung frame and two-level seating were other features. A popular sidecar machine, the model ran until 1971.
Velocette LE
The Velocette LE, first in 149cc form and later as a 192cc, was an outstanding design. A side-valve, horizontally opposed twin with water cooling, it was one of the first really new post-war models to go into long term production. Features were shaft drive, hand-lever starting and a monocoque frame. Extremely quiet with good weather protection, the LE was aimed at the mass market and although it was an impressive package, it did not achieve the commercial success that perhaps it should have.
Velocette Viper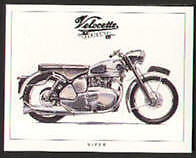 Velocette's designer, Charles Udall developed the 349cc Viper in 1955/6 with a bi-metal cylinder barrel, light-alloy head and hairpin valve springs. Its 72x86mm top half was mounted on a double of the Venom's bottom end, making for a smooth running and pretty much "unburstable" unit. Top speed was around 90mph. In later years the Viper acquired extra tune through revised carburation, a BTH racing magneto and a raised compression ratio. Finally a comprehensive fairing wa\s fitted to the model and it became known by the factory as the Viper Clubman Veeline.
Velocette Venom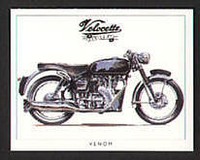 As far as road-going 500 singles were concerned the pre-Thruxton Velocette Venom was at the top of the tree in terms of performance. In its so called Clubman's trim it had many aids to fast motorcycling such as light alloy wheel rims, BTH racing-type magnetto, Amal TT carburettor, rear-mounted foot rests and close-ratio gears. Top speed was 105mph, which from rest came up in around three-quarters of a minute. Power output was in the region of 36bhp.
Velocette Thruxton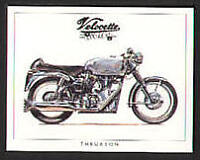 Taking its name from the famous long distance production machine race in which it was especially successful, the Velocette Thruxton motor cycle was in essence a tuned version of the 499cc Venom. Standard features included a 1 3/8" bore Amal GP carburettor, a 10:1 compression piston, hairpin valve springs, close ratio gears, hump-backed dual seat, narrow clip-on bars and light alloy wheel rims. Usually finished in the customary Velo black and gold or in blue, the Thruxton won many production races, including a TT victory in 1967, three years before it was dropped from the range.
Thank you for reading my guide and I hope you found it interesting!