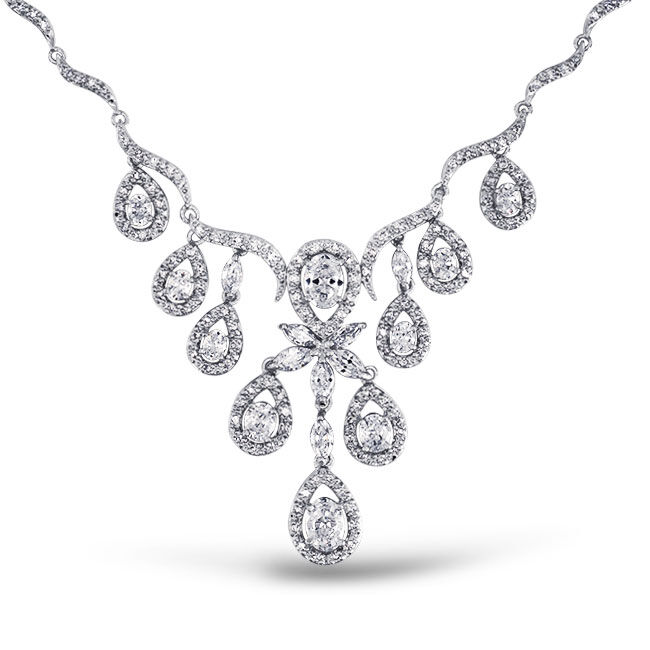 Buying a Victorian necklace is often more about style than it is about historical value. Still, Victorian necklaces have a long history that dates from the mid-1800s to the beginning of the 20th Century. Such necklaces have been worn by royalty, the famous, and the infamous. Understanding the different types of Victorian necklaces available is the first step to purchasing a piece of jewellery that could become a family heirloom or a wardrobe favourite.
The choices of Victorian necklaces buyers have today are nearly as numerous as their choices in modern jewellery. Online marketplaces such as eBay offer a platform through which individuals can find almost any type of Victorian jewellery. Whether it is a pendant, locket, cameo, mourning, or festoon style, buyers can find almost any type of Victorian necklace on eBay. Buying on eBay, or through any other online marketplace, requires a bit of product specific knowledge. When shopping for a Victorian necklace, be sure to identify its overall style, condition, age, history, and documentation.
Victorian Necklace Styles
Due to the importance placed on fashion and appearance during the Victorian era, shoppers can find a wide variety of Victorian necklace styles to this day. However, there are only about five significant designs. Pendant style, lockets, cameos, mourning necklaces, and festoons are the most important Victorian necklace options on today's market. Understanding the differences between these styles is the first step to making an educated purchase.
Pendant Style
Perhaps the most iconic style of Victorian necklace is the ornately designed pendant style. Pendant necklaces are designed with a single chain that is often elaborately decorated. Decorations of small pearls, stones, and gems are integrated into the pendant's chain. Pendant necklaces tend to drape just below the collarbone.
At the heart of the pendant necklace is a large brooch piece, which is often decorated with a large gem of some kind. One of the main benefits of pendant style jewellery is its ability to double as a brooch when the chain is removed. Consider a pendant style Victorian necklace when shopping for a versatile piece of jewellery.
Lockets
Locket style necklaces have long been a mainstay of a woman's jewellery box. During the Victorian era, lockets were designed to hold etched images. Lockets are similar to pendant style necklaces, but the centrepiece is a closed metal oval or circle. This metal oval opens and clasps shut. Lockets often contain an etched image or small keepsake, such as a photograph or a print.
Cameo Style Necklaces
The cameo is another iconic Victorian style necklace. Cameo necklaces are usually designed with a subtle chain that is small in size and stature. Hung from this chain is an oval shaped piece that comes decorated with the likeness of a loved one or the profile of a dignitary. They often feature a raised design made from ivory or a similar cream-coloured material. Cameo necklaces range in size and quality, and are often quite expensive, especially if their date of manufacture can be traced back to the Victorian era.
Mourning Jewellery Options
Mourning jewellery refers to a style of jewellery in which jet, a black amber coloured gem, is used as the overall aesthetic of the piece. It takes its name from the fact that the black stone makes the jewellery suitable for wear during a mourning period. Mourning jewellery is often dark and classical-looking, and is perfect for more formal occasions. Victorian necklaces of the mourning variety are strikingly beautiful; they tend to be somewhat less expensive than their diamond counterparts. A mourning Victorian necklace option is a great choice for a classic look that never goes out of style.
Festoon Style
For a more ornate option, individuals should consider purchasing a Victorian necklace in the festoon style. Festoon style necklaces have more than one central pendant hanging from one or more chains. They cover a lot of chest space, and are often paired with low neckline tops. Festoon necklaces are decorated with chains that usually connect to several gems, pendants, and other high quality pieces of jewellery. Consider purchasing a festoon style Victorian necklace for an overstated look that is likely to stand out.
Style vs. Period
Those shopping for a Victorian necklace should consider whether they want a Victorian style necklace or a Victorian period necklace. For a more inexpensive option, shoppers can choose a Victorian style piece, rather than a pricier, antique necklace that dates back to the Victorian age. On the other hand, those in the market for a more expensive, valuable piece of jewellery should search for a necklace that both represents the Victorian style and dates back to that time period, as well.
Age
The age of a piece styled in the Victorian tradition is not overly important. The age of an actual Victorian necklace, however, is absolutely essential. Those purchasing a period piece should be sure to communicate with sellers about the precise age of the necklace in question. Any item that does not date to the mid-1800s or early 1900s cannot truly be considered Victorian. People shopping for an aged piece should be sure to secure documentation with the item.
Item History
Many who purchase Victorian jewellery like to search for items worn by someone famous. The previous ownership of any piece of jewellery can make the difference between a value of hundreds and a value of tens of thousands of pounds. Victorian jewellery worn by a figure of intrigue or a national dignitary can be worth a pretty penny. As when considering the age of a necklace, make sure to obtain documentation of such an item's history.
Documentation
Individuals shopping for a period piece or a Victorian necklace with an illustrious ownership history should make sure to secure documentation for the item. Consumers who use online marketplaces such as eBay should be sure to find a seller that offers proof of provenance. Certified documents offered by specialists and signed by credible individuals are helpful in determining the item's actual value. Also, proper documentation goes a long way towards determining how much insurance coverage the piece requires.
Victorian Necklace Condition
When buying a Victorian necklace, be sure to factor in condition with style, type, period, and material. A pendant style necklace that is losing its precious gems is likely to be a hassle to wear and repair. Ask sellers whether or not any parts of the necklace are missing. If one piece has gone missing, it is likely that others soon follow.
Also, make sure there is little water damage or rust. Since most Victorian necklaces were designed with high quality materials, water damage and rust should not be much of a problem. Make sure to factor in dents and cracks into a purchasing decision as well. A Victorian cameo necklace that has a crack on its face is likely irreparable, or at least very expensive to fix. For best results, find a Victorian necklace that is labelled as being in "mint" condition.
Buying a Victorian Necklace on eBay
Finding the perfect necklace that fits a specific style and desire can be difficult to accomplish. With online marketplaces such as eBay, shoppers can find a range of Victorian pieces that match almost any style. Festoons, cameos, pendants, and more can all be found amongst the thousands of jewellery items being updated on eBay each day. Using a range of shopping features and searching options, consumers who use eBay are able to save both time and money.
To start shopping on eBay, buyers can simply visit the eBay home page. From here, shoppers are able to find antique Victorian necklaces as well as more modern imitations. Enter in a search term, such as "Victorian Cameo Necklace", to find a variety of items that match the description. Once you select search, various items are displayed in a list format. In order to search more effectively, consider using eBay's advanced search feature.
Buyers should also get to know the seller before committing to a purchase. Check out the seller's feedback score, and read comments left by previous customers. Sellers with a lot of positive reviews are likely to provide a quality product and great customer service.
Conclusion
Victorian necklaces come in a variety of shapes and styles. When shopping for a Victorian necklace, be sure to select a style that fits the occasion. With five different fundamental styles to choose from, buyers can satisfy almost any aesthetic taste. Consider purchasing more than one Victorian necklace to have an option for a variety of formal events. Shoppers should, however, factor in the condition of a necklace before ever committing to a purchase.
Collectors shopping for necklaces crafted in the Victorian era should be sure to establish the legitimacy of such an item. Paperwork, original boxes, and certifications are all ways that sellers can communicate that their piece is authentic. Shopping for such pieces through online marketplaces such as eBay helps buyers find more than one option for purchase. Weigh the options before making a purchase. Find a Victorian necklace that is in mint condition, meets style needs, and offers proper documentation.