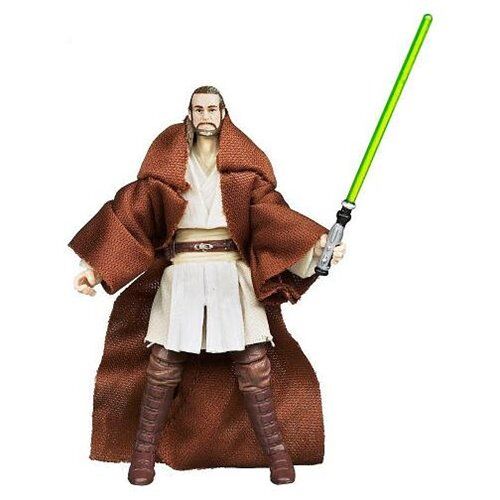 The first toy to be called an action figure appeared fewer than 50 years ago. How could any acquire the status of vintage in that time? But consider the variety that has come to the marketplace; over 40,000 different characters from nearly 1000 brands.
Amongst them are exclusives, one-offs, variants, prototypes, manufacturing mistakes, special editions and small production runs. All these lead to rarities. Where things become scarce in the collector's world, the hunt is on to buy what will hopefully become an investment on eBay that pays off, or at least something to treasure.
What is a Vintage Figure?
The term "action figure" was coined by toy manufacturers Hasbro in 1964 to describe the newly launched G.I. Joe; 11.5 inches high and with clothes which could be changed to suit his mission. It was a neat piece of marketing to position him as being quite different from a doll and therefore aimed at boys.
The popularity of GI Joe and Palitoy's Action Man in the UK was confined to pre-teen boys, but the advent of Star Wars in 1977 introduced a whole range of characters. Just 3.75 inches high with individual features and clothing, they were begging to be collected.
With the huge success of the Star Wars film, major shortages soon arose of particular characters, such as the Darth Vader and Han Solo. Scarce figures gained resale value from fans wanting to build up a set. Thus the collectible action figure market was born.
Popular films, TV programmes and video games have followed Star Wars with ranges of action figures, for example:
Spider-Man
Batman
Transformers
Teenage Mutant Ninja Turtles
The Simpsons
Towards the end of the 20th century, action figure collecting really took off as adults started to seek out the toys of their childhood and bought new editions for their own children. Today action figures are the most widely collected toys on the market. There are over 35,000 different action figures available, including a host of rare variations.
Valuing Action Figures
The value of an action figure relates both to its scarcity and its condition. The golden rule for collecting action figures is never to take them "off the card", the cardboard backing on which they are enclosed in a see-through plastic bubble. Doing this devalues the figure quite a bit, although if that figure is rare enough it will still be worth a substantial amount.
Long term value depends on just how close to mint they are. There are various scales which collectors use to assess potential buys. The Collector-Action Figures "C-Scale runs from C-10 (Mint) to C1 (Very Poor) and is very exacting. So to qualify for C9-10 (near mint) status the plastic bubble must be, "clear, completely attached, no yellowing, no crushing. Minimal dents or dings if barely noticeable. No severe malformations or cracks of any size." This example shows the degree of sophistication attained by a hobby which took off only 35 years ago.
Rarity
As with any collectible, the harder a prized action figure is to find, the more money a buyer has to pay. The range of action figures on the market can be classified as Regular, Chase, Super Chase, Variant and Custom.
Regular A regular action figure is the standard issue, bought new with the figure pictured on the packaging. Beware of massively overproduced mass market figures, as these, even in Gem Mint Carded condition, are unlikely to increase in value for a long time.
Chase A chase is a version of the regular figure which has been modified intentionally in some way by the manufacturing company, so called because its scarcity will stimulate the collecting community to chase it. The alteration can be in the clothing, pose or painting of the figure to create a special collectors' version, for example a sporting figure with helmet off, compared with the regular one with helmet on.
Super Chase This is a further modification of the chase figure produced in very limited quantities to create an artificial scarcity.
Variant A variant is a different form of the regular figure arising from an error in the manufacturing process or because of a decision to change something in the manufacturing process. An example of an intentional variant is a Batman figure with an unmasked Bruce Wayne head. A factory error could be a Batman figure with a Superman head. Both variants can be relatively or extremely rare which can drive the price up.
Custom Customising action figures is a hobby in itself, and the reward is the satisfaction it gives the customiser rather than market value. For example, the James Bond franchise is poorly represented in terms of action figures, causing enthusiasts to customise Daniel Craig figures from a GI Joe original.
Where to Start
It's easy to get lost or discouraged in today's complex market. Buyers can pay too much and end up with a box of mismatched figures of little collective value. On the other hand, with a plan the hobby can be very fulfilling as each acquisition brings the collector nearer their goal.
Strategy
Begin by identifying existing interests – types of sport, favourite TV programmes, comics, video games, cartoons or movie genres such as action, horror, Sci-Fi, or fantasy. Make a list and choose between up to three unrelated categories to give a collection some variety.
Target
Now aim for a sub-topic of the main category. This could be, for example, Dr. Who figures, but this is a huge market, so a sub-topic might be Dr. Who played by different actors, or Dr. Who's companions or a particular series. The objective is to find a niche that is tight enough to enable one to build the collection, complete each series or strand, keep costs down and add value.
How to Complete
Some action figure lines are relatively easy to complete because they are made up of only a few items. Kenner's vintage Raiders of the Lost Ark 3.75-inch toy line, for example, has only 11 unique poseable action figures, three playsets, one vehicle, and one horse. Other lines are much more difficult to complete.
Since the Transformers line was introduced, there have been thousands of Transformers action figures released which are now vintage items. A complete collection of Transformers would be almost impossible to put together, so many choose to complete sets of certain characters or factions. The more focused the goal, the better the chance of completion.
How Much to Pay
With a continually expanding choice of action figures in different conditions and degrees of rarity, it's easy to get carried away or confused in making a buying decision. Do not go into vintage action figure collecting without knowing the ins and outs of the market. But do begin with a budget. No one wants their hobby to eat up their spare cash. Writing down a budget and sticking to it is the best way an enjoyable hobby can be affordable, too.
If an action figure is within budget, is it worth the asking price? One easy way to find out is by looking at "Completed items" on eBay's advanced search function.
Where to Search
One of the most enjoyable parts of collecting action figures is the thrill of discovery,
There is a huge selection of vintage action figures to choose from on eBay. Simply type in what you are looking for on any auction site, press "search", and check the results. This is a great way to find carded figures, international figures and rare variants. Look out for people who are selling off parts of or even their entire collections. This can save a lot of time and money when starting off on a new series.
Buying Vintage Action Figures on eBay
Action figures are found under the Action Figures subcategory of the overarching eBay Toys & Hobbies category page. Once shoppers are on the Action Figures page, they can narrow their choices even further by selecting action figure categories such as Military & Adventure or Fantasy.
Auction listings can be further narrowed by era of manufacture, condition, and so on. Choose the local shipping option to save money on shipping and handling costs for that vintage action figure.
Purchasing vintage action figures can be expensive, and amassing a large collection may cost a lot of money. Here are some great ways to save one's funds when buying action figures, especially when purchasing on eBay.
Look for mixed lots of vintage action figures. These contain two or more action figures, accessories, and other related items that have been grouped together for one sale. Sellers often sell vintage action figures this way because no one piece in the lot is worth a lot of money.
Sometimes, it is worth it for a collector to buy a mixed lot that contains only one target item that the collector desires because the whole lot may cost less the one figure or accessory might cost on its own.
Buying Vintage Action figures on eBay
Now that you know which vintage action figures you want, you can find them quickly and easily on eBay. To start shopping, go to the Sports and Leisure category. Click the Toys & Games then the Action Figures portal.
While you shop, don't forget Wrestling ,Doctor Who ,Batman, Power Rangers, Action Man and Marvel Legends .
Categories
The Categories list on the left side of each page will help narrow down listings by item type. There are links for themes such as: Action Man, Star Wars IV: A New Hope, Masters of the Universe, ThunderCats, Wrestling and Star Wars VI: Return of the Jedi
Product Finder
Use the Vintage Action Figure Finder to quickly narrow down item listings by brand, model and condition (new or used).
Keyword search
Search eBay listing titles for specific words. For example, to find Vintage Action Figures, type the keywords "Action figures Vintage" (without quotation marks) into the Search box. Click, "Search title and description" to expand the results. Visit eBay's Search Tips page for more tips on searching with keywords.
If you can't find exactly what you want, try browsing eBay Stores or tell the eBay Community what you're looking for by creating a post on Want It Now, or save a search on My eBay and eBay will email you when a matching item becomes available.
Buy Vintage Action Figures with Confidence
Make sure that you know exactly what you're buying and understand how eBay and PayPal protect you.
Know the Item
Read the details in the item listing carefully.
Remember to add delivery costs to the final price. If buying a high value item, check that the seller will insure it until it is delivered.
For more information, click the "Ask seller a question" button on the seller's profile or the "Ask a question" link at the bottom of the item listing page.
Always complete your transaction on eBay (with a bid, Buy it Now or Best Offer) otherwise you will not be covered by eBay Buyer Protection.
Never pay for an eBay item using an instant cash wire transfer service like Western Union or MoneyGram. These are not safe ways of paying someone you do not know.
Know the Seller
Research the seller to feel safe and positive about every transaction.
What is the seller's Feedback rating?
How many transactions have they completed?
How many positive responses do they have?
What do buyers say in their Feedback?
Are they positive about the seller?
Most top eBay sellers operate like retail shops and have a returns policy.
Do they offer a money-back guarantee?
What are their terms and conditions?
Buyer Protection
In the very unlikely event that you do not receive your item or it is not as described, eBay Buyer Protection covers your purchase price plus original delivery cost.
Conclusion
Figures from every TV and movie franchise have been collectibles for enthusiasts all over the world for decades now. People do it for different reasons of course. Some do it because they think they'll be worth something someday, others do it for sentimental value. Many simply like preserving the best of the past.