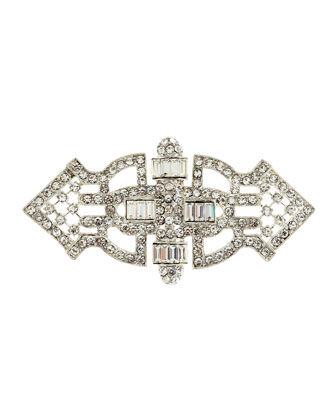 A vintage piece of jewellery can lend an entirely one-of-a-kind look to what might otherwise be a relatively ordinary ensemble. As such, these collectible pieces are still coveted today by everyone from fashionistas to seasoned vintage collectors. A particularly popular subcategory of vintage pieces is the Art Deco brooch. These decorative items, from one of the most iconic style eras of the 20th century, are collected for their stark geometry, unique design schemes, and standout contrasting colours.
Individuals who are looking to purchase an Art Deco brooch for the first time benefit from learning a bit about Art Deco design in general and what characteristics to look for in an authentic Art Deco brooch. These details can help focus and smooth out the purchasing process and make finding an ideal piece a great deal easier. The customer may also like to know where and how to find these antique pieces of jewellery, including on the online auction site eBay..
Art Deco Design
Art Deco began as a theory of design in the early 1920s amongst artists, architects, and thinkers of France. It is characterised by a focus on geometric forms and high-contrast colour choices which, at the time, evoked futuristic themes and marked a decided departure from the natural forms of art and design in the first two decades of the 20th century.
Art Deco is a very eclectic school of design, combining imagery culled from technology with traditional craft techniques. Much of the jewellery of this era, including brooches, reflects this balance between traditional techniques and more modern sensibilities.
A Brief History of the Brooch
A brooch is a piece of jewellery with a decorative façade which was first designed to be worn clipped (not pinned) to an item of clothing. Originally created for fastening pieces of material together and worn extensively by ancient Romans, Greeks, and Celts, brooches stemming from the Art Deco era were created almost exclusively for display and had little pragmatic function. The 1920s in particular was a time of ostentatious display of wealth and much of the jewellery of the era was focused upon doing just that. As such, brooches created in the Art Deco era leverage many high-quality materials and feature an excessive use of diamonds and other gemstones.
The Structure and Design of Art Deco Brooches
Brooches created in the 1920s and 1930s usually feature a clasp mechanism on the back, allowing the brooch to clamp onto a piece of fabric without piercing it. Brooches of the Art Deco era were worn on dress straps, labels, hats, and even shoes.
The double brooch was a particularly popular item during the Art Deco era. According to legend, the designer who first conceived of the double brooch was inspired by seeing a woman pinning a dress on a line to dry with two clothing pins. A double brooch has two interlocking elements which can be worn together as one piece or apart. Double brooches also played up the new sleeveless dresses which were all the rage in the 1920s and could be worn attached to each strap to accentuate the dress style.
Materials Used in Art Deco Brooches
Given the era's focus on wealth, Art Deco jewellery typically contains quality precious metals and gemstones. These materials work together to create the classic, high-contrast look of the era and thus are standard on most Art Deco brooches.
Platinum in Art Deco Brooches
Platinum is by far the most popular precious metal to have been used in Art Deco brooches. Platinum was used prominently during the Art Deco period due to its neutral colour palette. Its white-silver tone provides a piece of jewellery with a neutral canvas on which to build contrasting elements. Another advantage of platinum for jewellery makers is the fact that it can be worked into ornate patterns easily, making it the perfect medium for the complex geometry of the Art Deco era. Platinum is a very durable metal as well, making many Art Deco brooches resilient pieces that hold their form well and do not fade and scratch over time.
Gemstones Used in Art Deco Brooches
Diamonds are one of the more popular gemstones found in Art Deco brooches. Their white and clear tones, like platinum, gave jewellery manufacturers of the time an excellent way to create contrast by adding coloured elements to a piece. Diamonds may appear as large central solitaires in some pieces, as smaller stones set in geometric lines in a channel setting, or in pavé settings in others. Pavé is a setting technique that utilises small beads of a piece's precious metal to hold a series of small diamonds in place on the façade. This creates an encrusted effect on the face of the brooch.
For creating colour contrast to the neutral palette of diamonds, jewellers of the Art Deco era used colourful gemstones, such as rubies, emeralds, and sapphires. Turquoise and coral were also widely used. Black onyx was also a popular choice, since the starkness of black-and-white design motifs dominated much of Art Deco design.
Design Themes Found in Art Deco Brooches
The Art Deco era was a time driven by vivid imagination that was a complete departure from previous eras in many ways. While some of the design themes present in Art Deco brooches evoke hints of earlier eras, many of them embodied an entirely new approach to jewellery and the decorative arts.
Geometric Themes in Art Deco Brooches
The most prominent design theme in Art Deco brooches is, of course, the geometric theme. Brooches made during this era often feature a series of layered or co-located shapes, such as squares, rectangles, circles, and triangles. Chevrons, inverted V shapes, are another commonly found geometric form in Art Deco brooches. Geometric brooches from the Art Deco era are also often quite broad in aspect, forming a long rectangle across a horizontal plane.
Scroll Themes in Art Deco Brooches
Long, sweeping, scroll-like lines are often depicted in Art Deco brooches. These scrolls can dominate the entire design scheme or exist in contrast with straighter forms and lines. Scroll accents are often created with a contrasting gemstone in a bold colour.
Bow Themes in Art Deco Brooches
Bow-shaped brooches or design accents are another popular theme of the Art Deco era. Since much of women's clothing of the time eschewed the excessive femininity of the Edwardian and Victorian eras which preceded Art Deco, these bow themes were a whimsical and almost insouciant way for a flapper to add a feminine touch to an ensemble.
Floral Themes in Art Deco Brooches
On occasion, themes from nature can still surface in Art Deco jewellery, particularly floral motifs. Floral themes on Art Deco brooches are usually placed on a geometric background, characterising them as distinctly Art Deco. The flowers themselves comprise geometric elements, giving them a very modern look that distinguishes from the lush naturalism of earlier eras.
A Note on Art Deco-Style Items and Replicas
When shopping for a vintage Art Deco brooch, consumers should keep in mind that many contemporary manufacturers make Art Deco-style pieces that merely replicate the look of the era. Given the popularity of the Art Deco style, the design schemes of that era have remained popular and are still in use in manufacturing modern pieces. Individuals looking for a true, vintage Art Deco brooch should make sure to confirm its provenance before making a purchase.
Finding Art Deco Brooches in the Marketplace
Art Deco items are rare collectibles and, as such, can be quite difficult to find at many traditional brick and mortar shops. If they are available at such vendors, they are likely to be few and far between. Online auction sites, on the other hand, typically offer a wider selection of these collectibles, as well as a range of replica items. This is due to the fact that online auction sites function as aggregators, bringing a number of vendors together in one place, an especially valuable technique when items of rare provenance are at stake.
Purchasing Art Deco Brooches on eBay
One of the most popular online auction sites is eBay. This site boasts has a range of Art Deco jewellery and gives consumers a user-friendly way to search for and find items. When you visit the site, look for the search bar at the top of any of the site's page. You can enter a keyword term, such as 'art deco brooches', into this search interface to begin reviewing listings associated with these items. If you want to run a search with more specifications, such as a particular colour scheme, like black and white, or certain gemstones, consider using eBay's Advanced Search options to narrow down your results.
Getting to Know the Sellers on eBay
You can help ensure that you find the best product for your needs on eBay by taking the time to get to know the sellers on the site. If a particular listing for an Art Deco brooch catches your eye, click on the seller's highlighted name to review details associated with that seller. You can review items such as other auctions the vendor has conducted in the past and any feedback the seller has received from other customers. Use this information to determine whether a vendor can get you the exact type of authentic or replica brooch you are looking for.
Conclusion
Art Deco brooches, with their geometric designs and iconic styles, are much coveted collectibles and hold wide-ranging appeal for consumers. These fine pieces of jewellery may be worn at formal events or as a unique accessory for an everyday outfit. Consumers interested in buying one of these classic collectibles benefit from first taking the time to familiarise themselves with the essential details about Art Deco brooches. Item points, such as the design themes employed in Art Deco and the materials and gemstones used, can help refine the purchasing process.
With this information, consumers can begin looking through the wide range of listings available on websites, such as the online auction site eBay. On eBay, consumers can leverage the search interface to find relevant Art Deco brooches. By making an effort to evaluate the sellers associated with appealing items, consumers can quickly zero in on a choice and efficiently complete the purchasing process, adding a one-of-a-kind piece of jewellery to their prized collection.