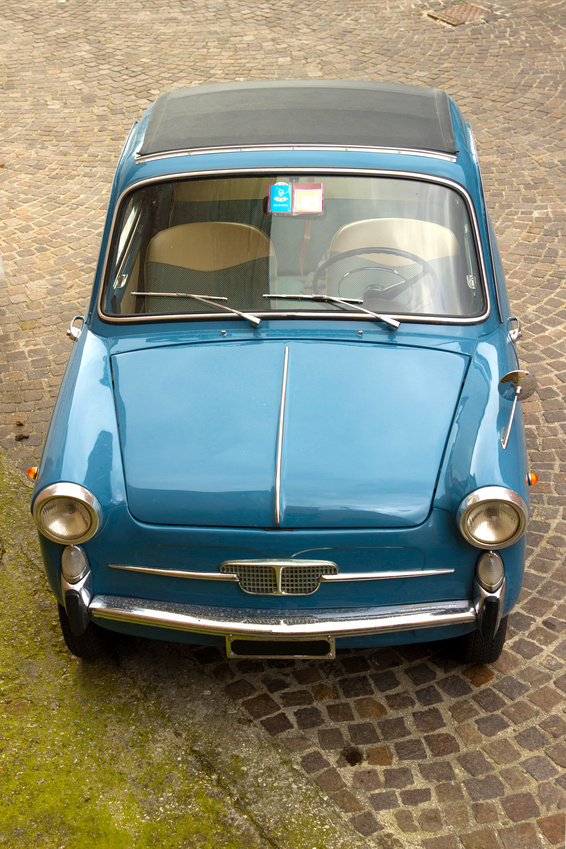 First produced in 1910, the Audi is a popular and solid investment offering both luxury and high performance. Pioneering several standards and accumulating several racing championships over the past hundred years, Audi strives to live up to its translated motto, "Advancement through technology". The vintage-Audi buyer is privileged to be able to choose from such a diverse brand. The various Audi models, many of which shifted the way engineers build cars, excel in racing, off-road capabilities, luxury, speed, and comfort. While the specific manufacturing company traded hands multiple times, the Audi has always represented the best of, and sometimes changed, car manufacturing standards.
Through two world wars, a depression, an energy crisis, and periods of prosperity, Audi has proven to adapt rather than compromise its integrity. Founder August Horch is only the first of a long line of renown engineers to leave a mark on the Audi brand and the automotive industry alike. The value of a car is determined by several factors. The value of a car and how it appreciates is based on age, condition, the specific model, authenticity, mileage, equipment, and how many of the cars exist. Knowing the history of the car, each vintage model, and a chronicle of the major Audi advancements allows buyers to purchase the vintage Audi (pre-1988) wisely.
History
The origins of Audi date back to 1899 when August Horch began engineering cars for A. Horch & Cie. The Audi debuted in 1910. Released under multiple companies, the Audi remained in production until 1939. From 1939 through 1964, no Audis were produced. In 1965, Volkswagen AG acquired and revitalised the Audi brand and continues to produce the cars in their German factories.
Vintage Audi Cars
It is important to understand the differences between classic, antique, and vintage automobiles. Vintage Audi vehicles are those 25 years old, or older.
Vintage Audi Models from 1910 to 1920
From 1910 to 1920, under the direction of August Horch, Audi released cars by Audiwerke GmbH. Both the success in the Austrian Alpine rallies and the war would alter the course of the Audi Phaeton evolution, which remained in production until the mid 1920s.
"Audi Phaeton"
In 1910, Audi debuted the Type A Phaeton. These "avant-garde midsize models" would set the Audi-standard in manufacturing luxury cars. The original model, the "Type A", featured a 22-horsepower 4-cylinder inline engine, reaching speeds of 75 km/h. While only 137 Type A cars were produced, successors advanced the model in engine size, speed, horsepower, and reliability. The "Type B Phaeton" improved to a speed of 80 km/h and 28 horsepower. In an attempt to pioneer faster, more compact, and less impactful vehicles, Horch introduced the Type C Phaeton and led his team to first place in the International Austrian Alpine Run for four consecutive years, from 1911-1914. The "Type C," with a "4-Stroke" engine, reached speeds of 90 km/h and sparked a surge in production. The dominance in Alpine Runs made the Coupe-Limousine its most successful, and due to its speed and reliability, this model was kept in production as a popular car of the Imperial Army in WWI. Audiwerke AG released a special edition "Alpine Victor" Type C, and also featured the model in a saloon style. The "Type D" featured a significantly larger engine due to a surge in displacement, and also came in the Landaulet style.
Model

Series

Engine

Displacement (cc)

Power (hp/rpm)

Max Speed (km/hr)

Price

Cars Produced

Type A

Phaeton

1910-12

4-Cylinder

2611

22/1750

75

8,500

137

Type B

Phaeton

1912-17

4-Cylinder

2611

28/1750

80

8,500

350

Type C

Phaeton

1911-25

4-Cylinder4-Stroke

3560

35/1800

90

10,500

1116

Type C Saloon

1912-28

4-Cylinder

3560

35/1800

55

10,500

RM

326

Type D Landualet

1911-20

4-Cylinder

4712

45/1650

100

12,500

RM

53

Type D

Phaeton

1911-25

4-Cylinder

5700

55/1650

100

14,500

RM

301
All of the models in the first decade of production featured the 4-Cylinder engine. The Audi "Type C" was the first car to exceed more than 1,000 cars. With the exception of the Saloon style "Type C", each model increased speed and horsepower with fewer rotations per minute. Also noteworthy, the "C" became the first of many Audi models to adopt the relatively new internal combustion 4-Stroke engine technology. The prices in the chart above are in units of papiermarks, while models released after 1924 are measured in Reichmarks.
Vintage Models from 1920 to 1930
Already among the leaders in speed and luxury, Audi focused on safety. In 1928, DKW developer J.S. Rasmussen purchased the remaining Audiwerke shares; a move that would, subsequently, lead to the formation of the Auto Union in 1932. As a military supplier, the Auto Union underwent a period of rebranding, and halt Audi production in 1939.
"Audi Type G"
The "G" variation of the Phaeton, highlighted by the extra row of seats, was put aside and did not see production until after the war. Originally made to feature an extra row of seats, the postponement focused the marketing its small frame and low cost. Similarly, the "Type "C" and "E" were continued after the war with the modernised bodies, radiators, lighting systems, and electric motors.
In 1921, Audi released the "Audi Type K" at the Berlin Motor Show and became the first manufacturer of left-hand drive cars, to enhance visibility and ease. This feature soon became an industry standard.
The war in Germany stunted production. Audi continued models for the Phaeton and introduced two new makes. The 6-cylinder "Audi Type M Pullman" became one of the most expensive cars on the market and was known for 4-wheel mechanical brakes, an engine constructed of light alloy metals, and an air pump powered by a compressor in the transmission. The torque of the new 8-cylinder "Type R Imperator" produced smoother acceleration. Unlike the "Type G" that offered value in its delay, the "Type R" reduced production costs despite its large engine and 3-speed gearbox technology. The final car produced in the 1920s was the "SS", which included the "Rickenbacker" 8-cylinder engine, and was listed at nearly half the price of the "Type M" earlier in the decade.
Model

Series

Engine

DISP(cc)

Power (hp/rpm)

Max Speed (km/hr)

Price (Mark)

Produced (Cars)

Type G

1914- 26

4 Cylinder

4-Stroke

2084

22/2200

65

N/A

1,122

Type E

1913- 24

4 Cylinder

2611

28/1750

80

8500

350

Type K

1921- 26

4-Cylinder

3560

50/2200

90

16,500

192

Type M

1925- 28

6-Cylinder

4660

70/2500

75

22,300 RM

228

Type R

1927- 29

8-Cylinder

4872

100/3300

120

16000 RM

145

Type SS

1929-31

8-Cylinder

5130

100/3000

110

12950 RM

457
The 1920s for Audi were marked by the departure of founder Horch and a shift in shares that soon led to the Auto Union formation. From a technological standpoint, the decade was also highlighted by affordability and safety. The left hand drive of the "Type K" offered motorists better visibility, while 4-wheel brakes and improved torque created less impact on the vehicles.
Vintage Audi Models from 1930 to 1940
Rasmussen continued to press inexpensive automobiles; by acquiring Audiwerke and the bankrupt Rickenbacker factory that produced 6- and 8-cylinder engines, he was able to debut the 1930 Audi "Type T Dresden" saloon cheaper than any Audi in the decade prior. The "Type P" was produced solely to accommodate the customer base that was unhappy with the 2-stroke engine, and the decrease in power.
Audi joined DKW, Horch, and Wanderer to form Auto Union AG in June, 1932. The next advancement was the four-window "Audi Front Type UW" convertible, released in 1933, featuring front wheel drive, a modular design principle, and a 6-cylinder engine from the Wanderer. While Audi continued to press saloon-style coaches, the luxury-priced convertible model took off. The 6-cylinder engine became standard. The newly founded Auto Union produced Grand Prix racing cars, adopted a Porsche design, improved in aerodynamics, and heightened its popularity. Auto Union pioneered vehicles in speed and safety. The 16-cylinder Streamliner reached speeds above 400 km/h for the first time on a normal road. The Depression and the looming second World War put the automotive industry at a disadvantage. Audi continued to pioneer new technology and showcase unusual luxury cars but their production was limited. At the Berlin Motor Show, Audi showcased a "Front 225 Roadster" at a price of 7,950 Reichmarks. Only two cars were made, while over 800 models in the saloon style at the more affordable 5,900 RM. Similarly, the 8,500 RM 2-seater, plus one sideways seat, convertible only output 25 vehicles at 8,500 RM.
Model

Series

Engine

Displacement (cc)

Power (hp/rpm)

Max Speed (km/hr)

Price (RM)

Produced (Cars)

Type T

1930-32

4-Cylinder

4-Stroke

2084

22/2200

65

N/A

1,122

Type P

1931-32

4-Cylinder

1122

30/3200

80

3,385

327

Front UW

1933-34

6-Cylinder 4-Stroke

1949

40/3500

100

5900

1817

Front 225

1935-36

6-Cylinder

2257

50/3500

105

6,675

837

Front 225 Roadster

1935

6-Cylinder

2257

50/3300

115

7950

2

Front 225

4 window

1936-38

6-Cylinder

2257

55/3800

110

6,875

1749

920 Saloon

1938-40

6-Cylinder 4-Stroke

3281

75/3000

130

7600

1281
The Auto Union was also the first in the industry to conduct crash and rollover tests. The 1939 Audi 920 would be the last car produced under the Audi moniker, nearly 800 of which would be convertibles, until 1965.
Vintage Audi Models from 1940 to 1960
As a military supplier in World War II, Auto Union ceased public vehicle production. Throughout the 1940s and the majority of the 1950s, DKW motorcycles was the only surviving Auto Union company to manufacture vehciles.In 1958, Daimler-Benz took over Auto Union and by 1964 it was a fully owned subsidiary. In 1965, Volkswagen would envelope the Union and, for the first time in 25 years, release the Audi as its own brand of vehicles, as it is presently. The Audi name was revived for the first time since 1939 and used eponymously. The 1965 "Audi" returned to the 4-cylinder, 4-stroke engine with 72 hp was a success with over 80,000 sold
Model

Series

Engine

Displacement (cc)

Power (hp/rpm)

Produced (Cars)

Audi

1965-68

4-Cylinder

4-Stroke

1696

72/5000

81,724

Audi 72

Variant

Audi 60

1965-72

4-Cylinder 4-Stroke

1496

to

1760

55/4750

to

90/5300

416,852

Audi 100, 100 LS,

LS 2-Door, 100 GL

1969-76

4-Cylinder

4-Stroke

1588 to 1871

80/5000 to 112/5600

796,790
However, it was the Audi 100 series that officially launched Audi as an industry leader. Encouraged by moving over 800,000 units with its first model, Audi entered the US market. in 1969. Though recognised and popular from its inception, Audi was situated to move millions of units internationally and prove its worth for the first time.
Vintage Models from 1970 to 1980
Audi continued its upper mid-size class models through the 1970s. Another testament to its construction and performance, the Fall 1969 "Audi 100" became a popular police car. In 1972 Ludwig Kraus introduced the Audi 80. By 1978, this middle class model reached 110 hp and produced over one million cars.
Model

Series

Engine

Displacement (cc)

Power (hp/rpm)

Produced (Cars)

LS 2-Door,

100 GL

1969-76

4-Cylinder

4-Stroke

1588 to 1871

80/5000 to 112/5600

796,790

Audi 100 Coupé S

1970-71

4-Cylinder 4-Stroke

1871

115/5500

30,684

Audi 80 LS, 80 GL, 80 L, 80 GT, 80 TE, 80 GLS

1972-78

4-Cylinder

1297 to 1588

55/5500 to 110/6000

932,403 (w/o US Models)

Audi 50,

Audi 50 LS,

Audi 50 GL

1974-78

4-Cylinder

Petrol

1093 to 1272

50/5800 to 60/5900

180,828

2 Generation Audi: 100, GLS, 80 quattro, CC, GTE

1976-82

5-Cylinder Petrol

1588 to 2144

70/4800 to 136/5700

687,590 (49,588 Avant models)

2 Generation Audi: 80, GLS, 80 quattro, CC, GTE

1978-86

4/5 Cylinder

Petrol

1272 to 2144

55/5800 to 136/5900

1,351,773
The last of the Kraus engineered motors, the "Audi 50", was geared towards safety and efficiency. The small model was a reaction to the energy crisis. The Audi 50 averaged a consumption of 6.3 liters per 100 kms. The energy crisis caused Audi to react with more conservative vehicles. The surviving models were modernised and re-marketed, while the others would lose the Audi moniker and succeed for Volkswagen.
Vintage Audi Models from 1980 to 1990
In the 1980s, the Audi 100, 80, and 50 were still in production. Engineer Jörg Bensinger implemented the all-wheel drive technology from the Volkswagen military vehicles to Audi's newest model. In 1980, Audi announced the Audi Quattro.
In 1982, the Audi 4000 became available in the United States. In 1986, the "type 89" was introduced to modernise the Audi 80. In 1987, final modernisations, elegance, and a higher performing engine replaced the type 89, and became known as the Audi 90.
Model

Series

Engine

Displacement (cc)

Power (hp/rpm)

Produced (Cars)

Audi 200 5E, Audi 200 5T

1980-82

5-cylinder with Turbocharger

2144

136/5700 to 170/5300

12,522 (5E)

17,183 (5T)

Audi 90

1984-86

5-Cylinder

Petrol

1588 to 2226

70/4500 to 136/5700

66,101

Audi quattro, 20V

1980-91

5-cylinder w/ Turbocharger

Intercooler

2226

220/5900

11,452

Sport quattro

1984-86

5-cylinder w/ Turbocharger

2133

306/6700

214

3 Generation Audi: 80, 80 TD, 80 quattro,

1986-91

4-Cylinder

Petrol & Diesel

1588 to 1984

55/5800 to 136/5900

1,287,799

Audi 80 B3, 20V

1987-91

5-Cylinder

Turbodiesel

1984 to 2,309

80/4500 to 170/6000

141,145
The name "quattro" indicated the four-wheel drive capability, which propelled Audi once again as a major player in the racing world. With four world rally championship titles, Audi was able to rebrand their sporty image.
How to Buy a Vintage Audi on eBay
If you are interested in purchasing an Audi, a great place to start any car search is eBay Motors. If you are interested in purchasing an Audi on eBay, "Audi" in the top search bar located on every page. To narrow the search, browse eBay Cars. The car must be at least 25 years old to be considered vintage. Any Audi pre-dating 1989 purchased in 2013 will be vintage. To search the Cars before 1989, you can sort search results by year and sort listings by price. To purchase a truly vintage Audi, all parts must 25 year old or older. It is important to know the seller in order to determine the condition of the listing. Before purchase a buyer can contact the seller, check their seller Feedback, and also sort by top-rated sellers. Once ready to purchase, the buyer must also factor in the cost of shipping. While Audis are manufactured in Germany, vintage Audi motors are sold worldwide. Since shipping a vehicle can be expensive, it is in the buyers best interest search for locally sold vintage Audi models.
Conclusion
Audi models are appreciated for being carefully engineered, innovative, luxurious, and sporty. Owning a vintage model of this elite brand can make a statement. In addition, the purchase of a vintage Audi is an investment. The value of the car at the point of purchase may seem like a gamble; however, most vintage models will continue to appreciate in value. Any model pre-dating 1965 is extremely rare, and thus, highly coveted. Another perk to the investment is being able to examine how cars were previously built and the the joy of actually driving them. Because Audi has been making cars for over a century, each specific model, make, and individual production comes with a lot of history. In every decade of the twentieth century Audi has made revolutionary cars that have changed the way engineers build cars. With several models to choose from, the purchase of a vintage Audi can be a great gift, a wise investment, or your next dream car.