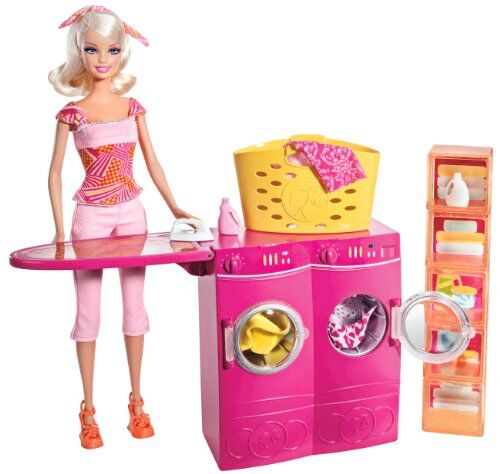 The Barbie line of dolls is one of the most recognisable children's toys and has been popular with young girls for over 50 years. Naturally, it is extremely difficult to find vintage Barbie dolls from toy stores on the high street – only fortunate sightings in charity shops or car boot sales may unearth such a find.
The most efficient place to look in this respect is online and in particular auction website eBay, where may sellers list their various vintage Barbie dolls and accessories from different periods. This guide will look at some of the different types of Barbie doll manufactured and also how to go about acquiring one from eBay.
History of Barbie Dolls
American toy company Mattel produced the first Barbie doll in 1959 after businesswoman Ruth Handler was inspired by her child's desire to play with adult-like toy figurines rather than younger models. With this in mind, and inspiration taken from a German doll branded as Bild Lili, Handler created the first ever Barbie doll which made its first public appearance at the American International Toy Fair on March 9th 1959 – a date now celebrated as Barbie's birthday.
The first Barbie model is much different to the design of her today, wearing a zebra striped swimsuit and sporting a blonde or brunette ponytail. This exact model is difficult to find on the market however with it selling for around £4,000. A special 35th anniversary edition of this first ever doll was released however, which is far more affordable for the average buyer to purchase.
Over the years, a string of different looks have been adapted by Barbie, often to keep her relevant and up-to-date with the latest fashions. The definition of her face has also transformed too to keep up with the ever-changing perception of beauty over the years, although the body shape has remained almost the same.
Different Types of Vintage Barbie
The term vintage Barbie can alter with different people's definitions. Some claim it includes the dolls in the first seven years of her existence due to her old-style and classic look, whilst others claim it can be stretched up to 1976. When searching on eBay for "vintage Barbie&" however, many sellers will include dolls that have been made up to and including the 1990's. The table will run through examples of models that have been made up until 1976 to give a better idea of her evolution through this period.
| Name | Year | Description |
| --- | --- | --- |
| Roman Holiday Barbie | 1959 | One of the earliest Barbie's produced was the Roman Holiday Barbie,, created as one of the three first assemblies in 1959. |
| Barbie Open Road | 1961 | She began to develop accessories and themes to her appearance, such as the Open Road version which depicts a travelling Barbie. |
| Miss Barbie | 1964 | A Barbie parodying the famous Miss World contests of the 1950's and 1960's was created in 1964, with various elaborate hairstyles. |
| Twist Turn Barbie | 1967 | The Twist Turn Barbie could revolve from the waist and embraced the latest fashions with lighter and straighter hair. |
| Live Action Barbie | 1971 | The Woodstock-inspired Live Action Barbie acquired a more colourful appearance and fashion to coincide with the hippy era. |
| Busy Barbie | 1973 | During the 1970's Barbie developed a more homely manner, with this version coming with appliances such as telephones and TV's. |
Barbie Accessories
Due to her many guises and styles over the years, Barbie has come with many different accessories to emphasize her appearance. These can range from handbags and dresses to shoes and wigs. There are also some items that create a setting she lives in, such as vintage Barbie houses to household appliances and ornaments. When coming to make a vintage Barbie purchase then consider if any additional accessories are available on the market and if they will suit your purchase.
Collectable Barbie Dolls
Although generally used as a children's toy, some people like to buy Barbie dolls to form a collection. Some vintage models can really enhance one of these collections and using eBay is often the first people go to search for their desired Barbie model. For those interested in Barbie's for their nostalgic or collectable value, then Mattel produced a label structure to designate the value of Barbie dolls.
Platinum – These are Barbie's that are or have been produced in quantities less than 1000. Platinum labels are generally more expensive to buy, especially vintage models that are not being produced any longer.
Gold Label –Gold label Barbie's are produced in numbers of less than 25,000 across the world. They can be found on eBay as both vintage and modern types.
Silver Label – These are produced in values of less than 50,000 worldwide.
Pink Label – For pink label Barbie dolls, there are widely produced and have no limit to the quantities that have been made. In this sense, they are more affordable for the average UK buyer.
Using eBay to Find and Buy a Vintage Barbie Doll
Using eBay is the platform many people use to sell their vintage Barbie dolls as they know they will attract interest. Many of the different Barbie's may have been listed in different ways however; this section will look at how to search out the desired doll on eBay and how to go about using the site safely.
Once registered on the site, then the most obvious method of searching is by using the keyword search bar at the top on the eBay home page. Simply type in a general search term like "vintage Barbie blonde hair,," or a more specific one such as "vintage Barbie twist and turn" and then review the listings in the results page.
If a specific model is not needed or you want to browse generally through all the listings then it advisable to search via the categories option that eBay provides. On the home page, find the 'Collectables' category and then select the 'Dolls and Bears' option. Click on 'Dolls&' and find 'Barbie.' Then find the 'Vintage (Pre 1976)&' category and review the results.
The preference menu on the left-hand side of the page must be utilised to narrow down all the Barbie listings to make them realistically achievable to evaluate. Such aspects as the Barbie's condition, hair and eye colour along with its buying format, location and price can be selected.
To carefully manage the results with more precision then there is an advanced search page where many different preferences can be chosen to refine the results more resourcefully.
Another useful tool if the results are still too plentiful is to use the 'Sort By' option located next to the search bar. It is possible to arrange the listings so that the lowest price items or those ending soonest appear at the top.
It can also be arranged that the Barbie's available via the auction,, buy it now or best offers facilities are bought up aswell.
Remember that some people may classify vintage items as something different to what eBay has done, i.e. before 1976. In this respect, typing in "vintage Barbie&" yourself into the 'Dolls' section may bring up results that may be missed otherwise.
Staying Safe on eBay
When a more developed search has been performed and individual Barbie's can be found then be sure to carefully consider the aspects of making a purchase.
- Be sure to read the item's description as carefully as possible. It will be more unlikely to find completely unused vintage Barbie's so read up on any possible wear and tear that may have affected the doll itself. The seller should really have provided as much information as possible about the Barbie as to provide any buyer with confidence to make a bid.
- Check out the postage and payments information too on any relevant item. The vast majority of seller's use Paypal now as a payment method – a safe and fast way of completing a transaction. Try and look for seller's who offer this.
- Read up on the seller's eBay history themselves and in particular their feedback rating and comments left from previous transactions. This can give a good indication if they are a trustworthy seller or not. Also, a good tip is to look at the items they have previously sold or are currently selling; if these are Barbie or doll related then it may provide more assurance that they are a genuine seller.
- If unsure about any aspect of the transaction, in terms of the doll itself or the payment and postage method, then make sure to ask the seller a question. To do this then click onto their personal profile and select the 'Contact Member' link on the left-hand side of the page.
Conclusion
The Barbie brand is the most popular doll make across the world and has been a staple of young girl's lives for decades. Due it longevity, there are many vintage models still floating around on the market for which eBay is useful in tracking down and making a purchase. Remember to search as efficiently as possible to bring up all the desired Barbie dolls and to stay as safe as possible when making a purchase.