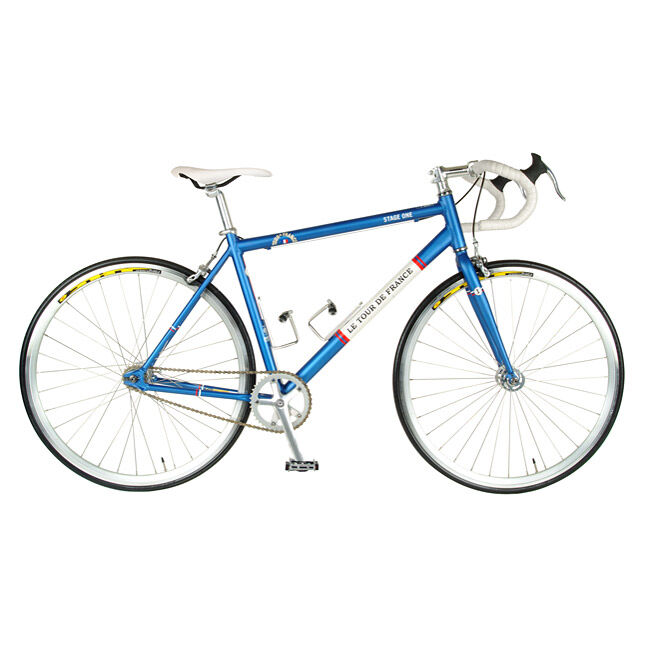 Own a Piece of Cycling History With Vintage Bike Frames
Whether replacing a lost or damaged favourite or recreating a vintage or retro masterpiece, the right vintage bike frame will likely be available to buy on eBay.
As with buying any item from eBay, the potential purchaser will need to make their decision carefully and if necessary to ask the correct questions in order to get what they need.
Why Buy Vintage Bike Frames?
There are many reasons why a buyer would look to purchase an old bike frame over and above a modern replacement, including:
For a restoration project.
To recreate a cherished bike from their youth.
To be more environmentally friendly.
The buyer may be looking to re-build a BMX they rode during the seventies. They may be looking to recreate an original early nineties mountain bike. The pure enthusiast could well be intent on putting together a racing bike of the kind they've seen in black and white photographs from the Tour de France.
Buying a vintage or retro bike frame is also often more environmentally friendly than buying brand new. Obviously, a vintage bike frame has already been constructed, so it won't be using up any more of the earth's resources.
How Old Is Vintage?
Vintage doesn't just mean second hand. A truly vintage bike frame will generally be anything that's around twenty years or older, often much older.
Some vintage bike frames,, such as those from original mountain bikes, may only be a couple of decades old, whereas original road-racing bikes could date back to the early 1900s.
If in any doubt to the age and truth behind a frame's suggested vintage the buyer should do some research on eBay before buying.
Vintage Bike Frame Manufacturers
There are a host of manufacturer names to look out for when browsing the vintage bike frames for sale on eBay. Some of these brands will be defunct and some will still exist, selling modern versions of the vintage frame you have seen. As eBay is a worldwide marketplace there will be names from Britain, France, Italy, Holland, Belgium, the United States and beyond.
Some of the more famous brand names to look out for on eBay include:
Bianchi
British Eagle
BSA
Cinelli
Claud Butler
Colnago
Concorde
Flandria
Mercier
Peugeot
Pinarello
Raleigh
Schwinn
Vitus
Vintage Bike Frame Materials
Vintage bike frames will tend to be constructed from steel as this was the most common material until recent years. Vintage generally won't mean modern materials like carbon fibre, although it might mean aluminium alloys or titanium for 'vintage' bike frames from more recent decades.
Look out for steel vintage bike frames that have ornate lug-work (lugs are the small sections of metal that join the tubes together) and other signs of vintage craftsmanship such as super-smooth welds.
There are almost as many brand names for the steel tubing used to construct vintage bike frames as there are for actual vintage bicycle manufacturers. Many manufactures will have labelled the frame material as their own and only stated the type of material used.
Where the actual tubing manufacturer is named, some of the better-known names to look out for include:
6 Things to Consider When Buying a Vintage Bike Frame
When considering any vintage bike frame that's for sale on eBay the buyer should be fully aware of the frame's condition. This information should be detailed in the item description and should also be evident from the photographs. If it is in any way unclear or if the buyer has any concerns then they should contact the seller for further information.
Any vintage bike frame that's for sale on eBay isn't going to be brand new, as such, but it's very possible the frame has never been ridden and could therefore be considered to be in 'as new' or otherwise perfect condition.
Many vintage bike frames of the type that can be found for sale on eBay will feature old-fashioned methods of construction. One of the most common will be the use of lugs to connect the tubes of the frame together. Some manufacturers used very ornate lugs that were not only practical but were also an aesthetic feature intended to give the frame a distinctive style.
Look closely at the photographs on the item's listing and check the condition of the paintwork. Check for any marks, lumps, cracks, bubbles or chips in the paintwork. These could be indicative of rust or material damage to the metal beneath the paint and can also give an idea as to how well the seller has maintained the frame over the years.
It can also be worth checking with the seller whether or not the paintwork and decals on the frame are original. It could be possible that the frame has at some point been restored and re-sprayed.
It may be worth asking the seller for a few photographs of the frame from various angles (head on, from behind and the sides) if these aren't already available.
If forks are included with the frame then these should also be inspected too. A side-on photograph of these may also prove beneficial as it can be used to check that both legs of the forks are aligned.
When buying a vintage bike frame from eBay it pays to check that all the various fittings are also in good order. Make sure that the bottom-bracket threads are sound and that other fittings such as the rear derailleur mounting and the seat clamp are also in good condition.
Has The Frame Been Ridden?
If the item description does not make these details clear then ask the seller. Has the frame been ridden? If the frame has ever been made up into a complete bike then this should be stated.
Where Has The Frame Been Stored?
If the frame has been stored inside or in dry and secure conditions then this will have helped to keep it in good condition.
Vintage Bike Frame Restoration
Any potential buyer of a vintage bike frame from eBay will need to remember that a bike is the sum of its parts and much more than just the frame itself. To build up a complete bike all these other components are required:
Cables, and assorted nuts and bolts
Forks (if not supplied with the frame)
Buyers should remember to factor in the cost of all the additional parts when deciding how much they can afford to bid on a frame. If the frame is to be used to build up a full replica bike then it is also worth considering whether or not these vintage parts can be afforded and sourced - rest assured that eBay will often be the place to find them.
Vintage Bike Frame Size Guide
Whether it's a women's vintage bike frame or for a man, the buyer needs to make sure they get the correct size.
Most people buying a vintage bike frame will have previously owned a bike, so they can use this as their guide when deciding which size to purchase. However, it can be important to remember that bicycle design has evolved over the years and the size standards from even a few decades ago may vary from the most modern standards.
Many modern bike frames are sized as small, medium, large or extra-large. Vintage bicycles will tend to be sized according to their seat-tube measurement, the distance (in either centimetres or inches) in a straight line from the centre of the bottom bracket shell to the centre of the point where the top tube intersects the seat tube.
Certain brands of bicycle may be measured using different points of reference, e.g. to the top edge of the top tube and not the centre point. If unsure, the buyer is advised to speak ask the seller how the vintage bike frame is sized, and if necessary ask them to supply alternative measurements.
When choosing any vintage bike frame, it is not just the seat tube measurement that is important. The other dimensions of the frame might also need to be checked, including the length of the top tube. Again, if the buyer has any doubts as to the sizing they should contact the seller and ask for suitable measurements.
Buying a Vintage Bike Frame on eBay
Many people looking to buy a vintage bike frame choose eBay. There are many different ages, makes and models of vintage or antique bike frame available to buy, including rarities that might not be found elsewhere.
To ensure inclusion of all relevant items in the search for Vintage Bike Frames,, select Sporting Goods, Cycling, Bike Parts, then choose the type of frame. You are then given options to refine your search further.
Searching on eBay can also be done by typing a specific brand name, or other keywords directly into the search bar at the top of each page.
In addition to vintage bike frames, there are also various vintage bicycle parts and accessories for sale on eBay, so the buyer can complete their restoration project without looking further afield.
When looking at eBay search results it's best to quickly scan through and look for the products that are of most relevance. From there, pay attention to the quality of photographs used in the listings, the details of the vintage bike frame description, the price and the item's stated condition.
Should there be any details missing from the listing, or should there be any doubts as to the item's condition or specific details, then it might be necessary to Ask the Selleraa question.
Interested buyers may have a range of options when it comes to buying. They can make a Bid,, Buy it Now,, or place their Best Offer..
Buying with PayPal provides eBay shoppers with convenience, security and complete peace of mind.
Conclusion
There are many different types of vintage bike frames from BMX frames to road bikes..
Many people buy vintage bike frames as restoration projects. It's important to research the availability of suitable replacement parts and accessories before committing to a purchase.
Among the things to consider when buying a vintage bike frame on eBay are how much it's been ridden and researching the right size.
The most common material used in vintage bike frames is steel. It's only in recent years that other metals such as carbon fibre have been used in bike frame construction.
eBay is a rich source of vintage bike frames and accessories which can be bought securely online.