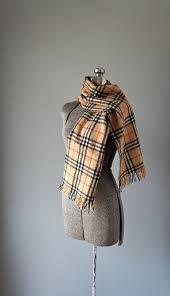 Shape
Rectangular scarves are perhaps the most common in the modern fashion world. Rectangular scarves are normally oblong, with short ends and long sides. They come in both lightweight and heavier fabrics, but are appropriate both for fashion and for warmth. They are versatile too as they can be worn in many different ways.


Fabric
Burburry use a number of fabrics, We are concentrating on the rectangle scarves here. The nost luxurious of them being Cashmere. Cashmere, is a fiber obtained from Cashmere goats and other types of goat. Common usage defines the fiber as a wool but in fact it is a hair, and this is what gives it its unique characteristics as compared to sheep's wool. It is a luxury fabric, super soft ant warm.
Lambswool is wool which is from the first shearing of a sheep. It is also soft and warm and is used in high-end garments




Patterns & Colour
Burberry is famous for its Nova Check patterned scarves. The classic pattern showcases navy, white, and red check on a tan background. While most Burberry scarves feature some sort of checkered pattern or stripes, they are available in many different color combinations and styles
Branding & Labels
Burberry scarves include a Burberry label. The labels are particularly interesting on vintage Burberry scarves because the style of the label has changed over time. As has the Company Branding.
By the 1980s, some labels did not show the Burberry symbol at all, and the title had lost its apostrophe, changing back to Burberrys. In the 2000s, the fashion house dropped the "s" altogether. Current branding is in Capital Letters without the s "BURBERRY"