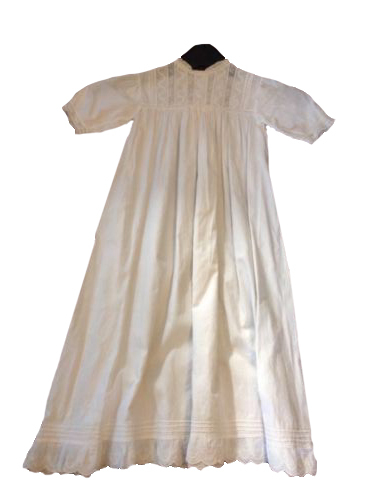 Some parents place great emphasis on the christening of their child; therefore, they always want them to look their best in stylish, well-made christening gowns. Some parents are traditional and prefer to see their child donned in a vintage christening gown than in radical, contemporary styles.
People are sometimes confused with the term vintage and antique, but antique clothing refers to anything that was made before the early 1900s, and vintage clothing is pretty much anything after the early 1900s to anything that is over 20 years old. Another thing buyers need to be aware of is that some clothing are not vintage but "vintage style", which means that they are newly made but replicate the design of an older era.
Before buying vintage christening gowns, buyers need to first know what they are and the various styles that have evolved over the years in order to formulate a preference. After the style consideration, they now have to factor in, fabric type, colour, gown details, fitting, the climate the gown is to be worn in, and the overall budget.
Why Choose Vintage Christening Gowns
Vintage gowns may also be referred to as " traditional christening gowns". They are always formal styles that are generally made from silk, satin, or organza. Vintage gowns tend to be cathedral length with various details attached.
Buyers who are sentimental or who would like their child's christening gown to become a family heirloom should definitely consider a "vintage style" christening gown. These styles can often be found in unisex designs, which include detachable appliques and embellishments. Additionally, vintage styles are already "old fashioned", so they are always going to be considered a classic rather than "ancient style".
Evolution of Vintage Christening Gown Styles
Christening is not a new-age tradition; it has been in practice for centuries. However, before the 17th century, babies were simply swaddled and presented for christening in a bearing cloth, but the cloth would be made from silk with lavish designs.
18th Century Styles
In the middle of the 18th century, christening gowns were fashioned to resemble the everyday style that children were already wearing. They were robes with an opened front that had ribbon ties. A petticoat would be worn underneath, and it could be seen through the opening in the robes. The clothes were pretty much unisex, in that both boys and girls were donned in slip dresses. They had low necks, short sleeves, and tuck bodices that were attached to a long flowing skirt.
Families in that era were very big on heirlooms, so the style remained popular because the gowns were constantly being handed down from baby to baby and generation to generation. Mothers often made the gowns while waiting for the birth of their first child, and then it would be used for all other siblings. These vintage gowns are always so intricately designed and well-made because women often made the gowns entirely by hand.
19th Century Styles
In the middle of the 19th century, the Scottish lowlands started the Ayrshire design christening gowns. It included fine white embroidery with additional cutwork and needlework fillings. Some designs had a pointy front, which would be kept outside when a boy was being christened and tucked in when it was a girl.
During this era, the skirts of Victorian christening gowns had lavish designs with lace insertions, embroidered bodices, and pin tucks. On the day of christening, the babies were also adorned in bonnets to look their best for the possible family photograph memento.
Vintage Christening Gown Consideration Factors
Even after buyers become aware of the various styles and designs, they now have to decide on a few additional factors that may determine their final choice. Some parents may choose a straight unisex gown or a convertible one that can be used a romper instead. Despite whichever choice is made, the following factors may play a part.
Fabric
While a truly fussy vintage christening gown may stand out, buyers need to ensure that is made from breathable fabric that is comfortable for the child. The good news is that most christening gowns are generally made from light fabrics, such as silk, organza, satin, taffeta and even cotton. However, buyers need to pay attention to the types of cotton and fabric blends.
Christening Gown Fabric Chart
Aside from comfort, some fabrics are better for long term storage, holding embellishments, and providing a good fit. The chart below compares a few of the popular fabric types used for christening gowns.
| | |
| --- | --- |
| Material | Characteristics |
| | Smooth, soft, non-slippery texture; susceptible to static cling |
| Gabardine | Tough, tightly woven, water-repellent, fabric; generally used for boys |
| | Cotton batiste is extremely light fabric and slightly transparent; sateen cotton is extremely soft but slightly less durable than other weaves; interlock cotton is a double knit, stretchy, lightweight fabric and best for warm conditions; good fit |
| Satin | Strong, high lustre fabric, expensive |
| Broadcloth | Thick, sturdy, warm material; holds details like creases and beading very well |
| Organza | Plain woven, sheer, thin, silky fabric; breathable |
Buyers should note that all fabrics have their advantages and disadvantages, but depending on other factors, some of the disadvantages can be overcome or ignored. Buyers simply need to weigh the options before making a final decision.
Gown and Detail Colour
Traditionally, christening gowns are usually white, off white, ivory, or a similar shade. This is due to the fact that white christening gowns are generally seen as the representation of purity and innocence. Even though vintage styles are preferred, buyers do not have to limit themselves in regards to colour. For instance, boys' gowns could have a bit of baby blue in the design or embellishments and girls may have pink. If the gown is to be used for generations in one family, buyers may choose a gown with detachable and replaceable coloured ribbons that can be mixed and match to suit the child and theme.
Gown Details and Embellishments
Buyers may quickly be drawn to gowns with a lot of details and embellishments, but they should be cautious about their selections as beading and raised embroidery designs may be rough on a babies' skin. Additionally, if the gown is a true vintage, some of these embellishments may not be as sturdy as they once were and may not last for much longer.
If parents plan to save the gown for future generations, then buyers need to ensure that the details are not too gender oriented and can stand up to laundering. In the same sense, buyers who want to pass down the gowns but also like to personalize their children's christening items should limit the monogramming to accessories like blankets, bonnets, and jackets. They could also monogram the last name or initial only so that new siblings can still benefit from the heirloom.
Fit
As with all other clothes, the children's christening gowns have to fit properly so that they are not uncomfortable throughout the entire preceding. Children need to be able to move freely in their clothes, so proper measurements should be taken before purchasing a gown. The sizing chart below provides measurements for babies and small children, and their respective estimated gown size.
| | | | |
| --- | --- | --- | --- |
| Age | Weight (kg) | Height (cm) | Size |
| 0-3 Months | Up to 5kg | 58 | 3 m |
| 3-6 Months | 5-7 | 61-66 | 6 m |
| 6-9 Months | 7-8 | 69-71 | 9 m |
| 9-12 Months | 8-9 | 71-76 | 12 m |
| 12-18 Months | 9-11 | 76-81 | 18 m |
| 18-24 Months | 11-12 | 84-86 | 24 m |
| 2 Years | 11-12 | 84-89 | 2T |
| 3 Years | 13-15 | 89-94 | 3T |
| 4 Years | 15-16 | 94-102 | 4T |
A sizing chart is important especially when buying online. Buyers should always check if the seller provides a specific size chart for their merchandise. However, if none is available, the general size chart above can provide good estimates.
Climate
The climate that babies may be christened in is a very important factor. This factor may also influence the type of fabric chosen and maybe the style and design of the gown. For instance, if the baby is to be christened during the summer months, buyers should purchase airy fabrics with short sleeves. The gown should also have a roomy skirt to allow further ventilation. On the other hand, if the baby is to be christened during the colder months, warm, thick materials are more conducive, and long sleeve gowns coupled with a bonnet and jacket would work well.
Budget
Formulating a budget for vintage christening gowns is very important because various styles, designs, designers, and eras may have different prices. Buying a gown online from stores like eBay can definitely remove some of the shopping anxiety, but a well-formed budget can prevent buyers from overspending on an item that may be used only once or once every few years.
How to Buy Vintage Christening Gowns on eBay
Buying vintage clothing can be a hassle, but eBay make the process simple. The first thing you should do is perform a search for vintage christening gowns from the eBay homepage. The results generated may include various styles, designs, eras, and colours, so you may have to narrow down the results. This can be achieved by initiating certain filters including, decade, main colour, and condition. However, buyers must be aware that the list generally mostly contains used vintage christening gowns and their main colour is mostly white or ivory.
After the feature filters are enabled, you can input a price range in accordance to your budget so that you do not pay more than you want to for the perfect gown. You should try to make more than one selection from the list and then contact the sellers for any additional details that you need. If a size chart is not provided, the seller may be able to provide you with detailed measurements or additional pictures to help with your decision. After the queries, select the most appropriate gown and make your payment.
Conclusion
Many parents make the choice to purchase a vintage christening gown without knowing how to shop for one. However, buyers first need to simply understand what makes a christening gown "vintage" or "vintage style", and then learn about the various style changes throughout the decades. With that knowledge, buyers can then embark on the more contemporary journey of deciding on more practical factors including colour, embellishments, fit, climate, and budget.
Buyers are not expected to preselect all aspects of the gown before even seeing one, but with an initial idea, they can venture onto the eBay website and quickly navigate to their preferred choice. The eBay website simplifies shopping by providing buyers the option of performing a general search or a keyword specific search combined with the further option of including filters to make the shopping experience less tedious and timelier. Therefore, buyers can quickly and easily find a vintage christening gown that suits their taste, function and budget.