For a piece of jewellery to be classified as vintage, it must be at least 20 years old. Vintage chunky necklaces are recognised for their unique design. These jewellery items remain popular and can dress up an outfit. Others may invest in vintage chunky necklaces solely for collection purposes.
Art Deco and Retro Necklaces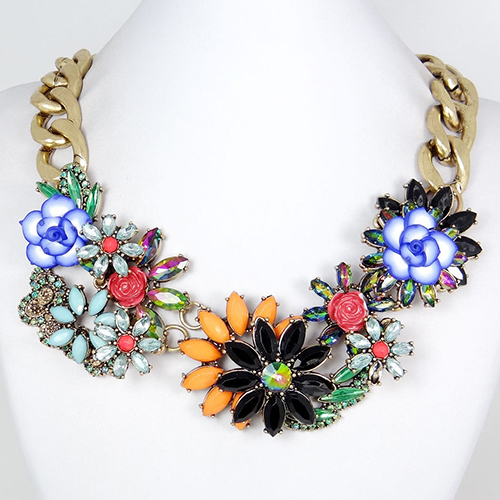 Art Deco necklaces were popularised in the 1920s. Geometric shapes, strong lines, and bright colour contrasts characterise these chunky necklaces. Doublets, Bakelite, celluloid, and enamel were commonly used in the formation of the jewellery. Look for extremely long ones made up of amber and Venetian beads. Chunky pearl necklaces and chunky glass bead necklaces were also used during this era. Still, retro necklaces gained popularity in the 1940s. Characterised by their elaborate colouring, these are often found in uncommon shades of gold and may be made up of radiant gemstones, such as citrine and aquamarine.
Fashion Jewellery
Fashion, or costume, jewellery refers to bold statement pieces. These terms are often used interchangeably with vintage chunky necklaces. When shopping, consider silver. Less expensive than gold and platinum, its distinct colouring complements a wide array of wardrobe choices. Chunky silver necklaces are available in countless variations. Forgo other accessories, as the vintage chunky necklace, on its own, is enough to make a fashion statement.
Chunky Chain Necklaces
Consisting of a very thick chain of varying lengths, chunky chain necklaces simply drape around the neck. Depending on size, it may wrap around several times. Fashionable choices feature small layers of chains decorated with beads, charms, or spikes; these vintage chunky necklaces are most commonly seen in princess and matinee lengths. In the 1960s, bauble necklaces became all the rage. These chunky necklaces were composed of beads in graduated sizes. Still, the 1970s brought with it the popularity of the multi-strand necklace.
Pendant and Tribal Necklaces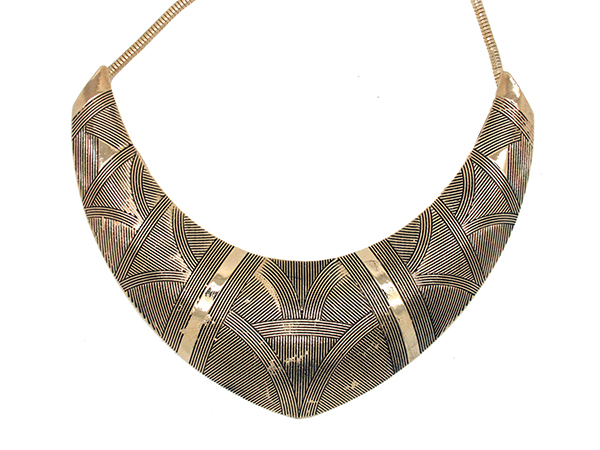 Vintage pendant necklaces are comprised of a chunky chain and an extremely large pendant. Due to the weight of the pendant, these necklaces tend to be shorter in length and commonly produced in both princess and matinee lengths. Pendants tend to vary significantly in shape; popular vintage styles include large crystals, animals, hearts, and geometric shapes. Still, ethnic patterns or designs distinguish tribal chunky necklaces, which often incorporate the use of stones, such as turquoise or topaz.
Necklace Length
The appropriate length depends on both the outfit and occasion. Face shape and muscular build can also help determine a flattering length. Princess necklaces are most popular; these necklaces measure 43 to 48 cm. Still, matinee necklaces measure 51 to 61 cm; these long chunky necklaces can add elegance to any outfit.