Vintage sizing
Sizing standards vary wildly between vintage and modern clothes. Because of this, you should always look at the actual bust, waist and hip measurements of vintage items, ignoring the size on the label. Write down your measurements on a small piece of paper and keep it in your wallet or purse, so that you can always refer to them when purchasing vintage clothing. See below for a guide on how to find your own measurements.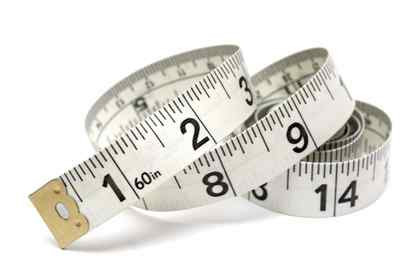 How vintage clothes are measured before sale
Vintage clothes are usually measured laying flat, and represented in inches.

The bust measurement is usually taken by measuring across from the bottom of each armpit, then doubled. The waist measurement is usually taken by measuring across the most narrow point between the bust and hips, then doubled. The hip measurement is usually taken by measuring across the fullest part of the item, between the waist and hem, then doubled. The garment length is usually measured from the top of the shoulder straight down to the hem.
How to find your measurements (in inches)
Measure the bust line at the fullest part of your chest. Pull the tape measure as tight as you can without changing the shape of your breasts. While you are being measured, your arms should be at your side and relaxed. To measure your waist, find the bottom of your ribs and the top of your hips, breathe out naturally, and wrap a tape measure around your waist midway between these points. Measure the hips around the fullest part. Use a mirror to make sure the tape measure is completely straight all around. The tape measure should be snug and parallel to the floor.