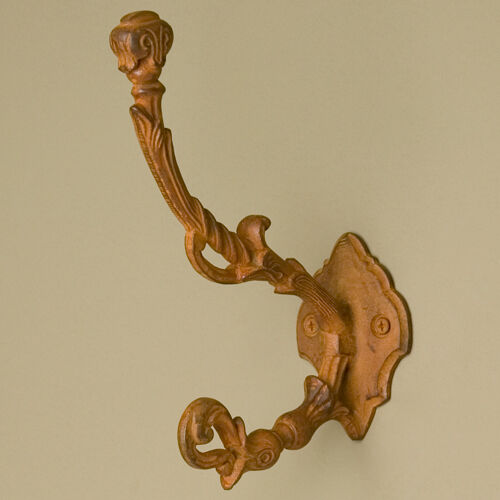 With shabby chic and vintage styles so popular, there are thousands of vintage coat hook options on the market to choose from. Produced in wood and metal, with a variety of finishes and styles, there is sure to be a vintage coat hook to suit every home, office, room, or hallway.
About Vintage Coat Hooks
Coat hooks are principally used for hanging coats and jackets, but are also used to store scarves, hats, and even umbrellas. Coat hooks can be fixed to walls and doors and allow garments to be kept out of the way, whilst leaving precious wardrobe space for more delicate items. In most homes, jackets and coats are kept on hooks near the entrance, but coat hooks can be equally useful and attractive in bedrooms, bathrooms, and corridors.
Choosing a Vintage Coat Hook
When looking for the perfect vintage coat hook, be sure of the exact hook that is required to fit both the functional requirements and also the design of the home. It is important to consider the material, colour, style, and design of the hook. It is also important to consider how much a realistic budget would be for the coat hook. Being that they are ideal gifts for those who have just moved in, or who are just redecorating, it's a good idea to make sure their personal tastes are considered.
Material
| | |
| --- | --- |
| Wood | Many vintage coat hooks are made of wood.. Wooden coat hooks are usually painted or treated with a varnish to improve appearance. Using wood allows for the coat hooks to be intricately carved, but wooden hooks can also be in simple designs, similar to those most can remember from their school days. Wooden hooks are warmer than metal designs and are often the best option for using in the bedroom or internal corridors. They are also best if the hooks are to be placed at a lower height and used by children. |
| Metal | Metal vintage coat hooks are equally as common as those made of wood, and tend to be of a similar price. Usually in darker colours, but sometimes painted white, metal hooks are more traditionally used in entrance ways due to the coolness of the material. Similarly to wooden designs, metal hooks can be either simple or intricate in design. |
| Wood and Metal Together | Some vintage coat hooks are made of both wood and metal together.. These hooks usually have a wooden base or back with a hook made of metal. Wood and metal hooks are very versatile and can be used in almost any room of the house. As with the other material options above, wood and metal designs can be simple or more intricate. |
Style
| | |
| --- | --- |
| Single Hook | Many vintage coat hooks are of the single hook style. Used as singular hooks or as a collection of several, these hooks can be less imposing than bulkier rack designs. Buying single vintage coat hooks also allows the use of different combinations of hooks to create an individual design. Using single hooks allows for new hooks to be added, possibly when new members of the family need their own hook at a lower height. |
| Rack of Hooks | An additional design option is to purchase a rack of hooks. These are very common for vintage designs where the hooks are used to spell a word or form a larger picture or image. Vintage racks of coat hooks are most commonly used in larger hallways, and less commonly in bedrooms and bathrooms. Racks of coat hooks usually have a metal or wooden back with metal hooks. |
Design
| | |
| --- | --- |
| Simple | As mentioned above, simple vintage coat hook designs are available in wood, metal and a combination of the two together. These designs usually feature a back to fix the hook to the wall and the hook itself. Simple vintage coat hooks are the perfect addition to a modern, minimalistic home or an area that already has many busy features. |
| Animal images | A common, more intricate design used for many vintage coat hooks is the use of animal images. Interestingly, birds are the most commonly used and are available in a wide variety of colours. Animal hooks can be made from both wood and metal, and in both the single hook and rack of hook styles. These are particularly attractive designs to be used in a child's bedroom or as part of a simple yet homely entrance hall. |
| Text | Vintage coat hooks can be used to spell out words. These could be "home", "love" or quite simply "coats". A quirky addition to any hallway, text hooks are a funny and friendly way to welcome guests into a home. Text hooks are usually of the rack of hooks style and are available in wood, metal and a combination of both materials. |
| Shelf | Usually made of wood, a rack of hooks with a shelf above is a common and useful way to store coats and other garments. Usually simple in design, these can be placed under a mirror in a hallway or close to the main entrance and the shelf can be used to store keys, wallets or last minute make up items to be used before rushing out of the house. Shelf designs are available in a variety of colours. |
Room
| | |
| --- | --- |
| Hallway | The hallway is the place in most homes where people choose to store coats and other garments on coat hooks. Single occupants may choose to have a single hook, but usually the hallway will be home to several individual hooks or a rack of hooks. The best vintage coat hook for the hallway is usually metal or a combination of metal and wood, although wood may suit a home where furniture is required to provide warmth. |
| Bedroom | Vintage coat hooks in the bedroom can be used to store coats and jackets, but also dressing gowns and other indoor garments. Wooden hooks will be more suitable for traditional bedroom designs, but modern, warehouse styles could make good use of metal hooks. Animal designs and wooden text designs would look attractive in a child's bedroom. |
| Bathroom | Used to store towels and dressing gowns, vintage coat hooks can also be used in bathrooms to keep clothes off the floor and dry. Depending on the style of the interior design of the bathroom, the most appropriate hooks could be wood or metal and of either the single hook or rack of hook style. In the bathroom, be sure to treat wooden hooks to ensure the material is not damaged by the damp environment. |
| Office | Vintage coat hooks will suit more traditional office environments. For modern offices, consider more up-to-date designs. The most appropriate style of hook is likely to be a rack of hooks, but a collection of single hooks may also work well. |
Conclusion
Vintage coat hooks provide the perfect decorative addition and storage solution for most homes and offices. Available in a variety of colours and styles, visit the eBay website to see the wide range of options on offer and to select a vintage coat hook to purchase.