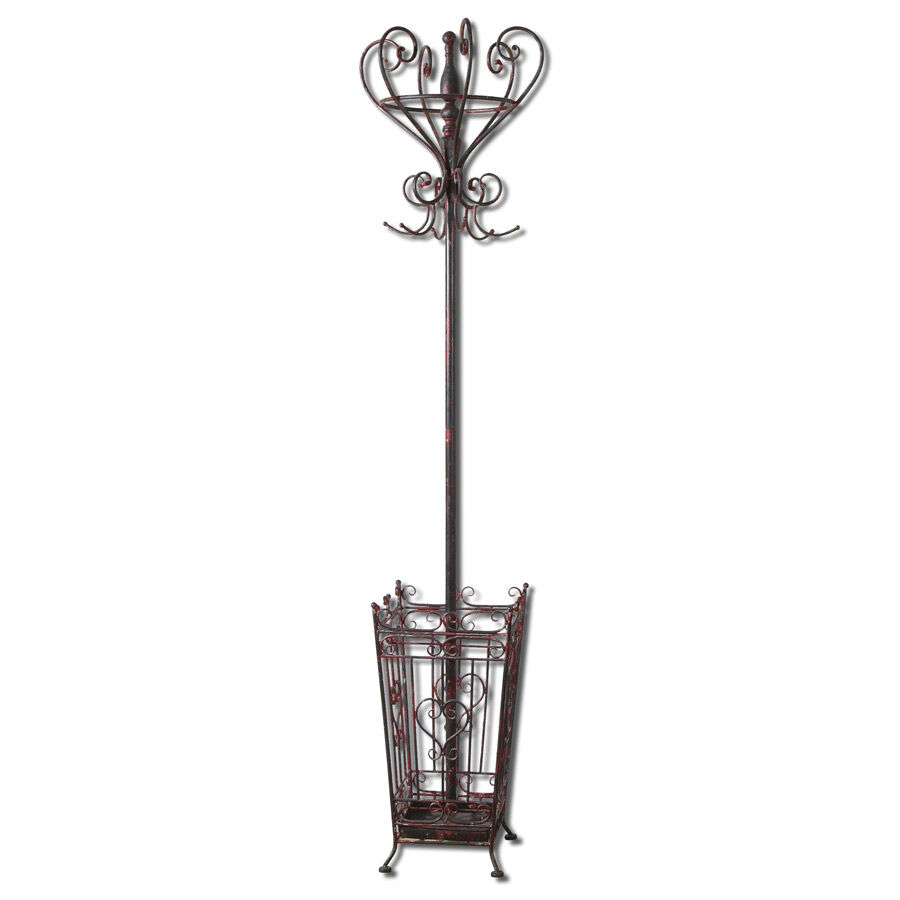 An attractive and functional piece of furniture, a coat stand is the ideal way to store outerwear. Multiple garments hang within easy reach on a freestanding structure in the home or workplace. There are many stylish designs to choose from, including authentic antiques,, retro items, replica vintage designs, and modern creations with vintage influences. A wide selection of vintage coat stands is available to purchase on eBay.
About Vintage Coat Stands
Featuring hooks or pegs in a variety of different arrangements, coat stands display jackets, duffle coats, cloaks, and cardigans at eye level. These visually appealing pieces of furniture provide a simple, space-saving storage solution. Some designs also incorporate means of storing hats and scarves, umbrellas, and walking sticks. Others have additional features, such as mirrors, drip trays, or cupboards. Not just a practical piece of furniture, vintage coat stands are beautifully designed, aesthetically decorative items in their own right. Coat stands manufactured from wood or metal were popular during Victorian and Edwardian eras. Hardy designs and durable materials have together contributed to many of these authentic items retaining original features, and being available to purchase in good condition. Vintage coat stands available to buy online can be anywhere from fifty to over one hundred years old. One of the most recognisable vintage coat stand designs is the Bentwood,, originally produced by Austrian furniture manufacturers Thonet in the late nineteenth century. Another popular concept is the hall stand,, which is a larger piece with additional appendages to store and display a greater variety of items of outerwear. Whether retro or antique, each vintage piece is pre-loved, making it truly unique. Modern creations with vintage influences achieve a period style without compromising on condition, and are just as beautiful as the inspirational originals.
Choosing Vintage Coat Stands
Finding the right coat stand will be largely a matter of personal taste, but there are several practical issues to consider, such as the condition and authenticity of antique furniture or second-hand items. The particular type of vintage coat stand selected will depend on its intended use; think about what space is available, how frequently the stand will be used, and whether the coat stand will be in a home or work environment. The material used, features included, and historical origin of each individual coat stand will help to determine the most appropriate item.
Antique Coat Stands
Elaborate Edwardian coat stands and Victorian coat stands can potentially be expensive options, as their authenticity adds value. These vintage items were often handcrafted from wood or iron; it is interesting to discover the history behind each individual coat stand. There are many replica and reproduction pieces available, which are ideal for a more modest budget, so be sure the coat selected is actually of the corresponding era. When purchasing an authentic antique, always check the item for evidence of damage to the item, or wear caused by previous use, and, if possible, look for manufacturer stamps or other branding to confirm that the piece is an original.
Retro Coat Stands
Funky vintage coat stands from 1920s to 1960s are often referred to as retro items.. Sometimes with bright colours, and manufactured from materials including wood and chrome, these stylish pieces are similarly susceptible to signs of wear from previous use. Retro coat stands complement other retro furniture and decor. The original bentwood design was hugely popular in 1960s, so replicas of this model, while still referred to as vintage, are not necessarily authentic.
Intended Use
While coat stands are traditionally placed in the hallways of domestic homes, this is not their only potential function. Vintage coat stands can be used any place where coats or other garments might be stored, such as in utility rooms or bedrooms; keeping a child's room tidy is easier when clothes hang neatly on a stand. Co-ordinate home living space by purchasing vintage children's furniture,, and create a more pleasant workplace environment by installing vintage office furniture. Coat stands are also valuable storage solutions for leisure locations, especially in retail, restaurants and guest houses. Tall, slim coat stand designs are often more appropriate for lightweight items or low usage, as the low centre of gravity means they could be toppled more easily than their more weighty counterparts. However, these stands are excellent to make good use of small spaces. Hall stands are ideal for everyday use, but potentially require higher maintenance due to their size, intricate detailing, and the materials used.
Further considerations
Where possible, view the item before purchase to appraise the condition of the item and to identify any damages sustained in previous. If unable to view in person, read descriptions carefully and study any photographs of the item to be sure of what is being sold. Check the seller's feedback and credibility to help ensure a hassle free transaction; search eBay's Top Sellers to find item listed by trusted businesses and individuals. Browse several listings and shop around to find the best deal. If collecting an item, use a suitable collection vehicle to safely transport the purchase without causing any damage.
Maintaining a Vintage Coat Stand
All used vintage coat stands are likely to show some signs of wear through previous use. Repair or minimise evidence of existing damages, and engage in proper maintenance to reduce future wear. On wooden coat stands, polish out minor scuffs and light scratches, but be careful not to use abrasive chemicals. A good quality furniture wax or polish is ideal, used sparingly and with a soft cloth.. Wooden vintage coat stands need to be varnished, to prevent water from wet coats soaking through to warp the wood. If a coat stand has begun to look shabby, strip it down and re-varnish. Brass, iron, and other metalwork should be dusted regularly, dried when wet to prevent rust, and cleaned with a suitable cleaning product. Keep painted furniture clean by wiping with a damp cloth, and brighten dull paintwork with a fresh coat of paint.. Prevent damage to floor by using adhesive pads on the base or legs of vintage coat stands. Pay a little care and attention to a vintage coat stand now, to enhance the beauty and value of this practical storage solution for the future.
Conclusion
A vintage coat stand is an attractive and functional piece of furniture. Coat stands are available in many styles and materials, including antique, replica and retro designs. The most suitable vintage coat stand for each individual will vary depending on personal taste and the location and manner in which the item will be used. Research eBay sellers and individual listings, paying particular attention to authenticity and signs of wear, to increase knowledge and confidence in making a purchase. Browse categories and sellers to find the best items at the lowest prices. If properly maintained, a vintage coat stand will be a beautiful and functional addition to home or workspace for many years to come.