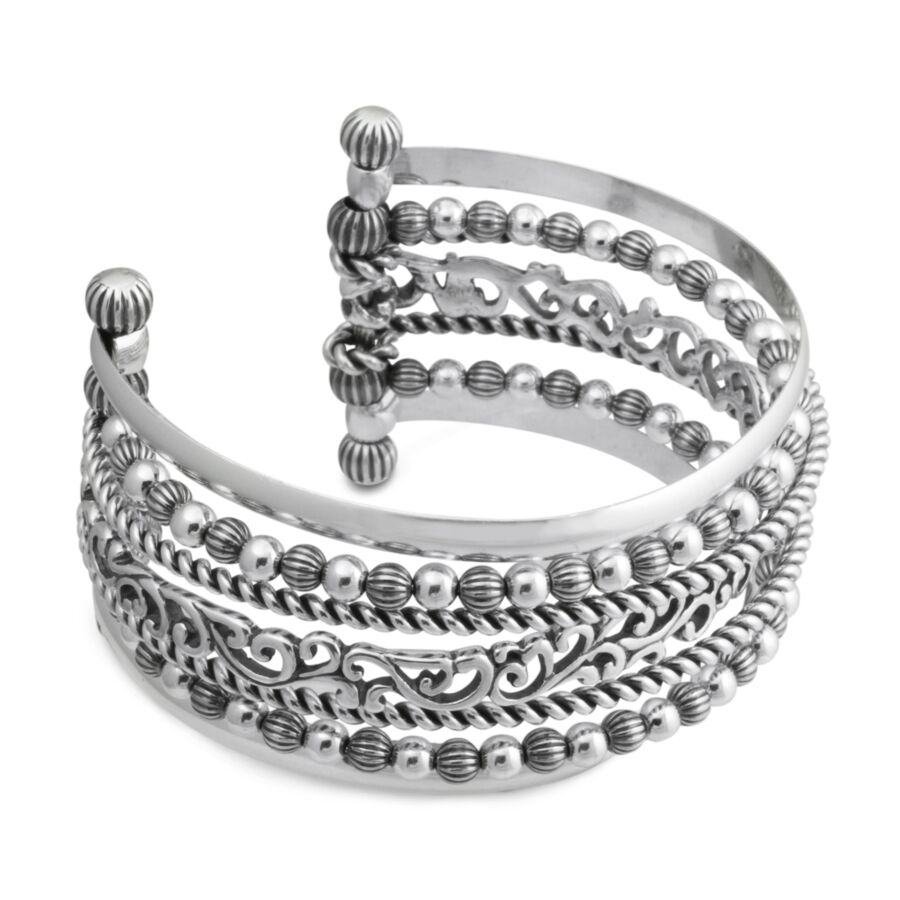 Vintage cuff bracelets have become increasingly desirable, and many people are searching for the real thing rather than vintage reproductions. There are many factors for a buyer to consider before purchasing vintage cuff bracelets. It is helpful to know the difference between vintage, antique, and reproduction, and to learn about the jewellery produced by different brands, such as Chanel, Versace, and Lacroix. Other important factors include the condition of the cuff bracelet, the preferred vintage era, and the different styles of vintage cuff bracelets available.
Authentic vintage cuff bracelets can be purchased from many different places. They may be found at charity shops, antiques dealers, and car boot sales. If authenticity is less important and it is simply the vintage look that is appealing, then many jewellery shops, and even some larger department stores offer good quality, reproduction vintage cuff bracelets. Vintage cuff bracelets can also be found online on websites, such as eBay.
What is a Vintage Cuff Bracelet?
A vintage cuff bracelet has been one of the most popular bracelet styles since the 1920s. Cuff bracelets are stiff jewellery that are usually quite wide. They are similar to a bangle, except the ends are not joined and there is a narrow opening that is often placed at the side of the wrist. Vintage cuff bracelets with an oval or round clasp and hinge can be worn around the wrist or above the elbow. Vintage cuff bracelets can feature clear glass stones or coloured genuine gemstones, such as sapphires, amethysts, emeralds, and garnets. Cuff bracelets may also have engravings.
Vintage cuff bracelets are often quite chunky in design and many are constructed from base metals, plastics, large glass gems, and imitation pearls. Models are available with multiple silver bands on either side of a large, oval centre stone that may be onyx or turquoise. Vintage designer cuff bracelets have a very unique look, while reproduction bracelets tend to look mass produced. Depending on their style, vintage cuff bracelets are suited to a wide array of settings from casual to formal.
Types of Pre-Owned Jewellery
Shopping for vintage jewellery requires a sharp mind and a good eye. Many eBay sellers offer original vintage, antique, and reproduction cuff bracelets, so it is quite easy to find the perfect piece to meet any style and budget. It is useful for buyers to learn how to recognise the types of pre-owned jewellery so that they tell the difference between vintage cuff bracelets and their antique or reproduction counterparts.
Antique Jewellery
It is common to think of almost any old jewellery as being antique. In general, antique jewellery needs to be at least 100 years old. These pieces are considered desirable because of their age, beauty, and rarity.
Vintage Jewellery
Vintage jewellery is usually defined as older jewellery made between the 1920s and the 1960s, although the exact years of what is considered to be vintage is much debated. Jewellery from this period is also known as Modernist and Art Deco, or it can simply be referred to by the decade that it is from, such as the 1940s or 1950s.
Vintage Reproduction Jewellery
Vintage reproduction pieces are brand new, but inspired by the look and style of previous eras. Vintage reproduction jewellery has the look and feel of real vintage jewellery, but often has a much lower price tag. Although it may be difficult to differentiate between the two, there are various characteristics of vintage wear that can help buyers to distinguish the differences.
Things to Look for When Purchasing Vintage Cuff Bracelets
There are many things to look for when buying vintage cuff bracelets. Some of these aspects help to verify the year that the piece was made, while others help the buyer to verify the authenticity of the piece. Buyers should look for any signs that offer information about the designer or manufacturer of the piece.
Know the History of the Designer for Vintage Cuff Bracelets
There are two main types of vintage jewellery: costume jewellery and designer jewellery. While there is value in any real vintage cuff bracelet, a designer bracelet is worth much more than a piece of costume jewellery. That is why it is extremely important to know some of the brands that manufactured vintage cuff bracelets. Some of the most popular jewellery designers of that era included Chanel, Versace, Boucher, and Lisner.
Many jewellery designers changed their markings or signature designs depending on when the piece was made. For example, Chanel is well known for using many different markings since the 1960s, including oval and round signature plates and occasionally stamping "Chanel" directly onto the cuff bracelet.
Signature Markings for Vintage Cuff Bracelets
When buying designer vintage cuff bracelets, always look for important markings on the piece of jewellery. These markings can include logos, or any writing on either the inside or outside of the piece. Check to make sure that words are spelled correctly, and if a brand signature mark is on the piece, try to determine whether it is authentic before purchasing the vintage cuff bracelet.
Wear and Tear for Vintage Cuff Bracelets
When purchasing a vintage cuff bracelet, buyers should examine the jewellery carefully for any signs of wear and tear. The clasps of the bracelet should be in proper working condition and should not show any signs of rust. Many vintage cuff bracelets also feature a safety chain, in the event that the clasp comes undone. Buyers should also closely inspect vintage cuff bracelets with rhinestones. Over time, rhinestones may become susceptible to moisture damage. This damage is indicated by dark spots under their surface and is often considered permanent. In addition, buyers should look for missing or loose stones in the prong settings.
Many elegant vintage cuff bracelets feature white or cream coloured glass pearls. These gems should be examined for any signs of chipping. While a few cosmetic issues may not deter a buyer from purchase, it should lower the price.
Measuring for Vintage Cuff Bracelets
When buying a vintage cuff bracelet, buyers should ensure a good fit by measuring the wrist of the person who will wear the bracelet. Cuff bracelets are designed to fit tightly against the wearer's wrist. Most are adjustable, with leather bracelets easier to adjust than metal.
Vintage cuff bracelets are usually made of either silver or gold, which is typically shaped or hammered into a thin, flat sheet that is then curved to fit a small wrist. Buyers should bear in mind that the average wrist size 50 years ago was much smaller than today. Vintage cuff bracelets often have a gap in the design, allowing the bracelet to pass over the hand or wrist of the wearer. Wrist measurements should match the interior of the bracelet as opposed to the exterior. Buyers should search for a cuff bracelet that is slightly larger than their wrist measurement, or the measurement at the point where the bracelet will be worn, such as above the elbow.
How to Buy a Vintage Cuff Bracelet on eBay
Buyers can find a wide array of vintage cuff bracelets on eBay's website. Items can be found easily by using eBay's keyword search and typing in any related terms such as, "vintage cuff bracelet". This method of searching is likely to produce a large number of listings. For more limited search results, buyers should type in more specific terms or use eBay's advanced search feature. eBay's advanced search feature allows buyers to limit their search by price or condition. Buyers can also limit results to products sold by Top-rated sellers. Top-rated sellers are recognised by the eBay community for their high levels of customer service. These sellers receive consistent positive feedback ratings which are left by past buyers. They are known for being reliable in item listings and they often dispatch items quickly.
When browsing for a vintage cuff bracelet, buyers should pay close attention to the item. It is important to read the entire listing thoroughly and to examine all photos carefully. Doing this gives buyers a better idea of the condition of the item.
Conclusion
Vintage cuff bracelets are a unique fashion accessory designed to be worn around the wrist. They are usually wide and come in a variety of styles. When searching for vintage cuff bracelets, buyers should first ensure that the bracelet is in fact vintage. Vintage items are classified as those made between the 1920s and the 1960s. These bracelets have many characteristics that provide information about their era of production, such as signature markings and designer logos. Vintage cuff bracelets made by well-known designers are often much more valuable than those classified as costume jewellery. Buyers should also examine the vintage cuff bracelet for signs of damage to the metal or gemstones. Measuring the wrist carefully ensures an accurate fit. The bracelet should be snug around the wearer's wrist. With so many vintage cuff bracelets to choose from, eBay can help any fashionista to find the perfect accessory for any occasion.