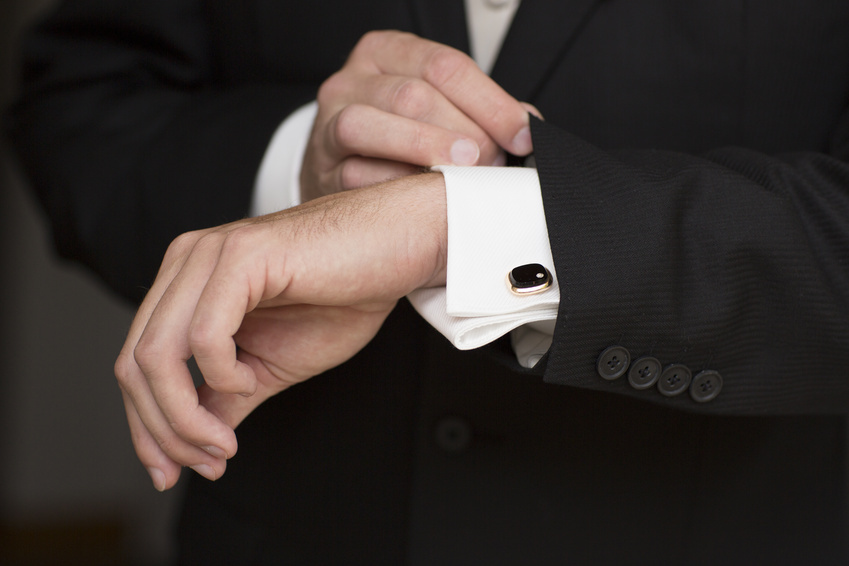 A pair of cufflinks to hold the cuffs securely around the wrists sets a professional tone when worn by executives and directors. Men add this accessory to punctuate style and authority within business settings. Certain social situations dictate the wearing of cufflinks to complement dress wear appropriate for weddings, parties, and receptions. Look for vintage cufflinks suggestive of sophisticated styling of the Victorian, Art Nouveau, Edwardian, and Art Deco periods.
Purchase Silver Jewellery

Buying anything vintage, especially antique cufflinks, is a sound investment when purchasing a precious metal inherent in vintage silver cufflinks. Examples include miniature replicas of a Corvette Stingray, retro-styled sterling silver with a Japanese design on face of the cufflinks, or a black onyx pair set in silver frames. Look for other attractive stones such as opals, garnets, dark sapphires, cabochon-striped glass, or a swanky pair of Tribal Deco cufflinks with blue accents. Once you clean your sterling silver cufflinks, store them in an anti-tarnish pouch made specifically for this type of jewellery.
Adorn the Wrists with Gold

Buyers appreciate the opulence of the metal characteristic of vintage gold cufflinks. Look for higher karat weight cufflinks such as 18-karat gold cufflinks, since you acquire a product with more gold content. A selection of antique gold cufflinks available from eBay sellers may be gold filled, gold etched, gold on brass, 10-karat white gold, or gold tone. Look for vintage examples with gold ornate scrolling. Cufflinks may have the shape of cars, torpedoes, or coins with a luminescent, matt, shiny, or opaque finish. A pair of cameo cuffs set in gold is indicative of Edwardian styling whilst a steampunk nautical map depicts a more Victorian flair. Wear cufflinks that are flashy, muted, or novel, depending on personal taste.
Acquire Cufflinks in Lots
When shopping, everyone looks for the best deal possible, which is true when purchasing a vintage cufflinks lot that includes multiple pairs of cuff fasteners. Look for not only the cufflinks but tie clips and a storage box. Lots may include four or more pairs from the 1950's or slightly newer jewellery from the 1960's and 70's. Many sellers combine antique silver and gold varieties. Review the cufflinks carefully to make sure you actually buy antique specimens instead of modern-day examples, unless you prefer buying a mixture of old and new.