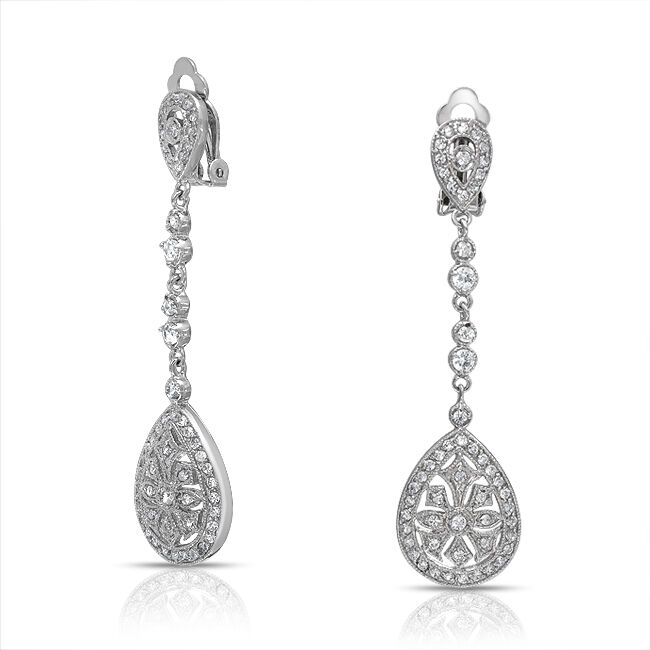 Vintage diamond earrings are timeless jewellery pieces that will never go out of style. Vintage pieces are often very detailed, delicate, and feminine, which makes each pair unique and beautiful. Different earring styles from various time periods offer more styles to choose from, and also do not become outdated. Vintage diamond earrings make the perfect gift for someone special, to highlight their one-of-a-kind grace and beauty.
When searching for vintage diamond earrings, it is important to know where to look. Vintage diamond earrings are found in brick and mortar antique shops, but there is often little selection and marked-up prices. Instead of travelling to multiple antique shops in search of the perfect vintage earrings, buyers can shop online using eBay. Because of the large selection of vintage diamond earrings on eBay, the prices are both competitive and affordable. Before purchasing vintage diamond earrings, it is important to understand the different styles of vintage diamond earrings available as well as how to actually purchase a diamond.
Vintage Diamond Earrings Styles
Before purchasing vintage diamond earrings, one should determine the style of earrings desired. Different styles fit different occasions, and it is important to decide if the earrings are going to be worn for formal occasions or casual everyday wear. If the earrings are being purchased for a gift, then the recipient's individual style should be a factor when making a decision. Some people may prefer simple style earrings, while others prefer earrings with intricate details. Before making a decision, the buyer should weigh the options of the different styles of vintage diamond earrings.
Vintage Diamond Stud Earrings
Vintage diamond stud earrings are generally designed with a diamond attached to a post, which enters directly into the pierced ear. This gives the illusion that the earring is floating on the ear. Stud earrings usually come with one of two types of backs, including screw-on or push-on backs. These are meant to hold the earring in place so it does not fall out of the ear. Screw-on backs work best for larger earrings because they are less likely to fall off then push-on backs.
Vintage diamond stud earrings are one of the simpler vintage earring designs, and may just feature diamonds with little metal detail. They can also be set in a detailed metal design, or feature a coloured diamond. Because of its simplistic and versatile design, many vintage stud diamond earrings are used for both casual wear and special occasions.
Vintage Diamond Drop Earrings
Vintage diamond drop earrings, also known as dangle earrings, feature a dangling design that enters into the pierced ear. Drop earrings can be entered into the ear through a post, similar to stud earrings, or through a hook. Studs give the illusion that the earring is floating against the ear, while hooks secure the drop earring from the earring hook.
Drop earrings are a popular vintage earring design, with styles ranging from dangling diamonds to much more complex designs that incorporate different stones and details. Due to their beauty and elegance, dangle earrings are often used for formal wear. Some vintage drop earrings with simple designs can be worn for everyday casual wear as well.
Vintage Diamond Hoop Earrings
Hoop earrings are a more modern style, thus making it more difficult to find diamond hoop earrings in the vintage market. Hoop earrings are made up of large hoops attached to a post, which enter the pierced ear and snap into the earring back. While most hoop earrings snap into the back, the french-hook design allows the post to enter into a circular hook. Hoop earrings come in many different shapes and sizes to fit many different styles.
Vintage diamond hoop earrings are often smaller sized hoops that are not circular in shape. Many types feature either rectangle or round shaped diamond that outline the hoop. Vintage diamond hoop earrings sometimes lack the detail of other vintage styles, but have the benefit of being dressed up or down depending on the occasion.
Vintage Diamond Clasp Earrings
Clasp earrings are made for those with pierced or non-pierced ears because unlike other types of earrings, clasp earrings are not entered directly into the ear. Clasp earrings have a clip that attaches to the front of the earring that is clasped around the earlobe. Clasp earrings are ideal for those with non-pierced ears or those with sensitive skin or allergies to different metals.
Vintage diamond clasp earrings come in many different forms and styles. Some are simpler designs made to look like vintage diamond studs with added detail. Others can feature an array of different stones or gems to accent diamonds or create specific shapes. Depending on the design, clasp earrings can be dressed up or down. While many fit best with formal wear, simple designs can be worn with casual wear as well.
The Four C's of Purchasing a Diamond
When purchasing vintage diamond earrings, it is important to understand how to purchase a diamond before making a decision. Understanding the four C's help the buyer make an informed decision on which factors are most important to them. The four C's affect the factors of the diamond as well as the price of the diamond. Choosing a diamond should be based on personal preference as well as budget.
Diamond Colour
While diamonds come in a variety of colours, the diamond colour grades are based on white diamonds. The highest graded diamonds are colourless, which allows the light to easily pass through for brilliant shimmer and shine. Grades go down when hues of yellows and browns are found in the diamond, with the lowest grade diamond being light yellow in colour. Many vintage diamond earrings also feature coloured diamonds, where grading is based on a different scale.
Diamond Cut
While many people think the cut of the diamond is the shape, the diamond cut actually refers to the diamond's symmetry, proportions, and polish when the diamond was first cut. A well-cut diamond has reflective properties that give the diamond brilliance and shine. Poorly-cut diamonds are less lustrous than others. Another option when choosing a diamond is the diamond shape, which is the shape of the actual stone as opposed to the cut. In vintage jewellery, round, princess, and square are among the most popular diamond shapes.
Diamond Clarity
Diamond clarity refers to the amount of flaws or blemishes on a diamond. Inclusions are internal flaws that the diamond is born with, such as tiny flecks, black carbon, or scratches. Blemishes are external flaws that usually occur during the diamond cutting process. Flawless diamonds are extremely rare and valuable, but most diamonds flaws and inclusions are not visible to the naked eye, so diamonds with a small number of flaws still appear to be lustrous and beautiful.
Diamond Carat
A carat refers to the weight of the diamonds within a specific piece of jewellery. The heavier the carat weight, the more valuable the diamond. Earrings or other jewellery pieces with multiple diamonds have the carat weight of the total combination of diamonds. Diamond carat weight is one of the most important factors when choosing a vintage diamond, since it affects both size and price.
How to Purchase Vintage Diamond Earrings on eBay
eBay makes it easier than ever to find vintage diamond jewellery. While finding antique jewellery used to be a hit-or-miss search, it can now be done with the click of a button from the comfort of your own home. With the large selection of vintage diamond earrings, it is easy to find earrings for any style or price range. Vintage earrings make the perfect gift, since they are as unique and beautiful as the person receiving them.
To begin your search, you can search specific keywords on the eBay home page. If you already know the style of earring you are looking for, you can begin your search with a specific keyword term such as 'dangle vintage diamond earrings'. If you have yet to decide on a style, you can use a broader term such as 'vintage diamond earrings' to browse through the different styles available.
Many people choose to set a budget when purchasing diamond earrings since they can oftentimes be an expensive purchase. eBay allows users to set their maximum price point to ensure they do not go over budget or waste time searching through options that are outside of their price range.
Conclusion
No matter the occasion, giving the gift of vintage diamond earrings is sure to wow that special someone. Vintage designs feature delicate, feminine details that never go out of style. Before making a purchase, it is important to understand the four C's to ensure the diamond will last, as well as the individual's specific style and taste. Vintage diamond earrings can be purchased for everyday casual wear, or for special occasions. The wide variety of vintage earring styles make it easy to find something for everyone.
Vintage diamond stud earrings are often simple and beautiful, while drop or hoop earrings are often more detailed and formal. Clasp earrings make it easy to give the gift of diamond earrings, even to those with metal allergies or non-pierced ears. No matter the style, vintage diamond earrings are timeless jewellery pieces that can be handed down from generation to generation and treasured for many years.